"Life's like a movie, write your own ending. Keep believing, keep pretending."
November 21, 2010
November 13 AP 317– MexiCoke! YUM YUM YUM. The perfect Coke!
I bring to you a series of photos entitled 'I Pose With My MexiCoke'.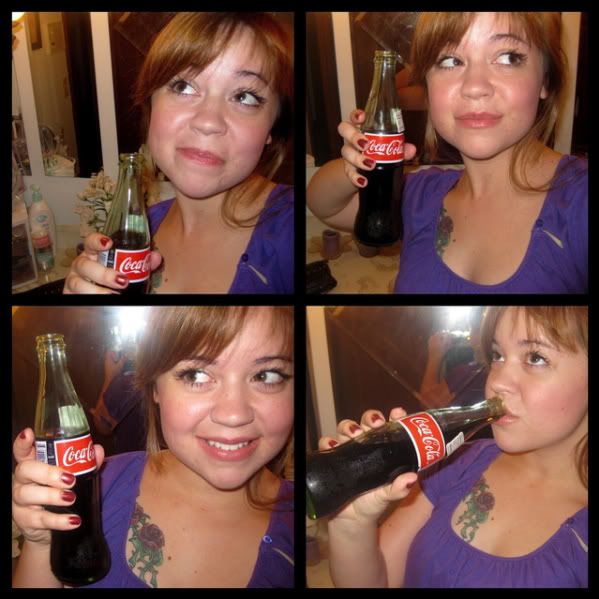 November 14 AP 318– The Ohio State University campus. Mom and I went to see a Jim Henson film at the Wexner Center on campus and then we ate at Tommy's. I just remembered how I LOVED to be a student walking those streets in the fall among other students all bundled up. There's something about the atmosphere that gets me.
November 15 AP 319– My decision to not date and just make friends.
November 16 AP 320– Jumbo! My Jumbo Love: a big purple hippo who has seen more tears and heard more giggles and taken more punches and snuggles than any other person or thing on this EARTH. He is also falling apart, but I will make sure he does not disintegrate in my lifetime.
November 17 AP 321– Wearing off of depression and anxiety. I just realized that for the FIRST TIME since NOVEMBER 2009 that I have HAPPY (or at least content) days WITHOUT MEDICATION. This time last year I spent EVERY.SINGLE.DAY in a state of PANIC and racing heart and/or severe depression and/or SEVERE full blown panic attacks aaaaaaall the way through the winter until I started on Paxil. Then I weaned myself slooowly off Paxil and Depression and chronic moderate anxiety attacked with a vengeance, but things are getting better. I'm totally okay and managing and functioning on my own. Yay!
November 18 AP 322– Panera's  broccoli and cheddar soup in a bread bowl, but especially my darling brother  Matthew treating me to dinner.
November 19 AP 323– My letters from Adam. They make me feel like a giddy middle schooler with a crush. Definitely something to look forward to throughout the day.
November 20 AP 324– My awesome bike and bike seat and Adry's trailer *breath* AAAAAND Girls' Night out of the house with Mary & Crew. Really funny ladies. Pictures of the bike ride coming soon.
November 21 AP 325– Triumph over OCD, one ritual at a time.
Categories: Ciao Bella Vita : Daily Journal - Tag: adam, anxiety, appreciation project 2010, depression, matt, the ohio state university