30 Day Photo Challenge DAY ONE
February 19, 2011
I've had this meme on my 'Journal Things To Do' list for well over a month… originally seen in Rebecca's journal, though several folks have picked it up since then.
Obviously I am incapable of completing this challenge in 30 consecutive days, so I just plan on adding to it when I feel like it… in between whatever else I want to journal about.
So here goes DAY ONE
Day 01 – A recent photo of you and 15 facts about yourself
Day 02 – A picture of the person you have been closest with the longest
Day 03 – A picture of you and your best friend
Day 04 – A habit that you wish you didn't have
Day 05 – A picture of somewhere you've been to
Day 06 – A picture of the cast from your favorite show
Day 07 – A picture of someone/something that has the biggest impact on you
Day 08 – A picture that makes you laugh
Day 09 – A picture of the person who has gotten you through the most
Day 10 – A picture of you when you were little
Day 11 – A picture of your celebrity crush
Day 12 – A picture of something you love
Day 13 – A picture of something you hate
Day 14 – A picture of someone you could never imagine your life without
Day 15 – A picture of something you want to do before you die
Day 16 – A picture of the person you do the most messed up things with
Day 17 – A picture you don't remember being taken
Day 18 – A picture of the last movie you've seen
Day 19 – A picture of someone you miss
Day 20 – A picture of somewhere you'd love to travel
Day 21 – A picture of something that makes you happy
Day 22 – A picture that confuses you
Day 23 – A picture of something you crave a lot
Day 24 – A picture of yourself and a family member
Day 25 – A picture of yourself and a family member
Day 26 – A picture of something that means a lot to you
Day 27 – A picture of something your afraid of
Day 28 – A picture of you last year and now, how have you changed since then?
Day 29 – A picture that can always make you smile
Day 30 – A picture that tells who you are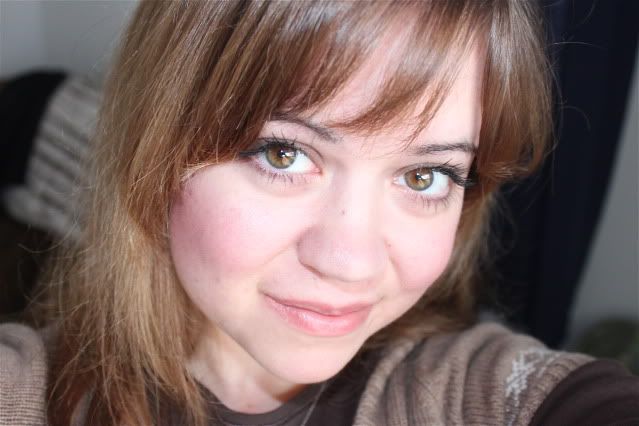 1) I've had my baby names picked out since I was 13 years old. They've changed and evolved over the years, but the list has always been in my head. I'm not even so much a fan of babies as I am children and family and motherhood/parenthood. But I do love pregnancy and childbirth no matter how miserable it may be. (And it is. Miserable.)
2) I've never felt angry at Ben. Sometimes I wonder if it'd be easier if I did. I have so much compassion for him that it hurts, and I get tense and defensive when others are down on him.
3) Greens and yellows and bright blues improve my mood. A spotless, bare room makes me feel depressed. I love knick knacks and colorful walls.
4) For the movie that Jamie and I have written about our lives I have chosen Keira Knightley to play me. I think she's gorgeous. And it beats being played by Cillian Murphy or Pony Boy.
5) I used to have really romantic ideas of what adult single life was like. I'd never experienced it. Come to find out it's a lonely Hell Hole full of creeps and jaded, reluctant individuals. I can either pout or laugh about it. I do both. I'm glad for the folks who found their sweethearts in their teenage years and held onto them… they never have to learn these ropes and good for them.
6) I can't decide if (after I get a job of course) I want to room with my parents or find an apartment and an unrelated roommate. I need a vote.
7) Speaking of finding a job…  I'm having the worst luck ever. I'm either "over-qualified" or I don't have enough experience. STUPID COLLEGE DEGREE! YOU ARE SUPPOSED TO MAKE THIS EASIER! (I may be bitter about my college degree… and debt.)
8) I am SO excited to go back to school (OSU!!) and revamp my entire life.
9) I'm totally against animal abuse or torture. I'm not completely heartless I don't think. However I have absolutely no emotional attachment to animals and I hate cats. And I love my fellow cat-hater support group of friends who are equally cynical and bitter and foul and politically incorrect… because we can all come together, with our mutual general cynicism and hatred of cats, and not be offended by…. well, by anything. :]
10) I love the smell of gasoline. I'm trying to think of stuff I've never told the internets!
11) I have to sleep with a fan on every night to drown out the rest of the noises in the house. Anything and everything wakes me up and I have a hard time getting back to sleep.
12) Life is beautiful and I worry too much. That's something I'm working on– obsessive worry and defining everything at all times. I just wanna have goals, know who I am and what I believe, and go with the flow. I'm determined to make this change.
13) I once FB friended a girl from Liverpool because I thought she was someone else… And I kept her on my friend list because she and her British friends typed in British accents just like we type in American ones (ya, gunna, wanna, til, etc.) and I loved reading it! But then she finally deleted me and I was sad. I'm thinking of friending folks from different english-speaking countries just to read their accents :].
14) I am an organization freak. Not necessarily a neat freak or a clean freak.
15) Sometimes I wonder (worry?) if I'm going to be way too lenient on Adry in his teenage years. I'm just not sure I'm against anything passionately enough, or with enough conviction, to forbid it. However my goal is not (and never will) to be the cool mom, or a friend. I will always be the parent… striving to perfect that delicate balance of unconditionally loving, guiding, and supporting while letting him find (achieve?) independence.
Categories: Ciao Bella Vita : Daily Journal - Tag: 30 Day Photo Challenge, self portraits