Jacob and the Babydolls
December 21, 2011
Jacob and I have a boss at our work who is a practical jokester. She and Jacob are in the midst of Battle of the Babydolls 2011.
I don't really know the whole story or how is started. All I know is that I walked into report one day and J and our boss were laughing so hard that they couldn't talk… or breath. And they were both looking toward the fireplace mantel where about 4 christmas caroling dolls had been lined up. (They look freaky and bizarre. Slightly haunting.) J was telling her that he was going to wrap one up for her for Christmas and then she took the time, during report, to turn the babydolls around so that they couldn't look at us anymore.
A day or so later Boss caught my dad in the hallway and started laughing so hard she couldn't talk again but managed to tell him to ask Jacob about the babies. She said, "he'll be embarrassed!" So! When she came back to work yesterday to one of the dolls on her desk, Jacob was automatically accused and apparently war was declared. She waited 'til he went to the bathroom, lined them up outside, and sat across from the scene with her camera phone in hand.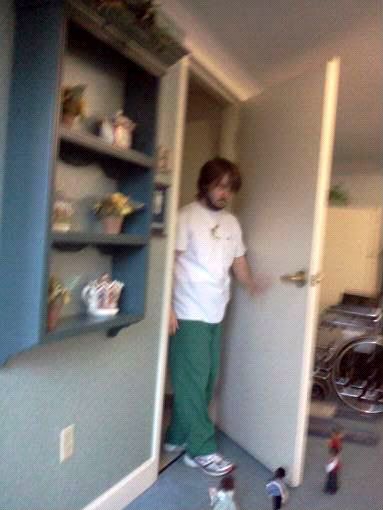 And so it went: Boss and J went the rest of the day plotting against each other.
She asked me, "Doesn't he know not to mess with the master?" But it is rumored among staff that she has finally met her match.
Categories: Ciao Bella Vita : Daily Journal - Tag: christmas, jacob