Marrying Keith 2- ceremony part I
October 4, 2012
(Photo Credit: Missey Flaugher)
Okay, so I was all dressed and ready!
(Pause. Side story time.) I was in the dress that Keith ultimately picked out. I had chosen a dress months before while out shopping with Jamie and my mom, but it was nothing like the vintage 1930's dress I originally wanted. Then at my personal shower two weeks prior to the wedding Jamie said, "I was at Flower Child and saw the exact dress you wanted!" So I HAD to go to Flower Child to see and I took Keith along with me. Of course we couldn't find the dress Jamie had spotted, but I tried on a handful of vintage dresses for Keith anyway. None of them were striking my fancy, but Keithy told me he really liked that little 60's dress. I was all meh, the lace on the shoulders and chest bugs me, but THEN I found the most adorable pair of shoes that went with the dress perfectly! I told Keith I'd be happy with the dress as long as we found ribbon to tie around the waist into a bow. During subsequent trips to hobby shops and Macy's Keith helped me find ribbon for the waist, a shawl, and a headband. He even vetoed the hair pieces I picked out in favor of that headband. Something about the fact that my wedding day outfit was entirely put together by my hot nerd manly-man zero-fashion-sense husband makes me smile. I'm okay with trading the 'first seeing her walk down the aisle' moment with the half hour he spent with me in front of a mirror in the Macy's accessories department tying shawls around my shoulders and making me giggle.  
Anyway! I was dressed and ready and I realized that Oh crap I was late and everyone was seated and waiting outside which meant I had to make an entrance. I had tried my best to avoid the ceremonial aisle-esque bride entrance and had hoped for a casual mingling and okay guys, time for vows type of a deal. As an antibride, I had no interest in being in a bride spotlight and all of the sudden things felt all formal and so I begged Jessie and Jamie to walk out with me… or at least walk out before me playing "White Wedding" on their phones and doing crazy 80s dances. (Which was Jamie's vision for my wedding, and it would have made for a great distraction.) So I made it to the threshold (and alas, no one had youtubed White Wedding) and saw my handsome husband-to-be and his dad waiting on the patio.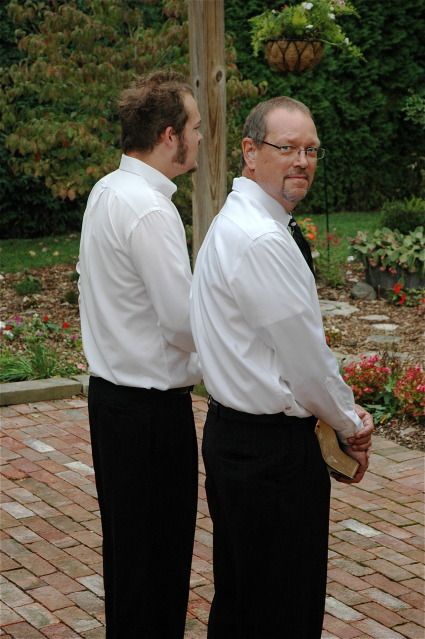 Keith's dad is the Adult Ministries pastor at Grace Church of Powell. When Keith asked me to marry him I didn't care about weddings or receptions or flowers or any of that stuff so when we were deciding how to go about getting married I just had one desire and priority: that we be married by his dad. 1) because he is awesome, 2) because Keith's parents mean the world to him, and 3) because that's just an incredibly special moment that I wouldn't trade for anything… to be married by my dad-in-law while watching my husband hang on to every one of his words with such respect and admiration.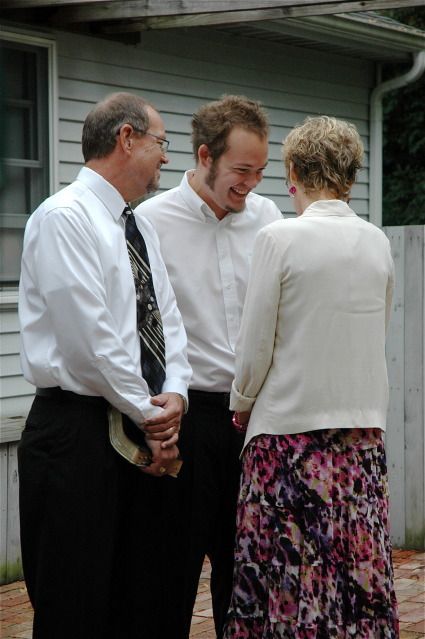 (Keith and his parents laughing about something before I got outside)
So I walked outside to join Keith and his dad under the arch. I was feeling sort of spotlight anxious and things were kind of a blur until I heard my brother Matt to my right say, "Hey, Sis." That was cool because it reminded me who I was surrounded by and why they were there.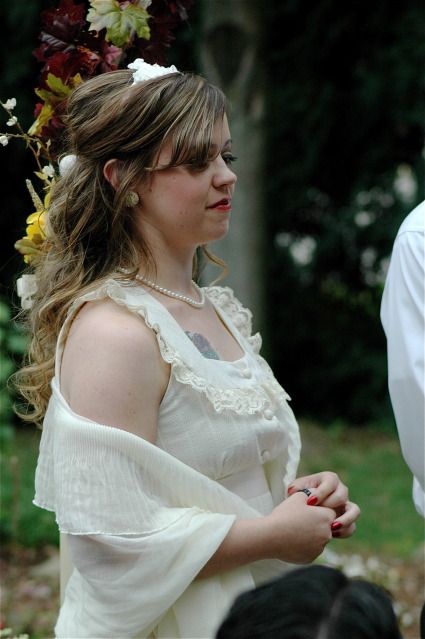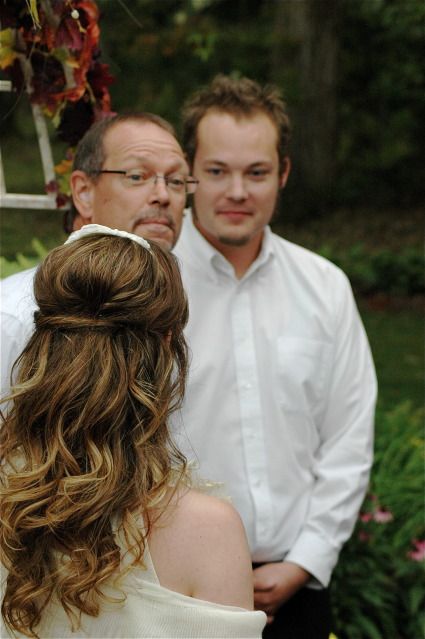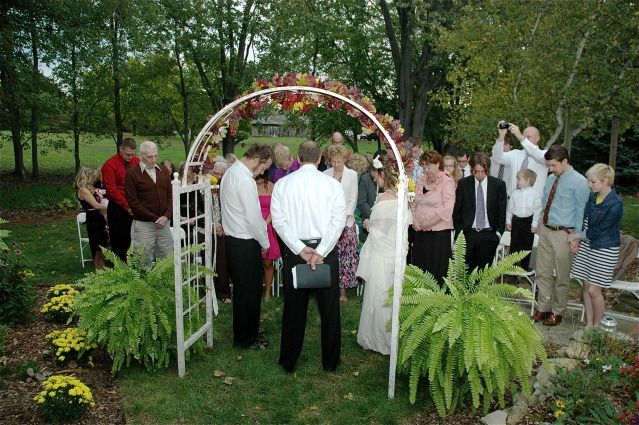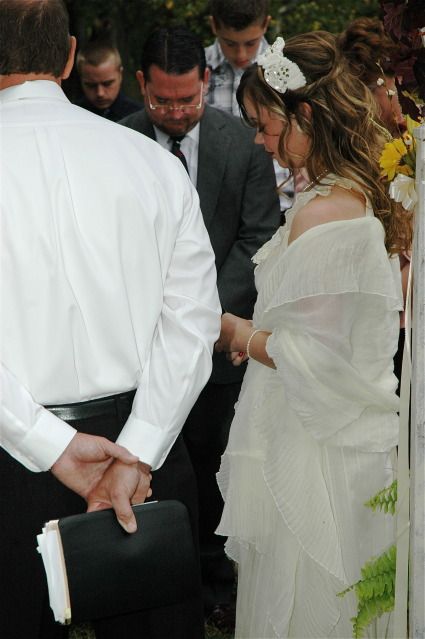 (I liked this picture of me during prayer with my dad praying in the background.)

(After the ceremony Keith's dad told him that there've been few times in his life that he's had Keith's absolute attention and that was one of them.)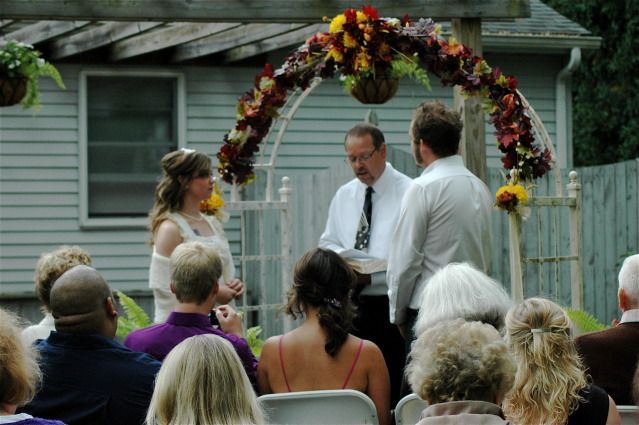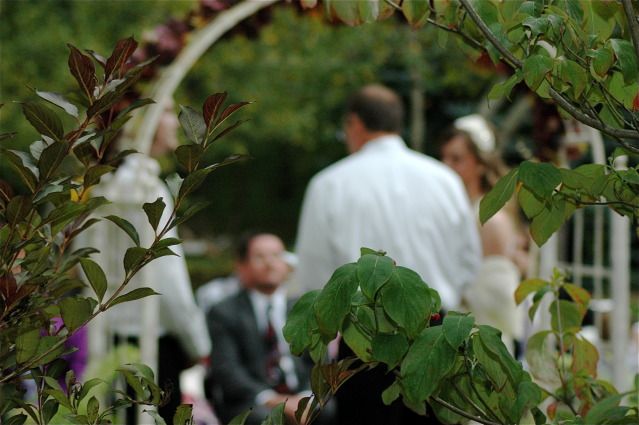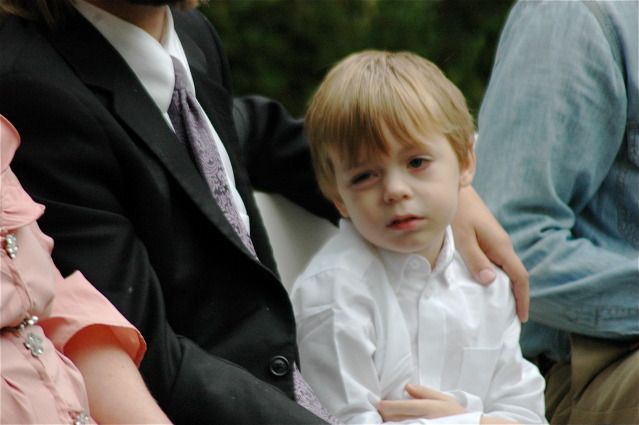 (Adry during the ceremony. Hah)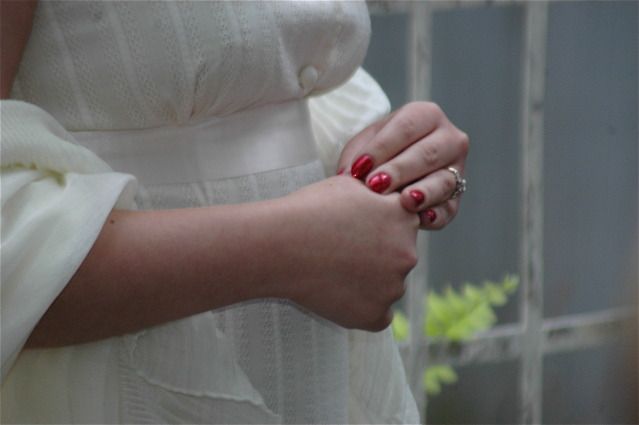 I had Keith's wedding band on my thumb.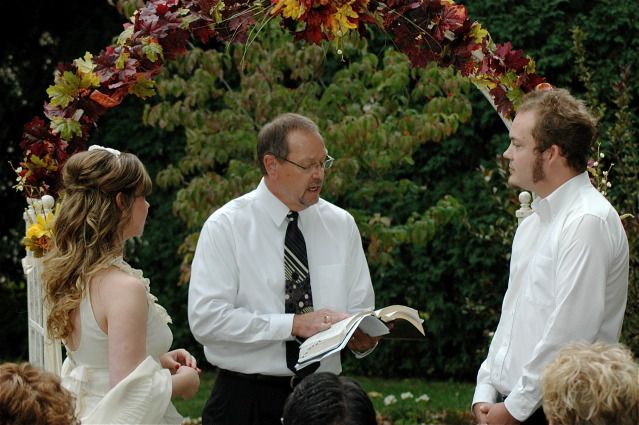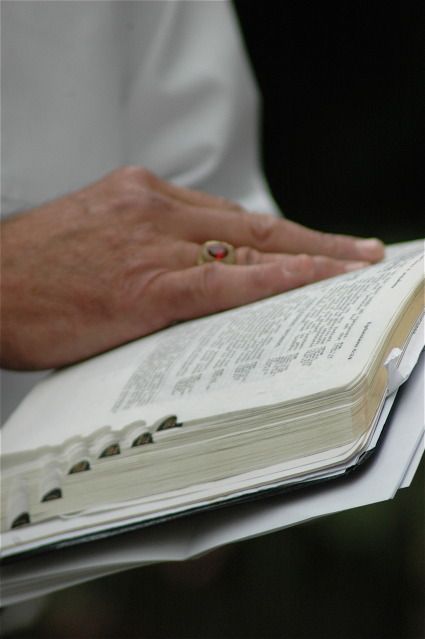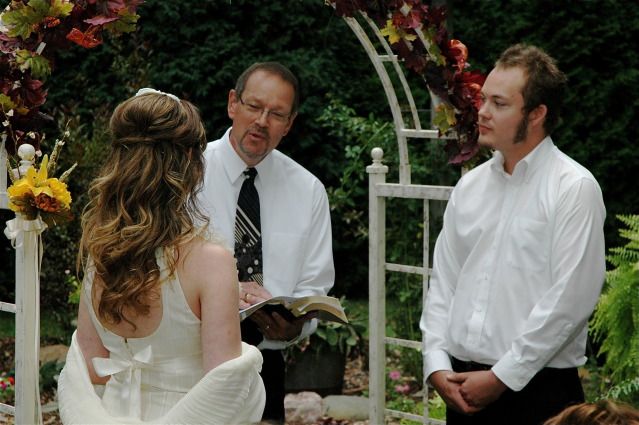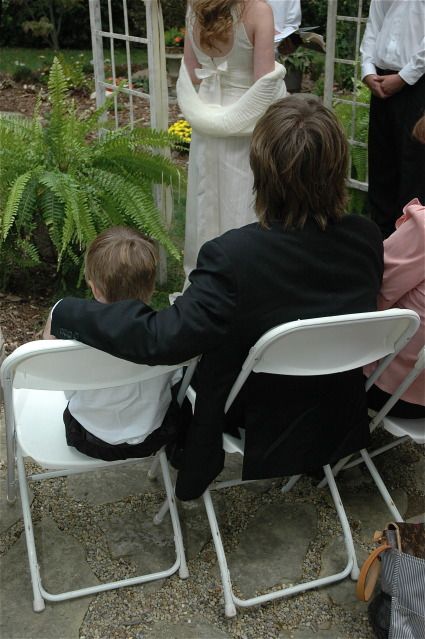 (Adry with Uncle Jacob watching Keith become his stepdad)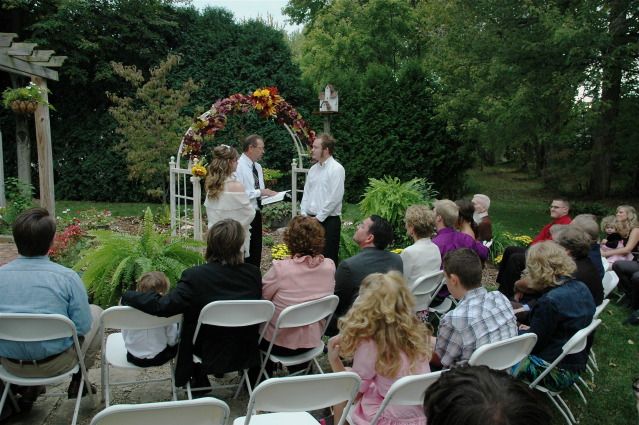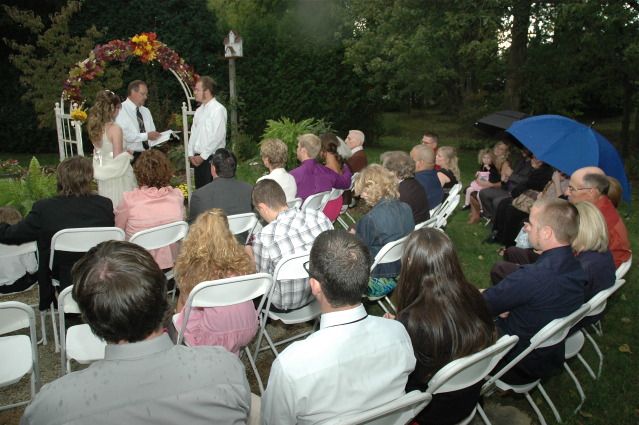 We hadn't even gotten to the vows yet when it started raining. Ceremony Part II will be my next post!
Categories: Ciao Bella Vita : Daily Journal - Tag: adry, dad, family, family-in-law, jacob, Jeff, keith, marriage, matt, mom, sherry, wedding anniversary