Ella Belly 8 MONTHS (and some of her things)
October 7, 2014
I'm in my ninth month!
Today I am 36Weeks.2Days pregnant.
I begin my weekly OB visits on Thursday to check on position and progress.
Yes, it's the final countdown!
How am I feeling? Oh, I remember several months ago when I wanted Eleanor to stay in my belly 'til she was due… I thought I wouldn't even mind if she was a little late because it worked out better financially and with work FMLA or some crap. …Yeah, well that's bullshit. She needs to come now. Like yesterday.
Commence Le Whines:
I don't think misery is an exaggeration. I cannot breath. I cannot sleep. I cannot digest. My sinuses have been stuffed and burning for weeks. My throat is therefore torn up from snoring. My toes are bubbly from pockets of fluid- I can't wear any of my shoes. I get serious cankles and my fingers look like sausages. I have no abdominal muscles to help me lie down, stand, or sit, and I'm sore from carrying a bowling ball in my tummy. The entire floor of my pelvis feels bruised- there are bones that crack that I didn't know could crack!- and nerves in my back and hips are pinched so every single little movement is painful. At times extremely painful. None of my maternity clothes fit. I walk around public holding my shirt down so that my belly button won't pop out to say 'hello' to the world. Oh, and I've developed Chloasma, "the mask of pregnancy". My skin is now discolored on my cheekbones below my eyes and above my lips. Thank you, hormones, for that lovely gift.
I swear I will gut punch the next woman who tells me that pregnancy is a gift and that I should cherish this time. I will smack her in the face when she says, "Oh, you think pregnancy is hard- you just wait for a newborn!"
(I do think pregnancy is a gift, by the way. I'm not trying to take for granted that my body has the ability to reproduce life and bring it into this world. I count my blessings every day. But I'm also very thankful for my immune system and have yet to cherish my time spent fevering with swollen lymph nodes, ya' know what I'm sayin'?)
Commence Le Praise:
I AM SO EXCITED TO MEET MY DAUGHTER. I love her so much. My family loves her so much. I want her in my arms. Our i's are dotted, our t's are crossed and we are ready!
Eleanor's Corner of the World:
For the time being Eleanor and Adry are sharing a room. Maybe for the next 5 months, maybe for the next year and 5 months depending on how much time I can suck out of this apartment (and I'm hoping as much time as possible- I'm in no hurry to leave our snug little abode). So we've been minimalists with our baby gear.
My favorite things of hers:
(Not great pictures of everything. Sorry.)


Eleanor's Great Grandma Dee made her the stunning wall hanging animal quilt.


And she also made her the beautiful pink blanket draped on the side rail that she can cozy up with. It's doubly awesome because she spelled out her full name in the stitching! 'Eleanor', 'Joyce', and 'Martin'! I love it.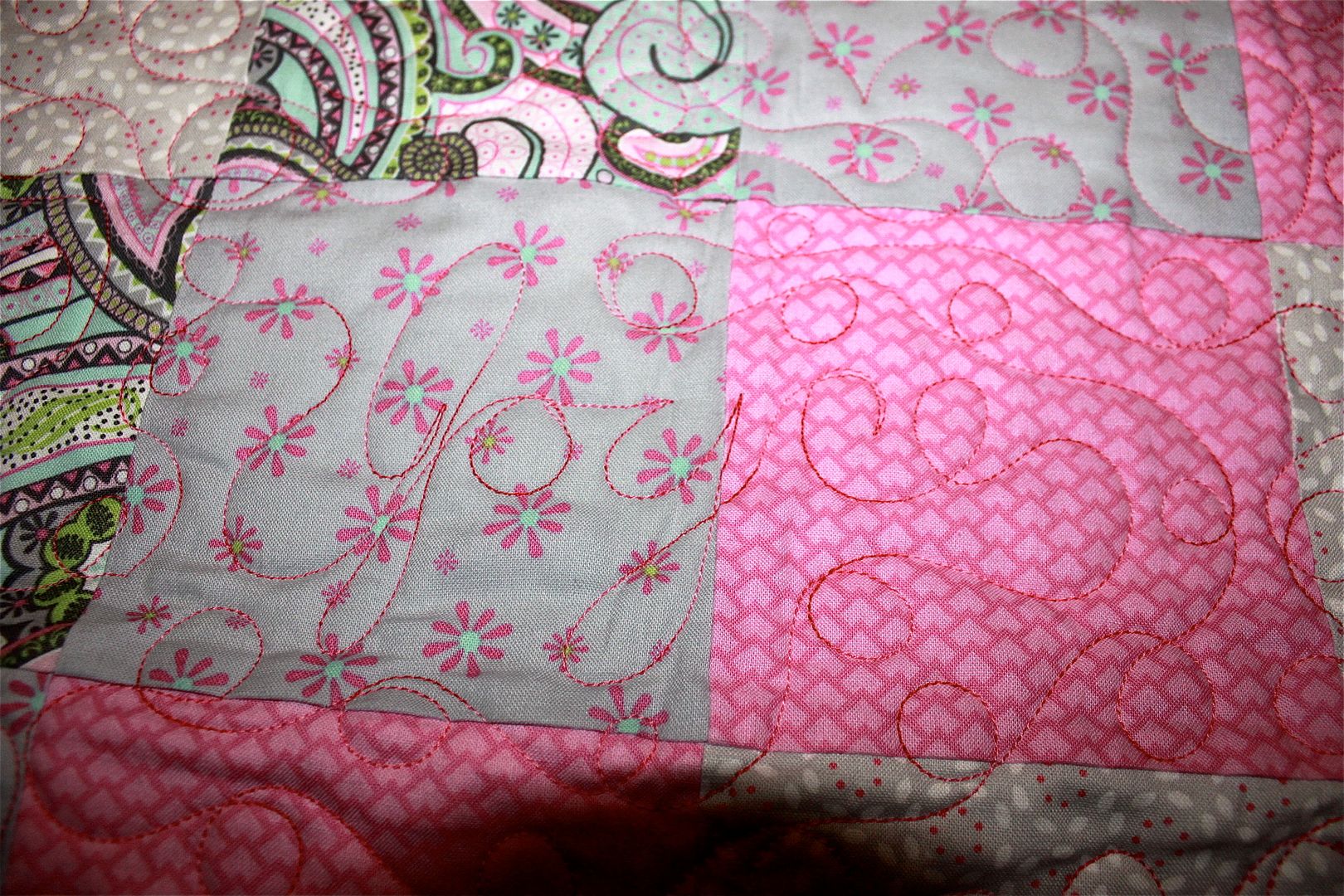 In our bedroom Ella has the bassinet that Adry slept in.


Draped on the side is the blanket Uncle Matt and Aunt Alexz made for her, and I just fell in love with the colors and patterns they chose.


Those are elephants on the print if you can't tell! So perfect.
Also, I have her first outfit chosen and packed in the hospital bag! The good camera is ready. We can't wait we can't wait!
Categories: Ciao Bella Vita : Daily Journal - Tag: alexz, Ella, Grandma Dee, matt, preggo belly pictures, pregnancy