THIRTY Years of THROWBACK! 1996-1999
July 25, 2015
1996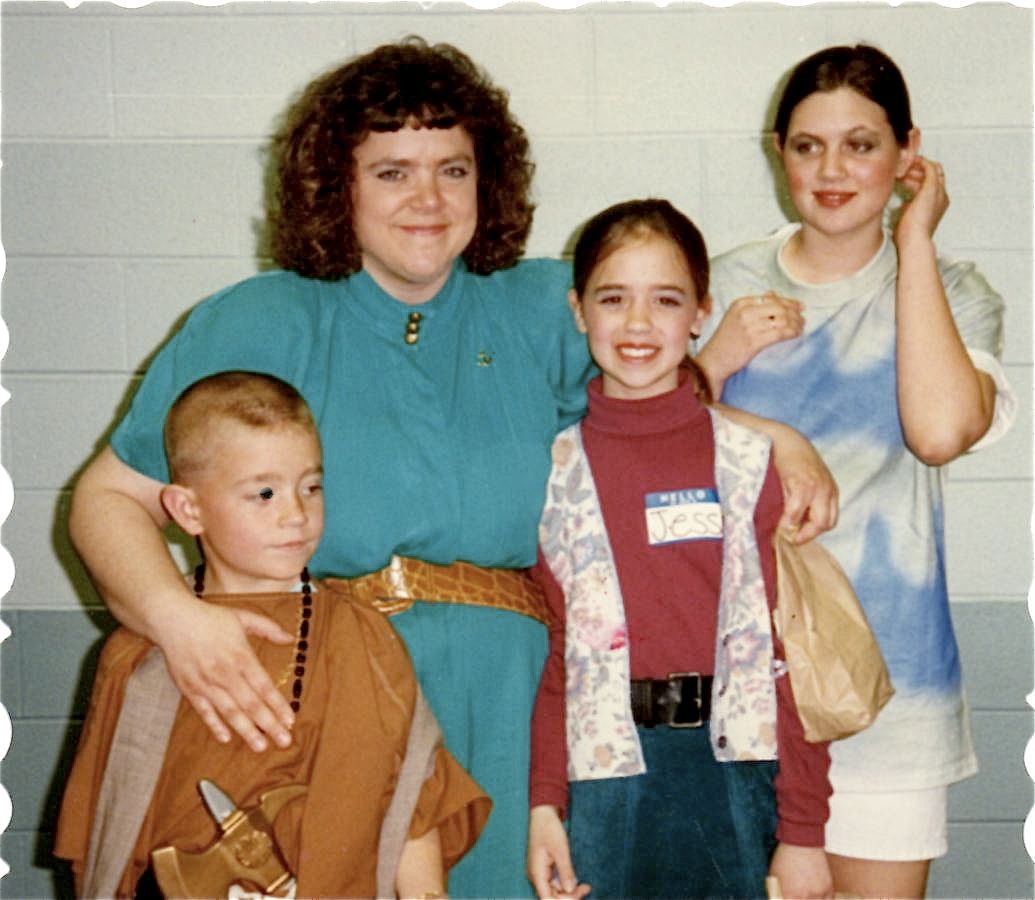 Throwback to church plays. Matt, Mer, and I are dressed up for our Go Go Jonah play. Matt was a Ninevite and got to chase Jessie around with a sword, which was appropriate. Mer was a Yeoman of Joppa, and I was Jess: the visitor of The Museum of the Bible. I remember Dad working his tail-end off to re-write that whole script in order to include every single kid who wanted a speaking part or solo, and he also created a great stage set-up complete with visual and sound effects for the ocean and storm. It was such a cute little play that we even got to take our show on the road and put it on for another church.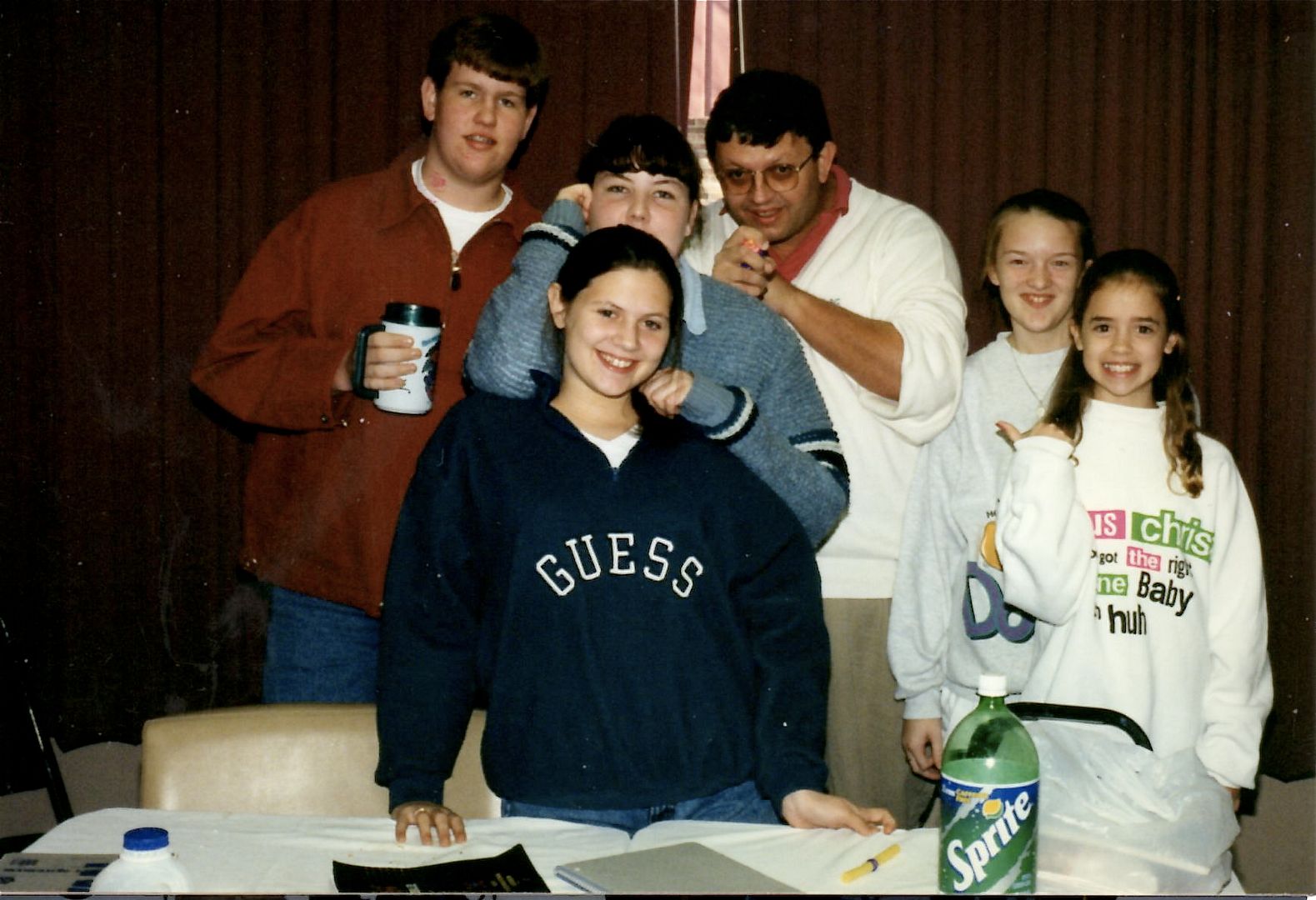 Throwback to church Sunday School at DCN led by Dave. I'm sure Dave put in a lot of time and effort preparing lessons and discussions for us but my only clear memories of those days were his field trips to Krispy Kreme and having us take bets (like good Nazarene kids) on how long it would take for the donuts to be devoured by the congregation… oh, and his sassy jokes throughout haha. Thank you, Dave, for the memories <3

Throwback to American Girl Dolls– back when there were only FIVE! Samantha, Felicity, Molly, Kirsten, and Addy- and Addy was brand new back then. I had Samantha and she is currently packed away in my parents' garage with her school desk, bedroom set, tea party table, and several outfits… and Little Jacob is quite enjoying his tea party with her in this picture.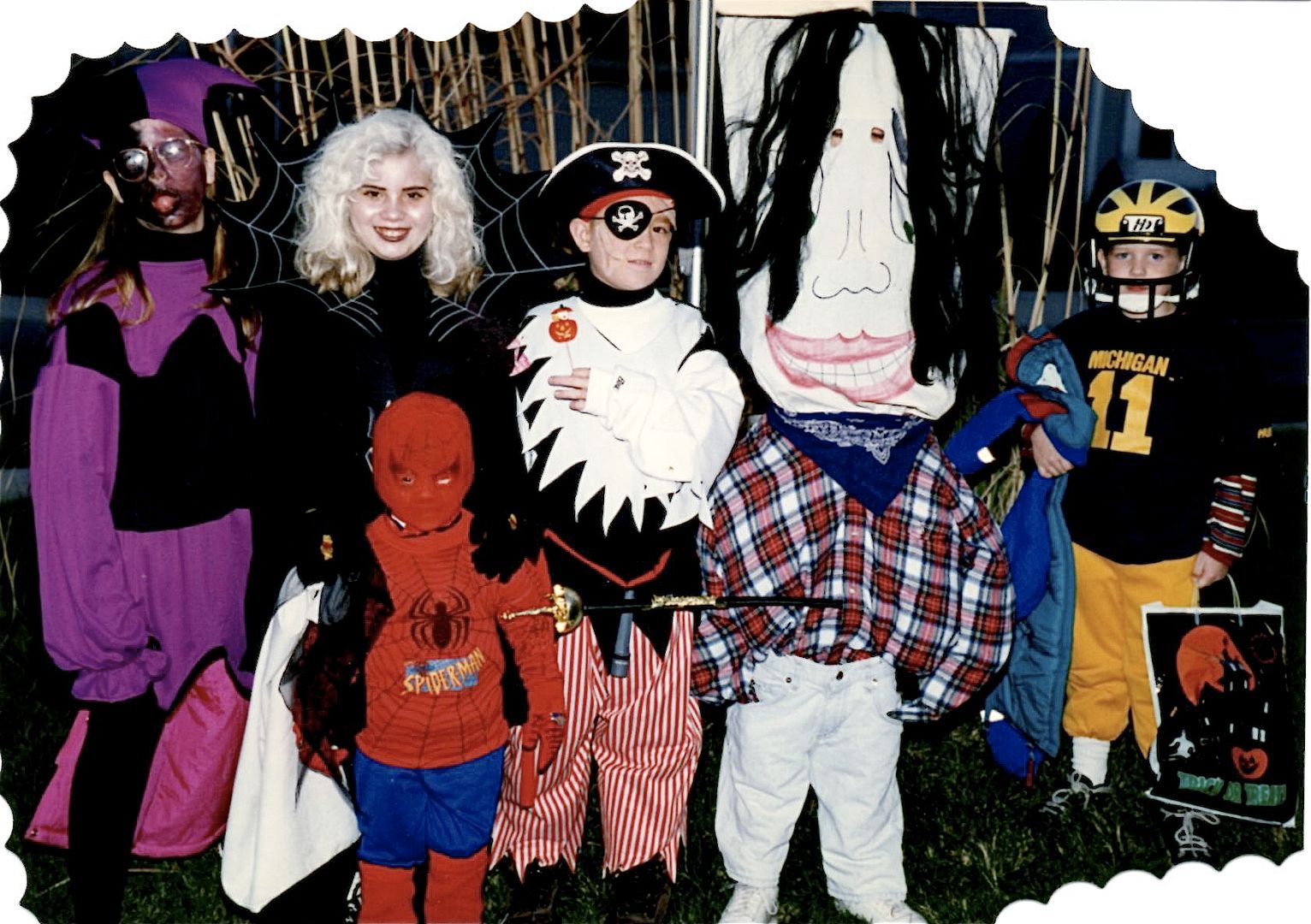 The year I was a midget for Halloween. (Jessica Harris the Joker, Jamie the… spider-vampire-witch?, Little Jacob Spiderman, Matt the Pirate, Me, and Taylor the football player)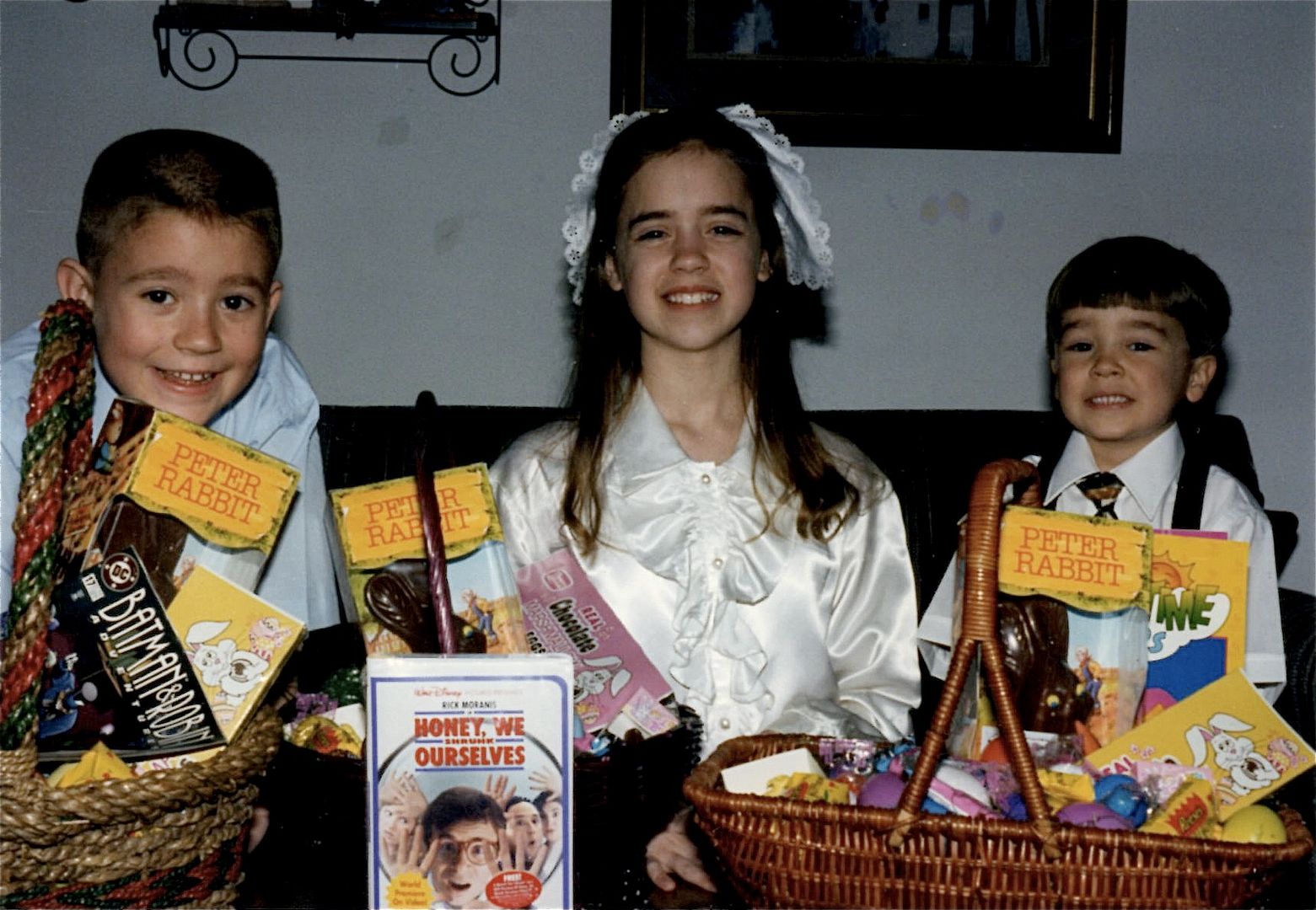 The Brothers and I. Throwback to GIANT hair bows, Honey We Shrunk ourselves on VHS, and Matt's buzz cut!
1997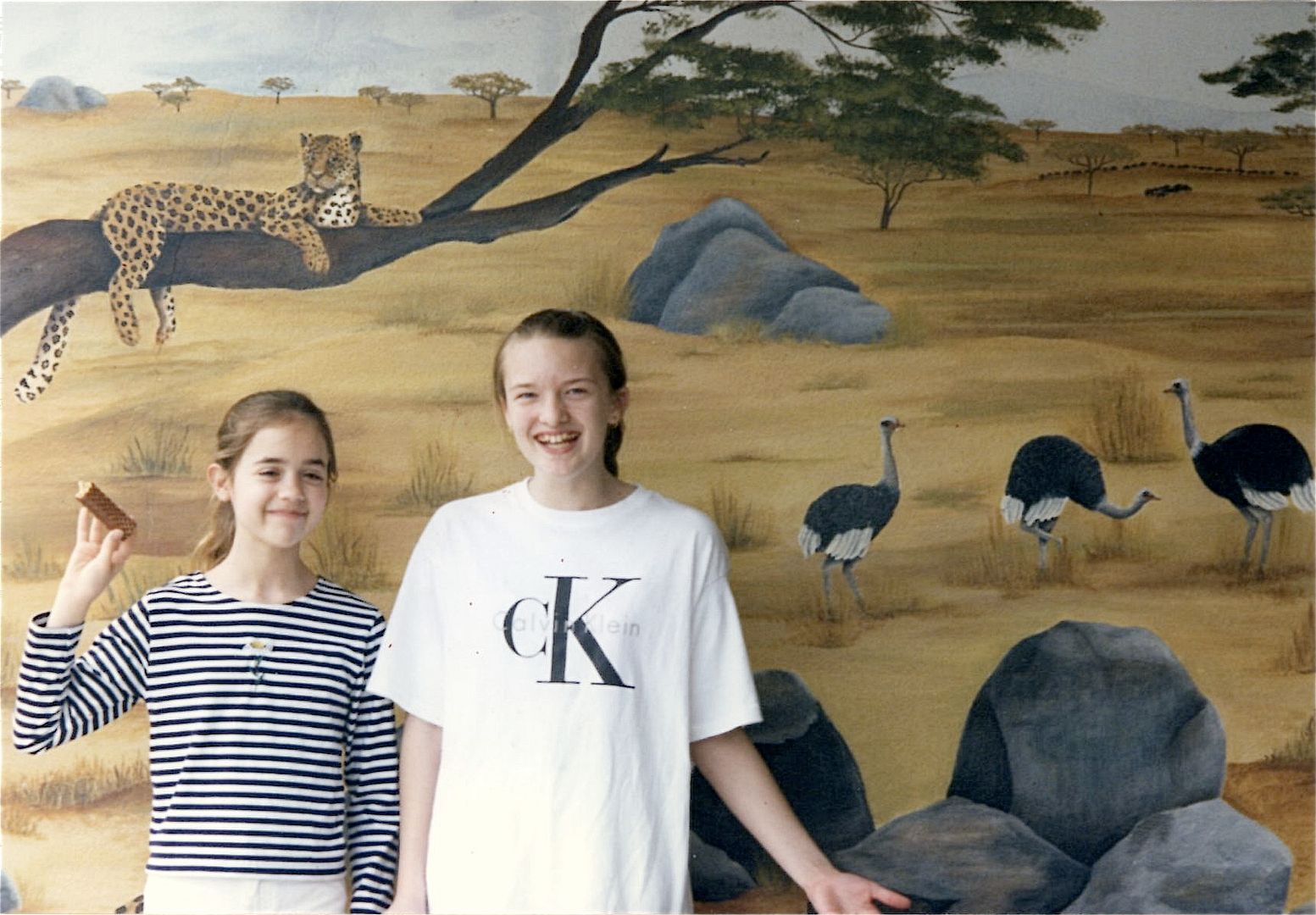 My Nutty Bar, Me, 'n Ash the year that Mom attempted to force-feed me Nutty Bars any chance she could get because I was painfully underweight.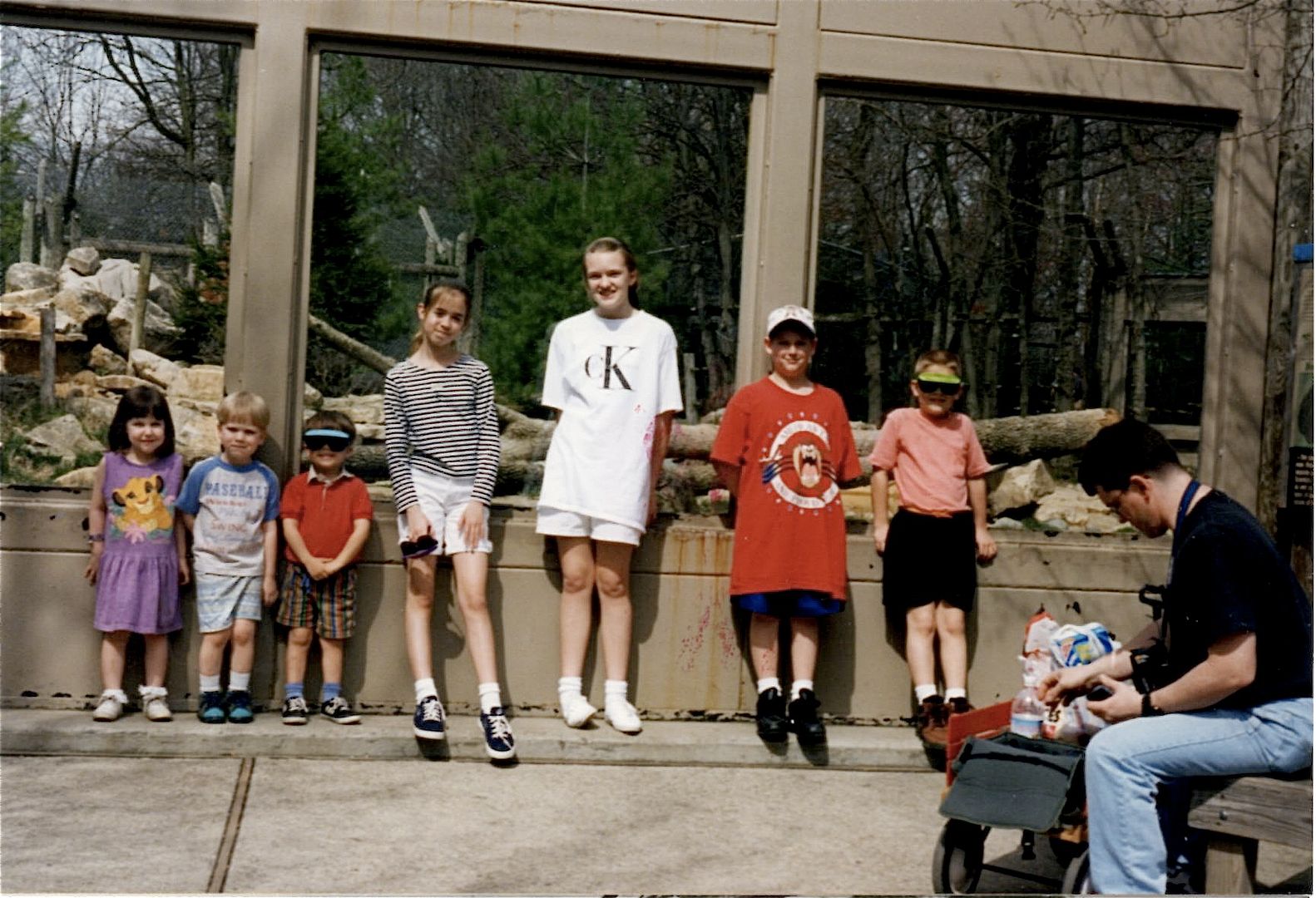 Jacob with his little friends, Me, Ash, Matt's friend Mark, and Matt. Matt and J are both wearing their super cool visor sunglasses, and Dad is organizing the wagon. We also each have our white socks folded in half several inches above our shoe line in proper 90s fashion.
1998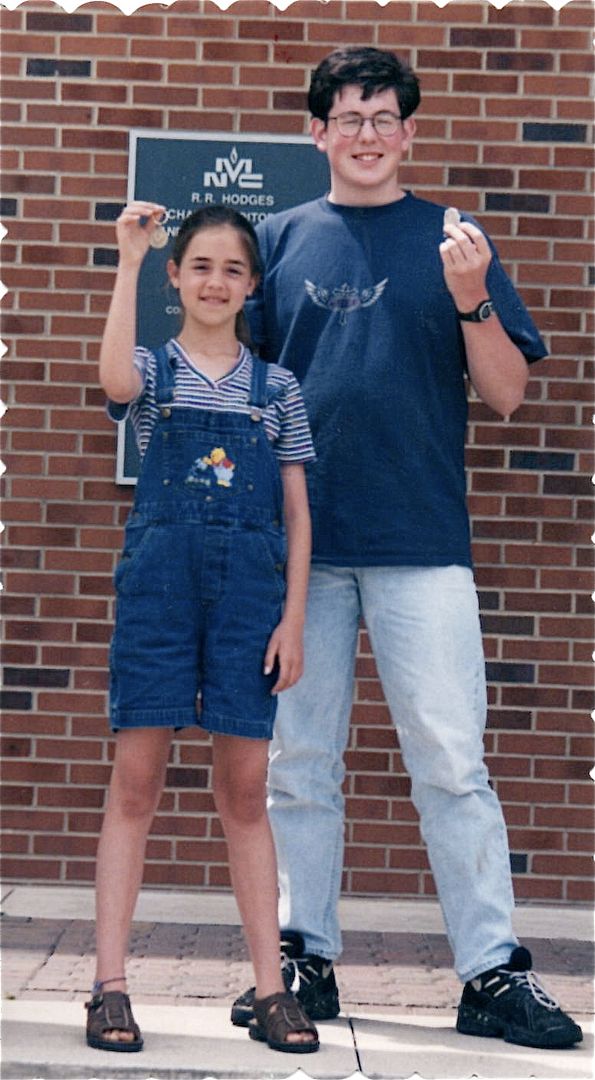 My cousin Jack and I are standing in front of the chapel at The Naz (where we would both end up as students together several years after this) holding up the medals we won at BLAST. BLAST is essentially a 3-day Nazarene talent/skill contest. I assume we both entered in Writing Poetry and Prose, although Jack could have done something in music. Also, throwback to BIBS! which I think I loved and wore at least through 8th grade (not that pair). And I'm not gunna lie- I'll be the first to hop back on that train if they come back in style because so comfortable that is all.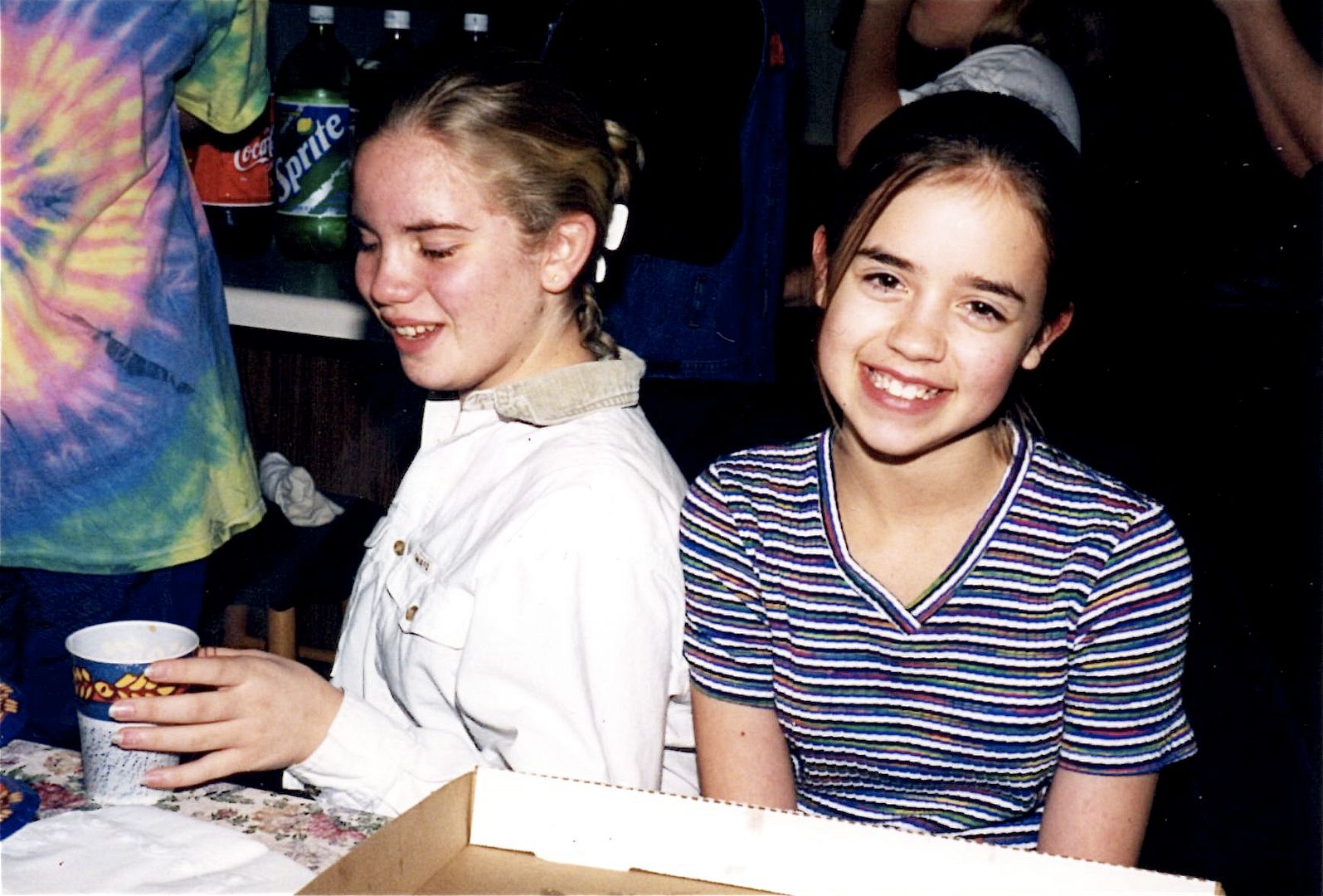 James and I sharing a seat, and we are both in the awkward and uncomfortable throes of young adolescence as well as a more enjoyable and exciting blossoming best-friendship.
1999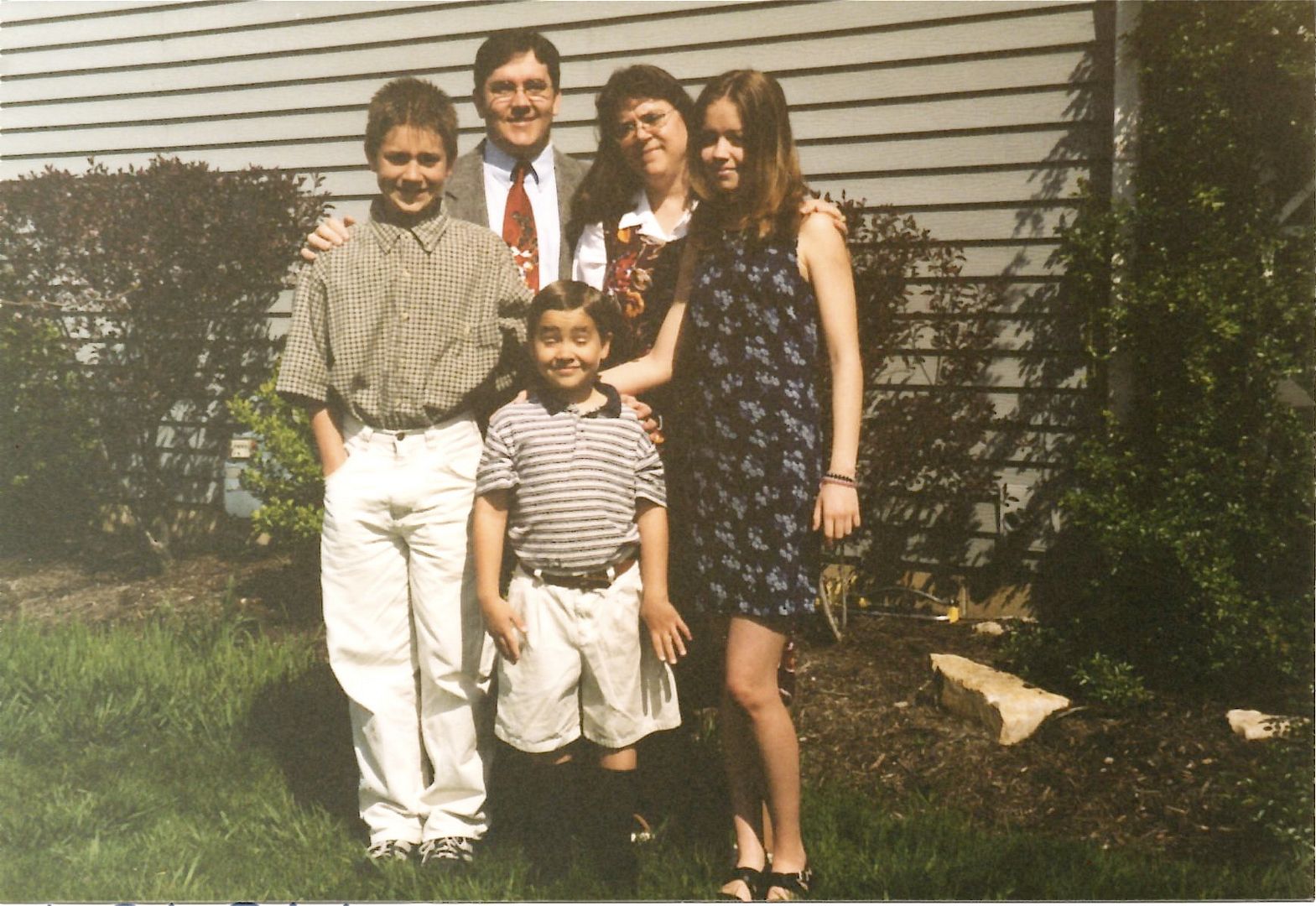 The Sanders Clan Oh-My-Gosh-We're-All-Dressed-Up-And-The-Weather-Is-Nice Photo Opp in the Yard and are J's socks pulled all the way up his shins!? Haha! I love that family.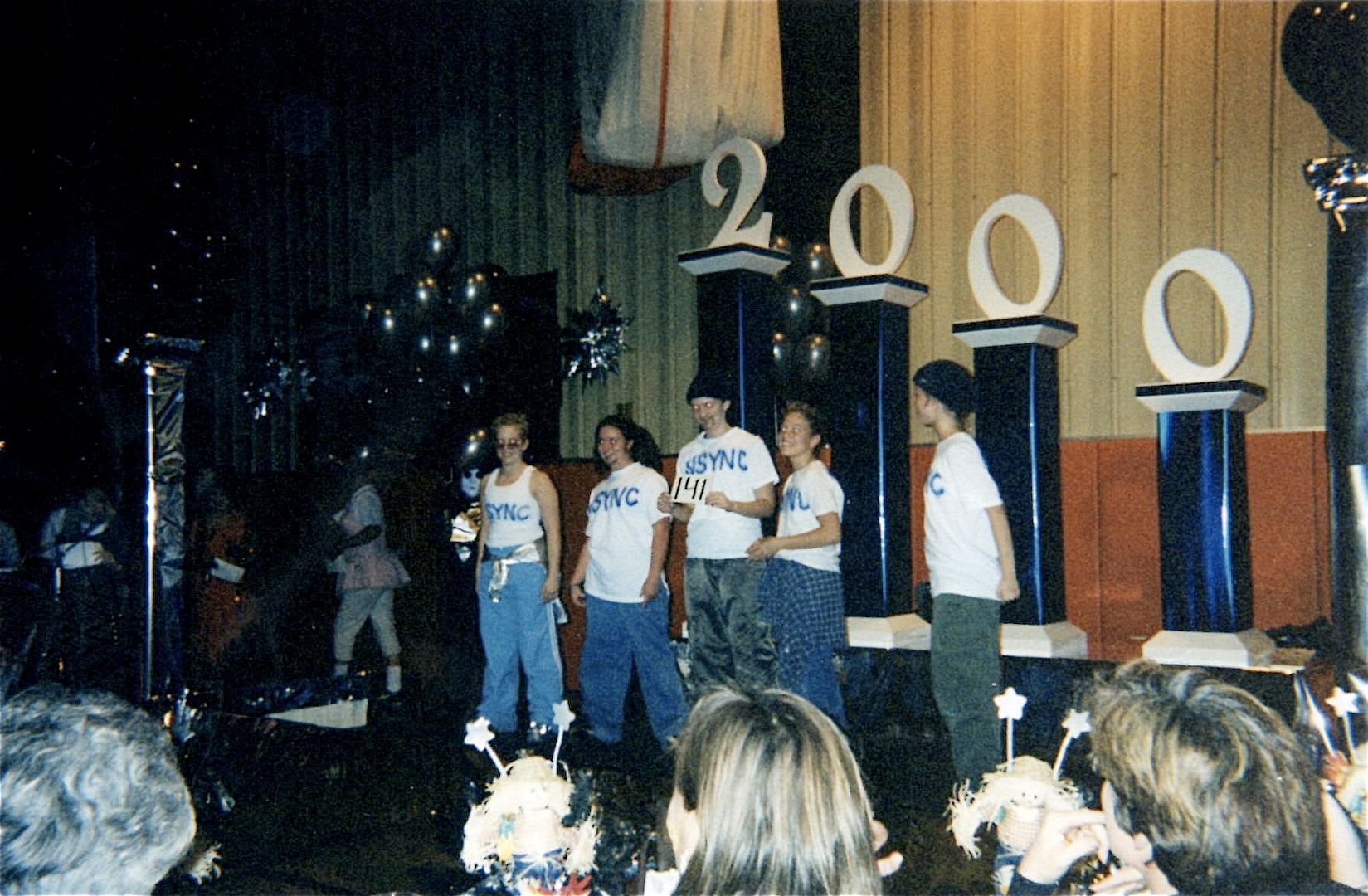 Yes. The year we were N'SYNC for Halloween, complete with several dance routines we spent months choreographing and practicing, and a fangirl. We won 2nd place in the Hilliard Parks and Rec Costume contest, losing to "The Millennial Girls" who wore matching sweatshirts and shook pom-poms with cutesy smiles on their cutesy faces AND THE INJUSTICE WILL NEVER BE FORGOTTEN, DO YOU HEAR THAT CITY OF HILLIARD!? Haha. James had to duct tape her boobs down to be Justin, Taryn was Chris, Ash was Joey, Jessie was Lance, and I was JC. We carried a boom box and occasionally broke out in dance along the neighborhood streets during trick-or-treat night, and ladies squealed and ran in to get their camcorders to capture us on video.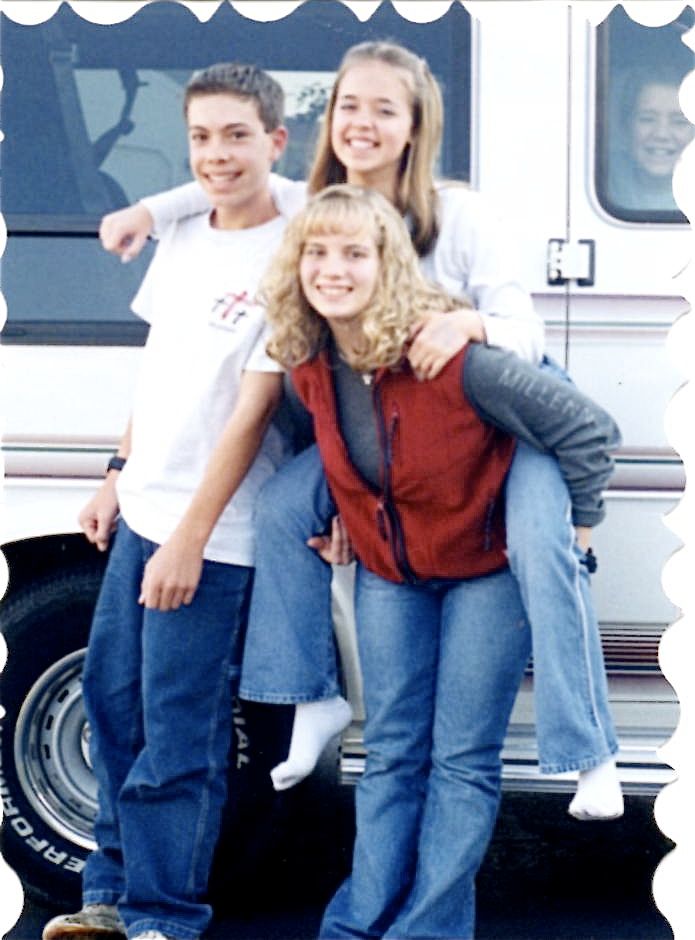 Neighborhood buddies! Steve, me riding piggyback on James, and Matt in the van window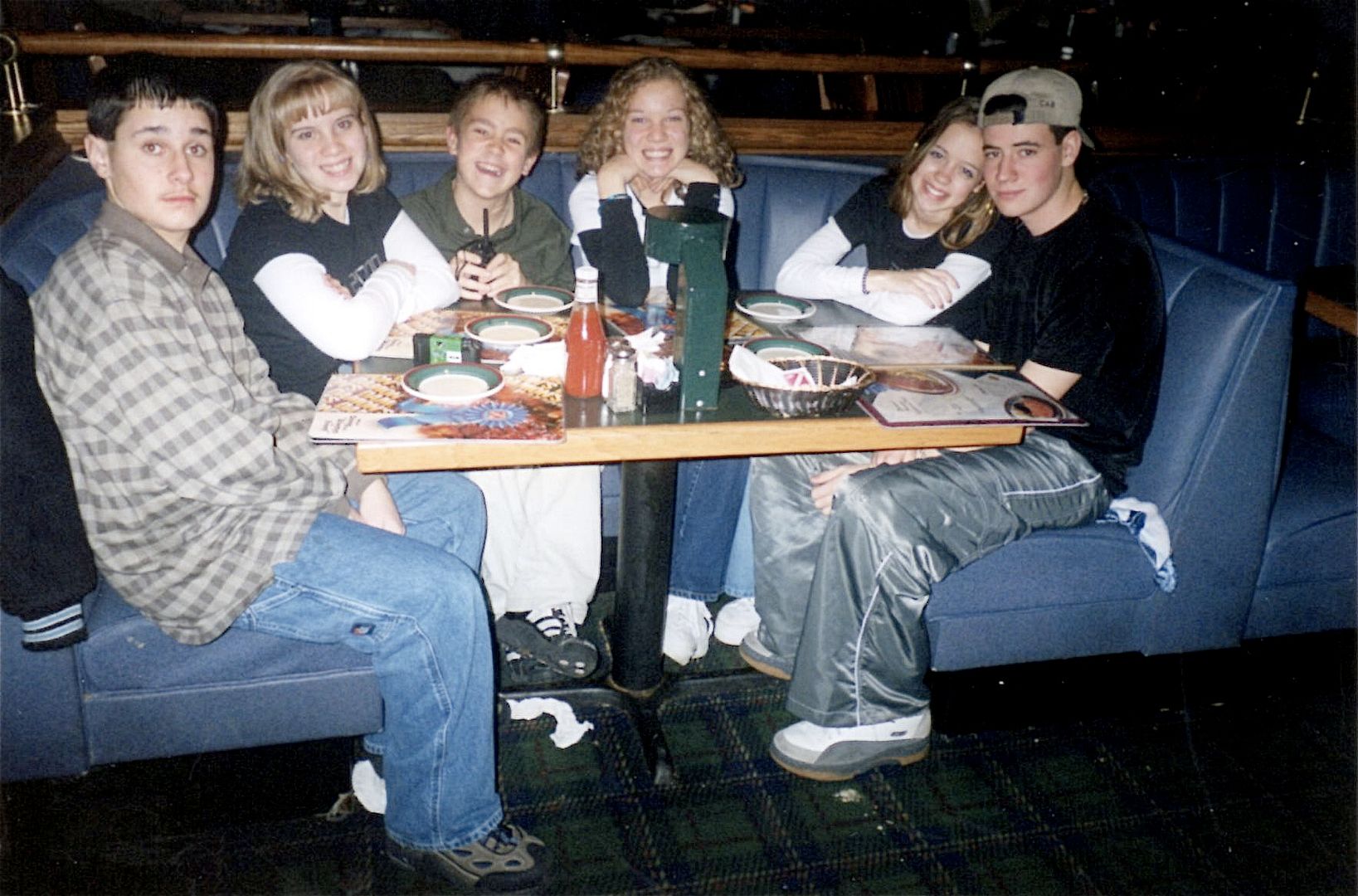 This picture is the perfect throwback to the nineties. First, I must point out my high school "sk8er boyfriend" Nick's wide-leg silver pants and skater shoes (he actually skated a lot. All the time. He was a legit skater boy), Ryan Parks' forward comb hairdo and wide-leg painter pants, Jessie and I are both wearing all-white cloth shoes with 3-inch thick clunky soles, AND there's a disposable camera on the table!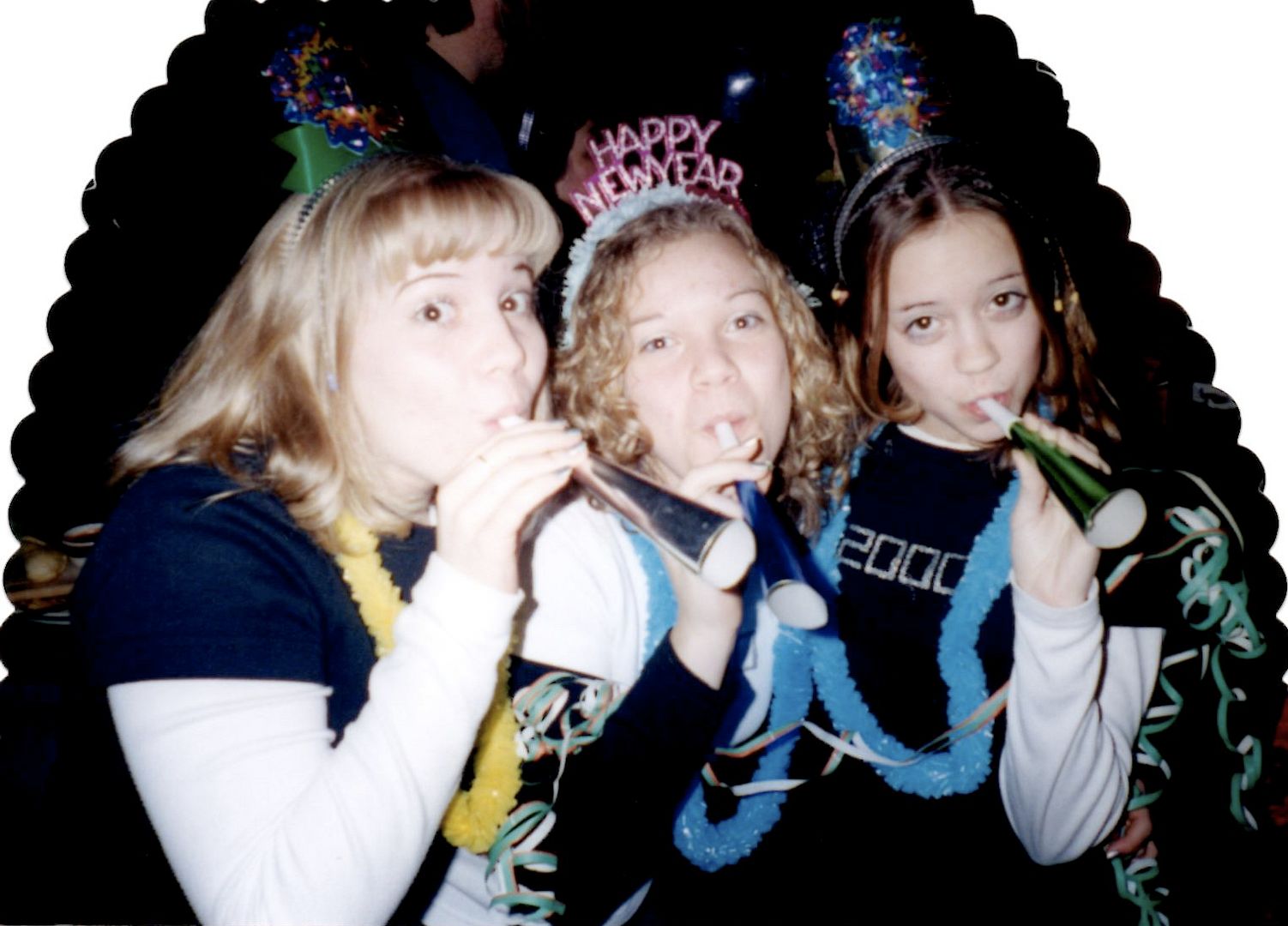 Jamie, Jessie, and I! Throwback to Y2K and bringing in the new millennium!  And to all our friends' families that stocked up on supplies in preparation for the end of the world. We all held our breath when the ball dropped but we survived! Haha.
Categories: Ciao Bella Vita : Daily Journal - Tag: ash, dad, dave, jack, jacob, jamie, jessie, matt, mer, mom, nick, ryan, tay