THIRTY Years of THROWBACK! 2000-2002
August 2, 2015
2000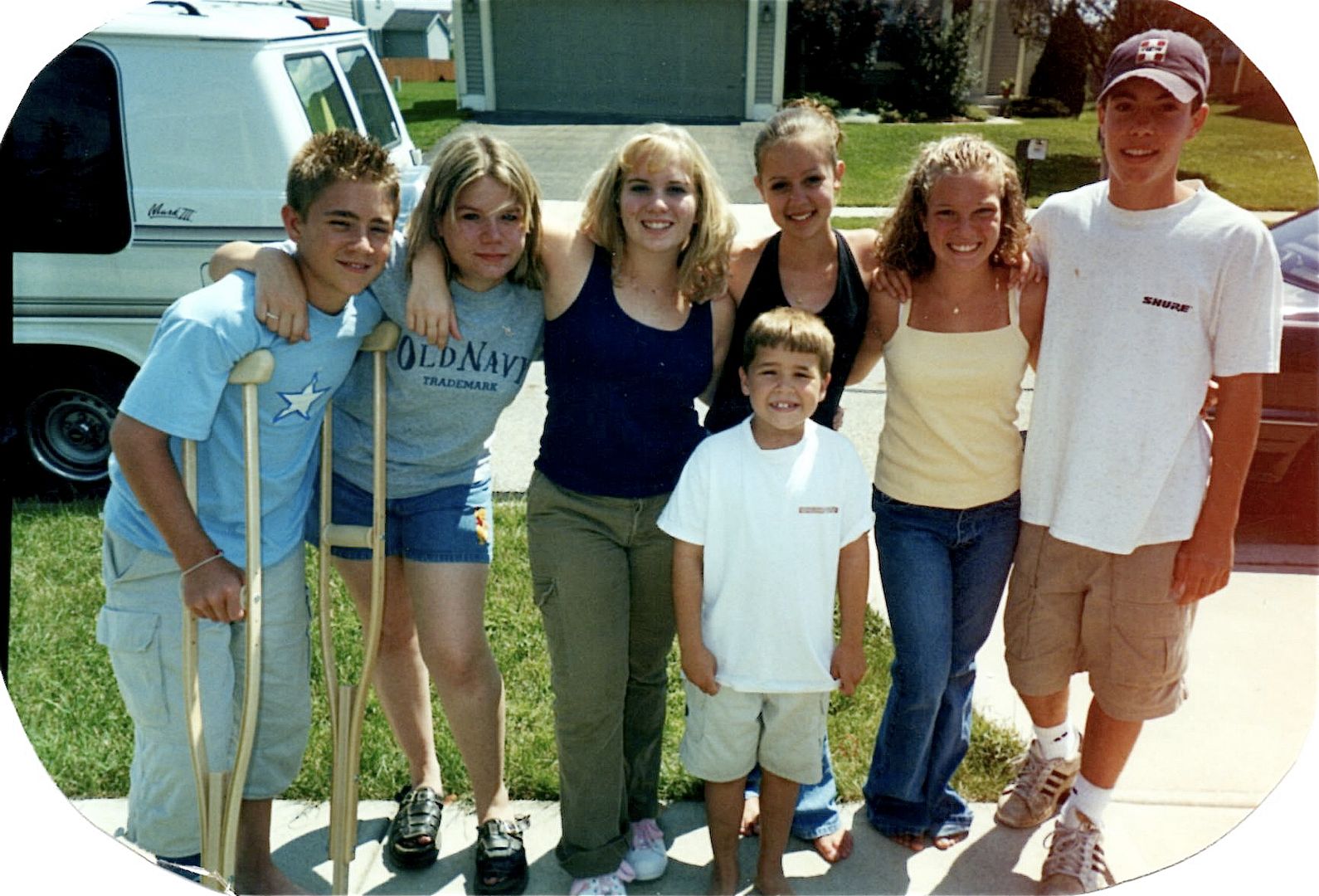 Matt, Jessica H, Jamie, me, Jessie, Steve, and Jacob– Jessie and Jamie's last day as my backyard neighbors– neighborhood buddies gathered together to see them off to their new home for a few years in Dalton, Ohio. This was a very very sad day for teenage Jessica. (Also the summer T.Matt swung from a rope in shallow water while he, Steve, my parents, and I were boating in Alum Creek. Broke his tibia and shattered his growth plate and had to wear a cast up to his thigh the rest of the summer! And I still notice his slightly 'off' gait.)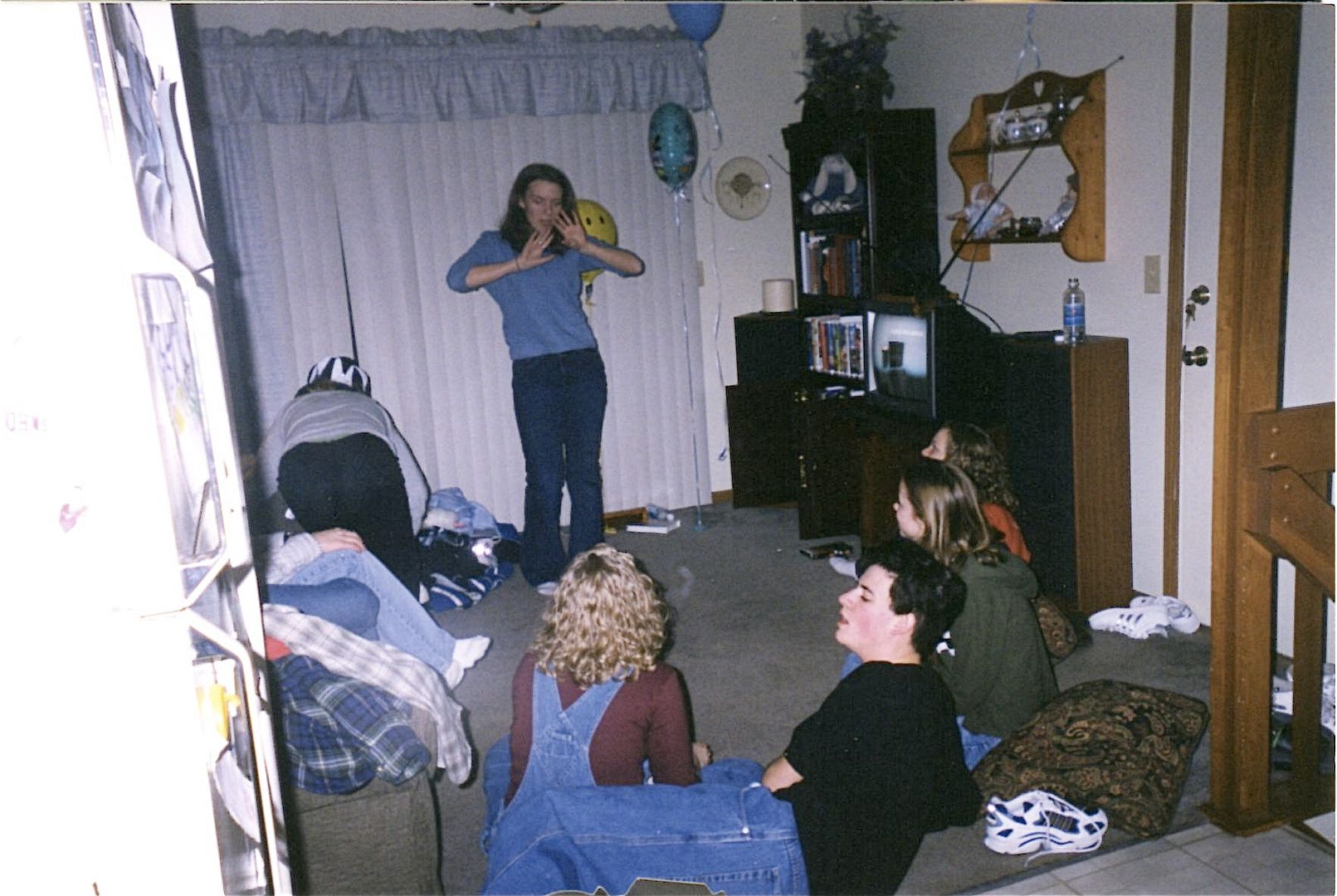 The night Ash entertained us by performing silly dances to 98 Degrees in my living room for my 15th birthday. Throwback to the the obnoxiously long bunny ear antennae on the TV set and the bookshelf full of VHS movies! Oh, and everyone's stylin' plaid button down over-shirts are lying about.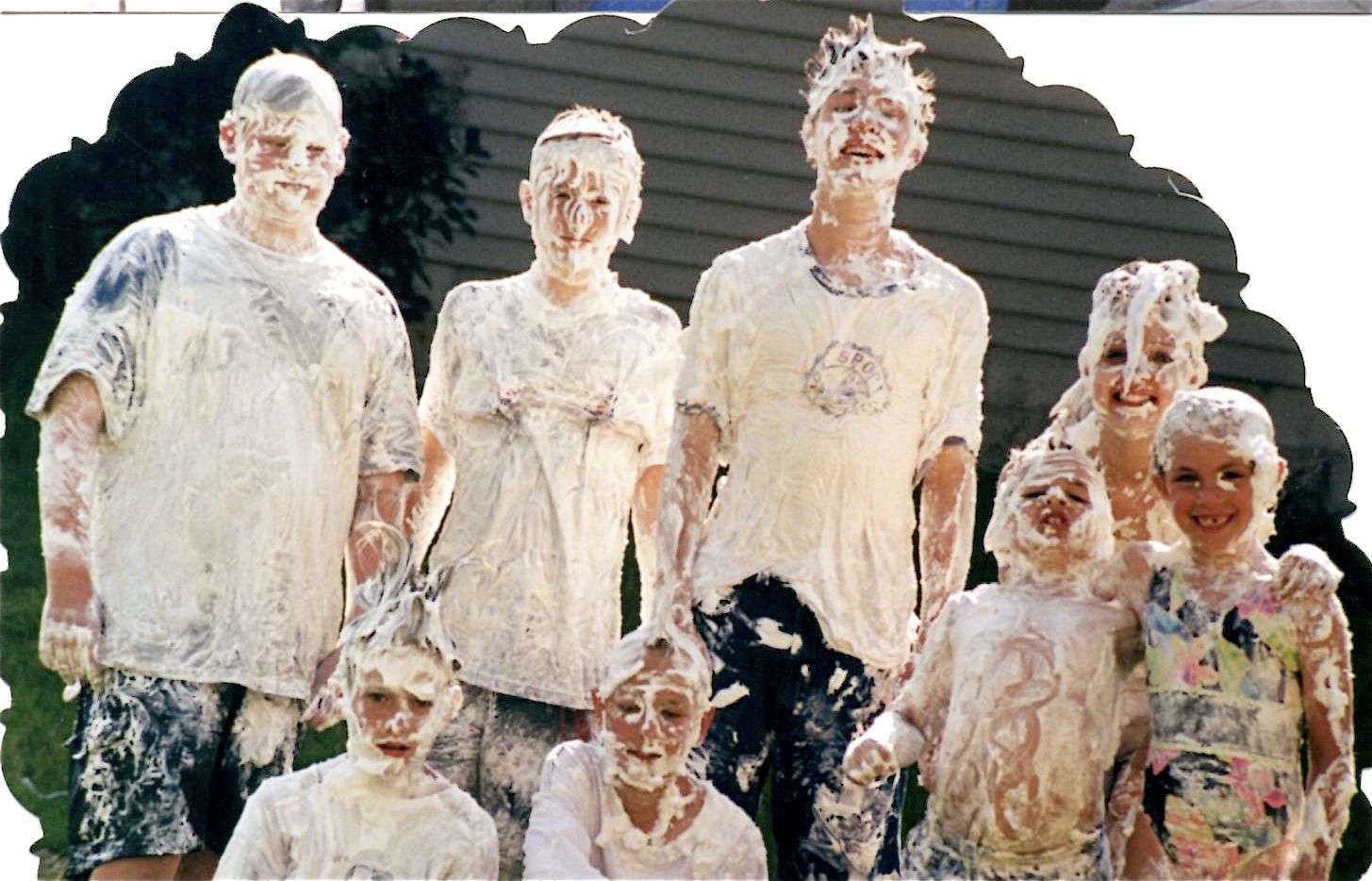 The last-day-of-school shaving cream fights my mom used to organize for us. I'm pretty sure that's Mark, Matt, Steve, and me in the back; I forget/can't tell, I forget/can't tell, Little J, and his girl pal in the front.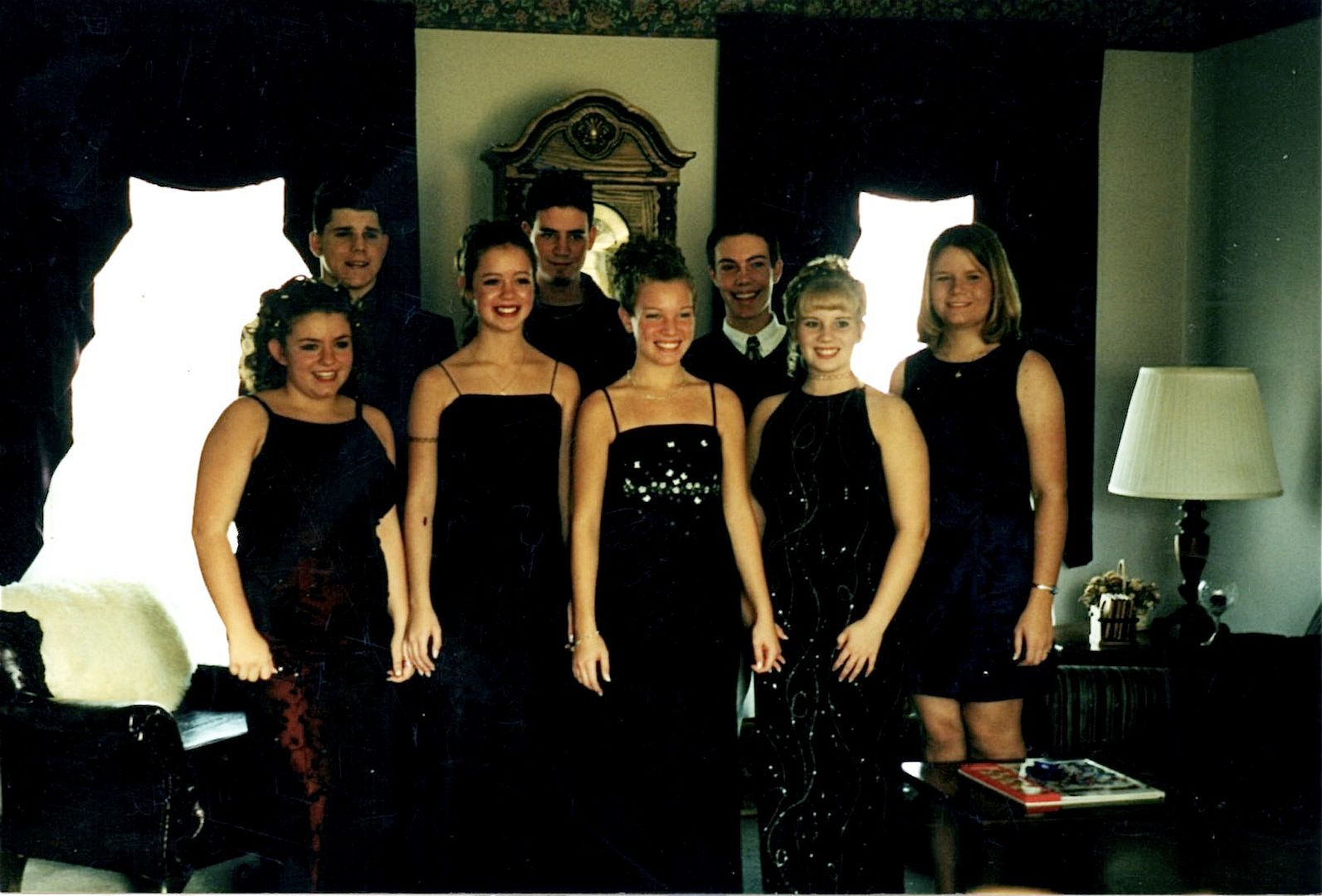 High School Homecomings! pre-dance photos by the parents in my living room. Flashback to spaghetti strap dresses! The boys in the back: Clint (who passed a few years ago, RIP Clint), Nick, Steve; girls in the front: Amber R, me, Jessie, Jamie, Jessica H.
2001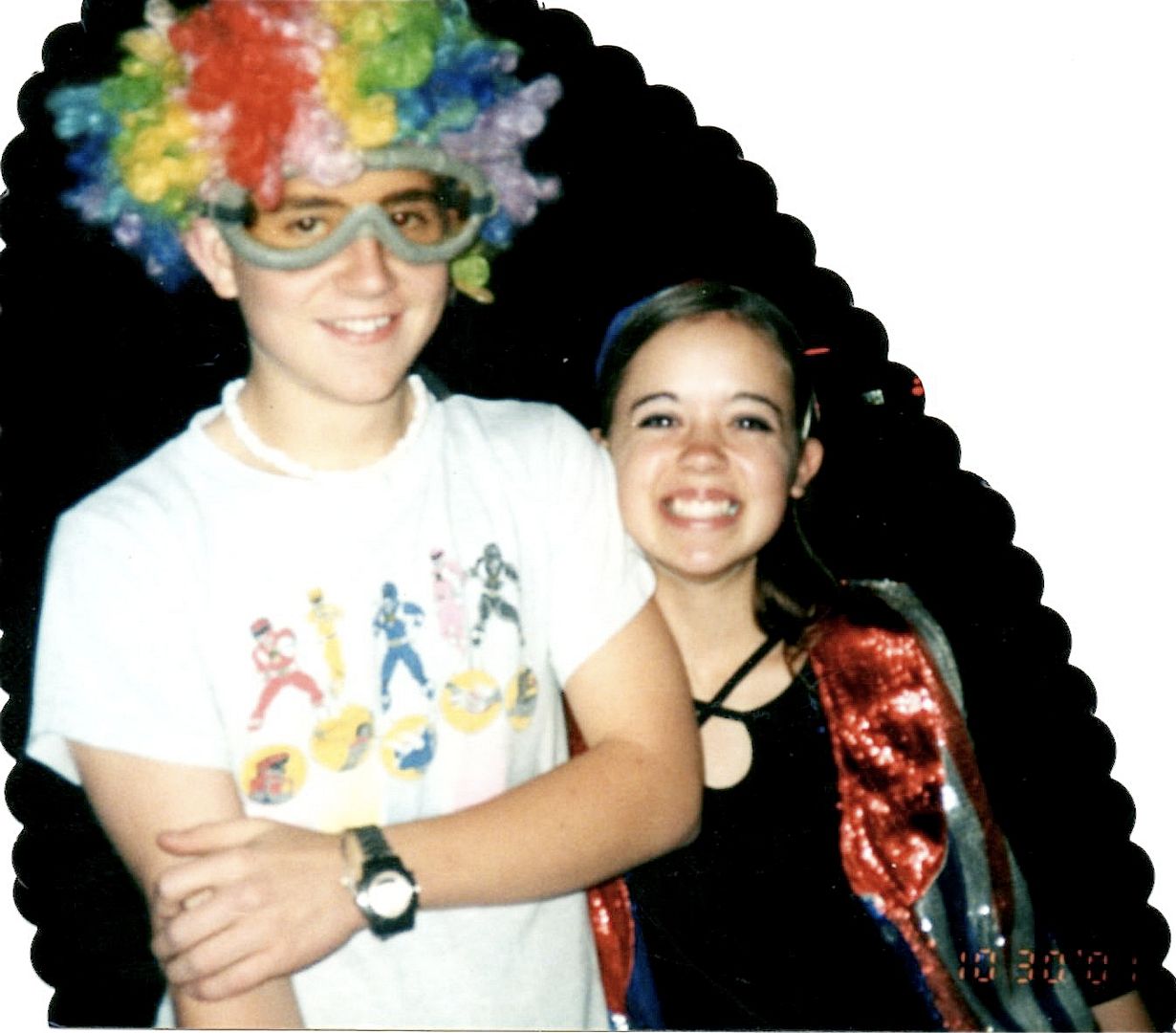 The year Matt, Ash, Steve, and I decided at the very last second that we weren't ready to be too old for Trick-or-Treat. We tried to be strong and mature, but dammit we needed one more year to be kids! So we ran to my parents' box of old Halloween costumes and threw on the first things we could find. Ash had on a witch's dress I think and the bunny ears from my first Halloween Costume. I think Steve had a Frankenstein's Monster head and a sword or something. Matthew is in the picture donning my Orville Wright goggles and a clown wig, and I have on a clown hat and vest… And we had ourselves a Marry Trick-or-Treat. We didn't have bags to collect candy and I remember Steve eating every single piece of candy he received between houses. My stomach hurts just thinking about it.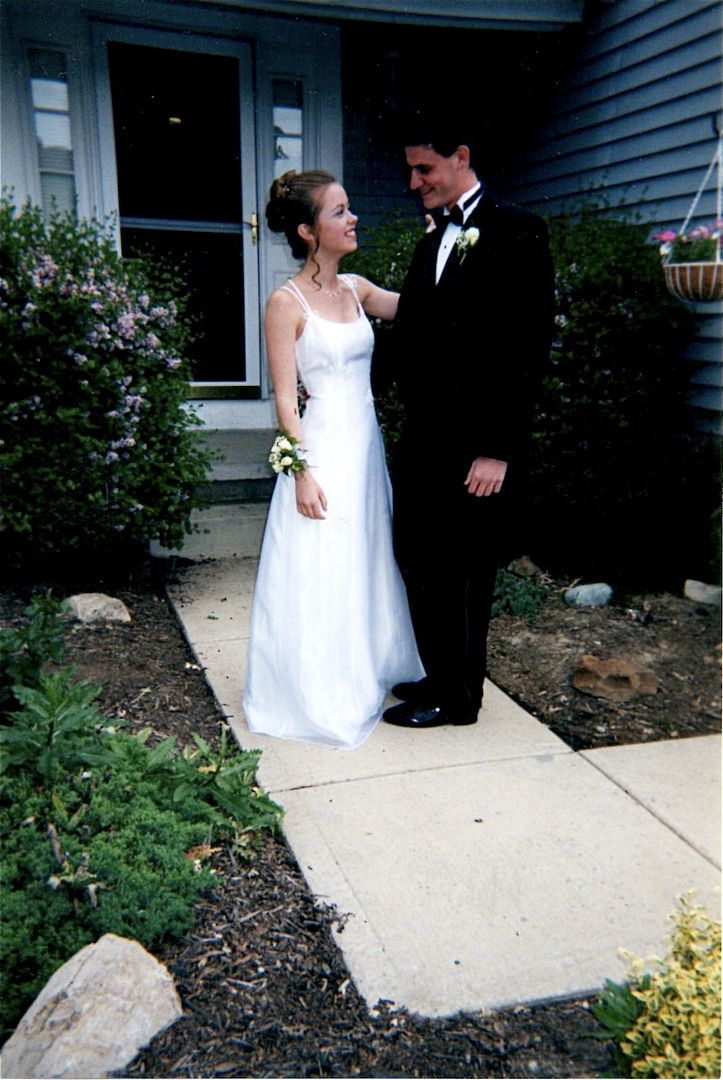 Throwback to High School Sweethearts and the lilac bushes my mother planted on either side of the front door of our house. ohmygoshimissthose, I remember that fragrance. It takes me back every time I smell it.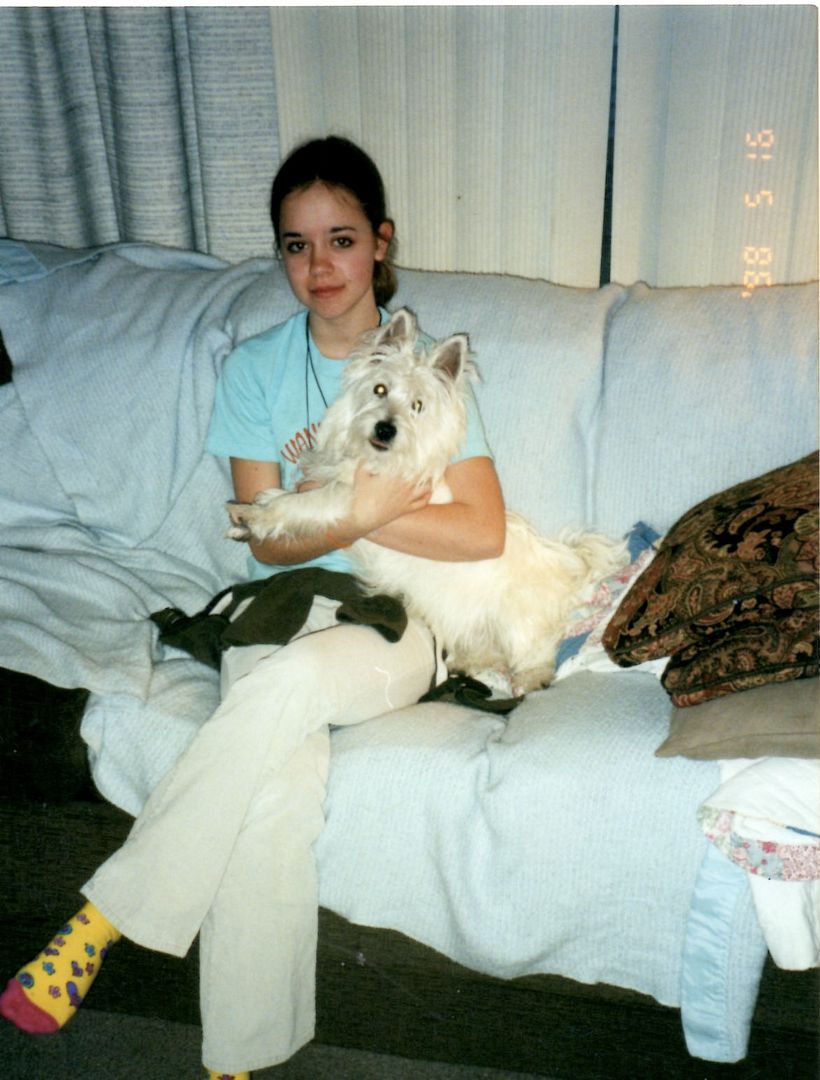 (**The date on some of these pictures is totally wrong.)
Young Reese Pete! See, we once loved each other! He had to have been under one here because I believe 2001 is the year I bought him- I had just turned 16 when he was born. (I still love Reese, by the way. Just in a very I'm-glad-he's-Jacob's sort of way.)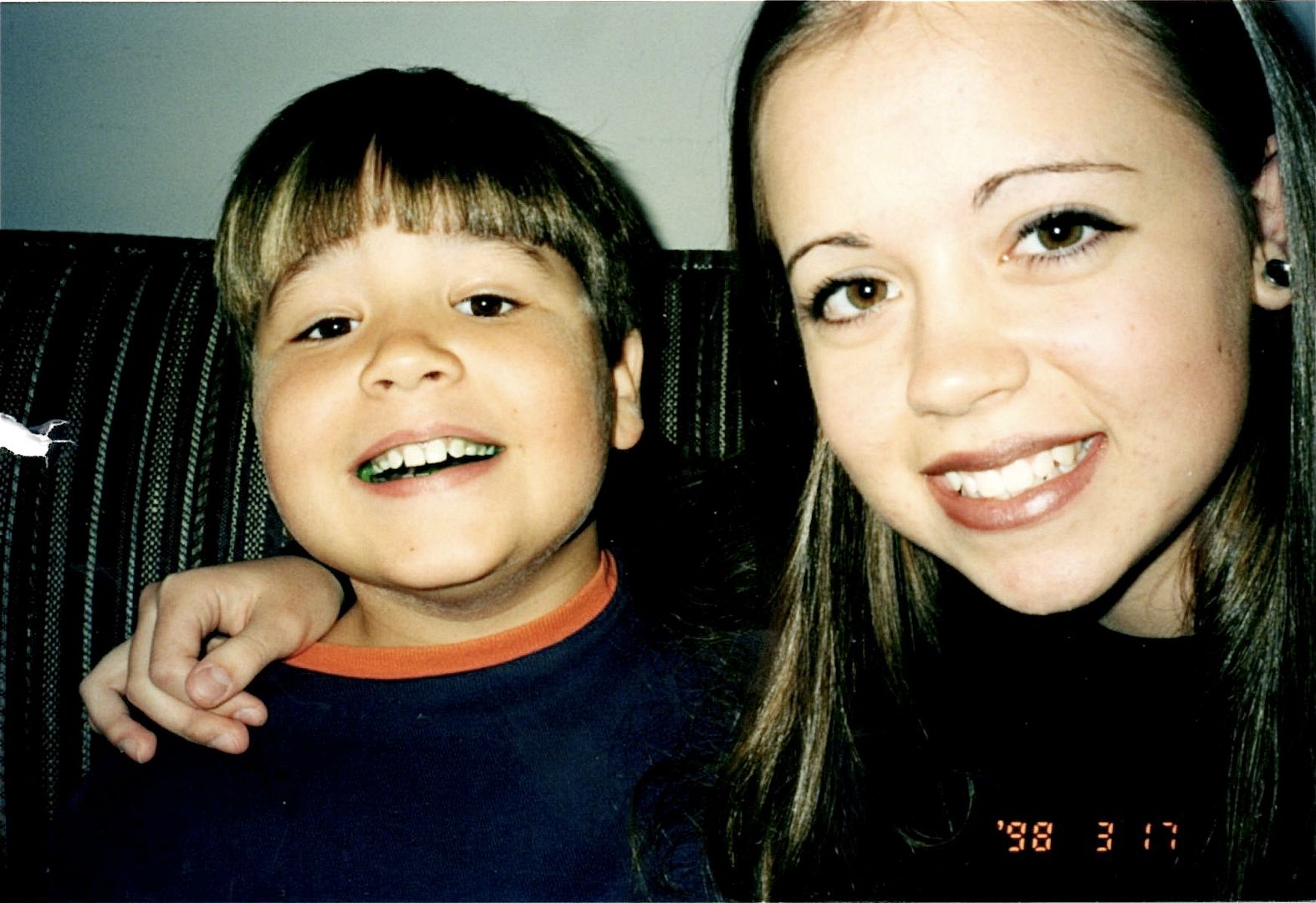 Me- with ears stretched to a 0 gauge- and Little J with green teeth!

Ah yes. Dad snapped this shot as I was about to walk out the door to go, i dunno, lollygag teenage-style somewhere. I was ready for my day, and what else could a 16-year-old girl need for her day other than her rainbow tank, baggy pants, hippie hair twists, quarter machine jewelry (a loovely choker and Matt and I had matching rainbow Power Heart Kid bracelets), blue Hot Topic Soda shoes, and 2 Blowpops just in case. You never know when you might need a Blowpop, and ya' gotta have a second one to share with a friend.
2002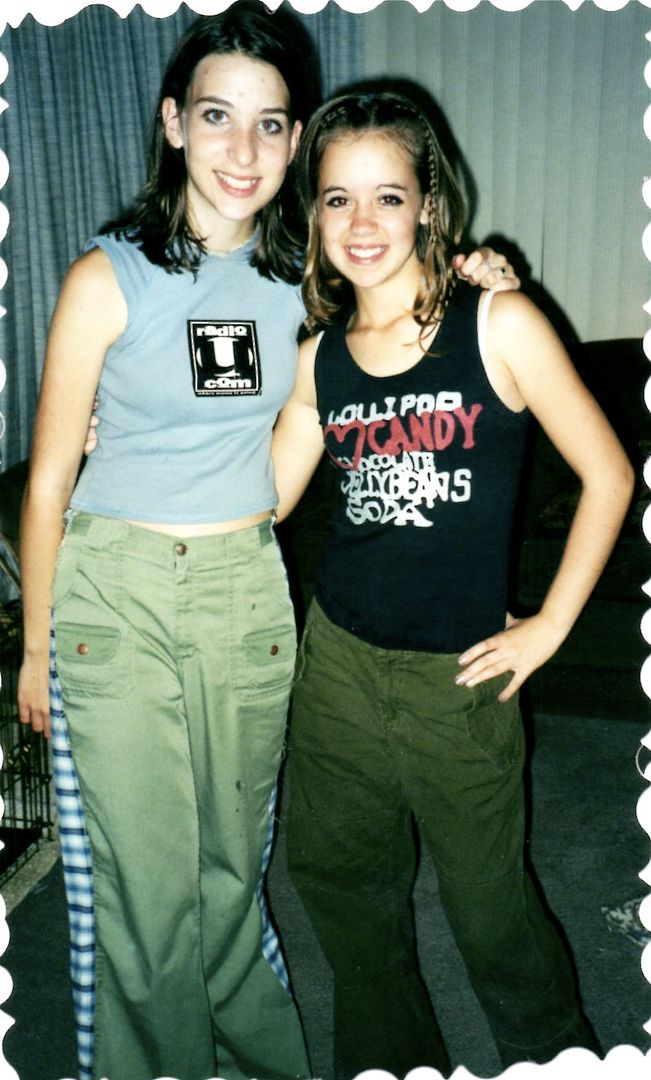 The Year of Greta! and lots of thrifting, concerts, festivals, Monty Python, and Home Schooled kid sleep-overs together.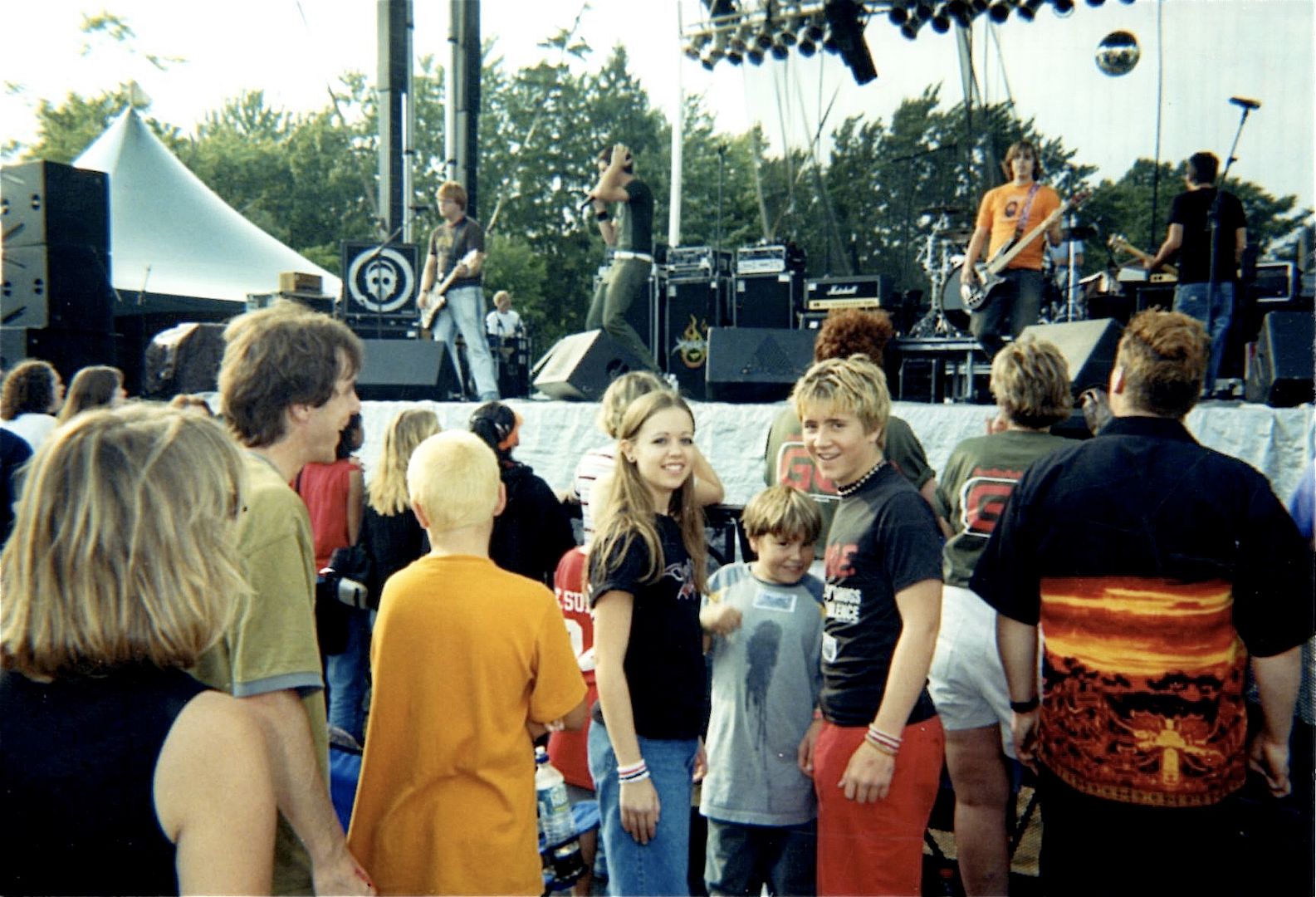 The Brothers and I at a little music festival. Little J is shamelessly rockin' that massive spill on his shirt!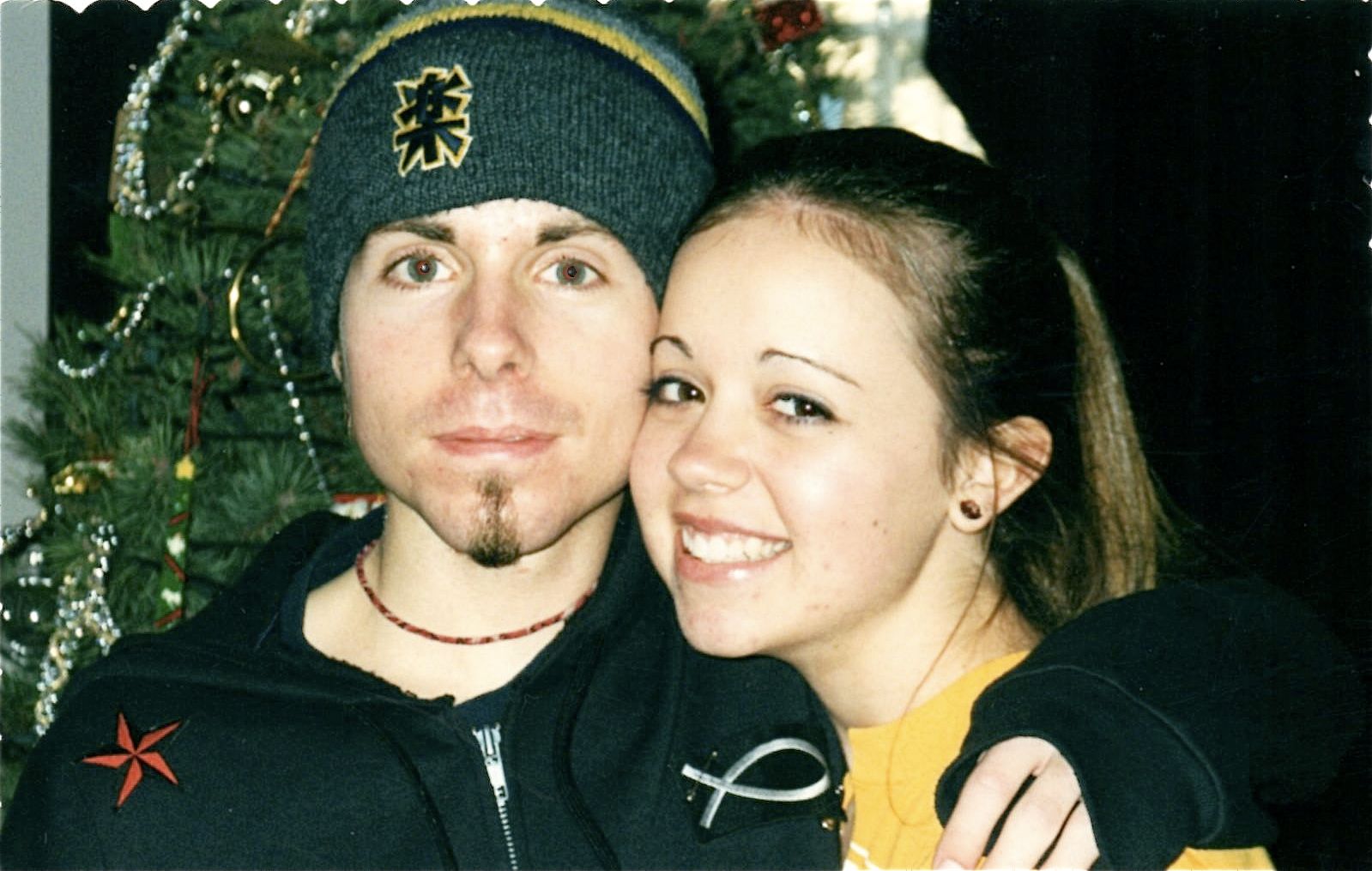 Ben and I were dating. Throwback to iron-on patches and safety pins!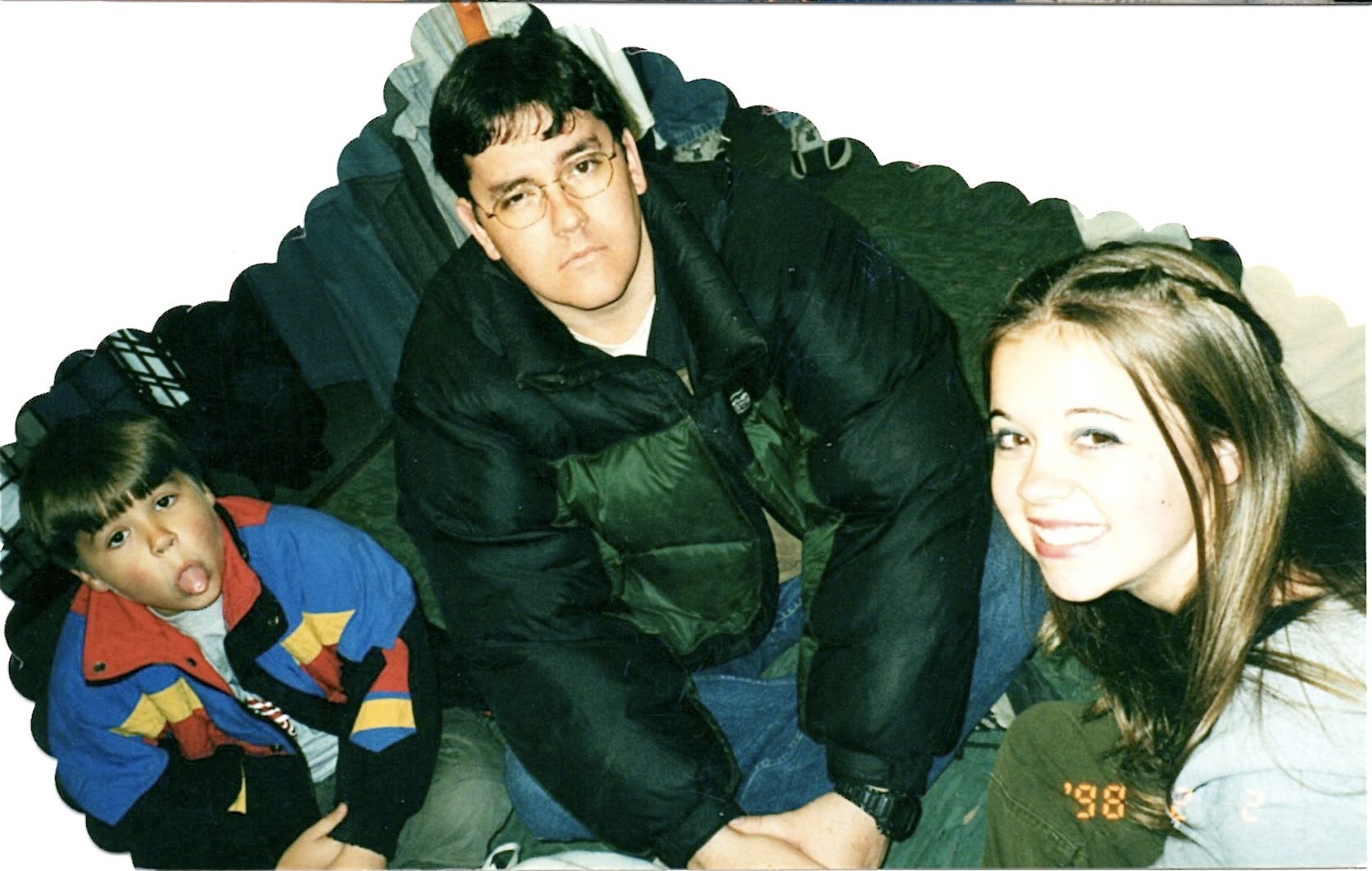 J, Dad, and I were camping out in line for a CD Release and signing.
Categories: Ciao Bella Vita : Daily Journal - Tag: ash, ben, dad, jacob, jamie, jessie, matt, music, nick, reese