Ella Joyce ~ 10th Month
September 12, 2015
Reflective of Baby Ella between August 4th and September 3rd
Mia Bella,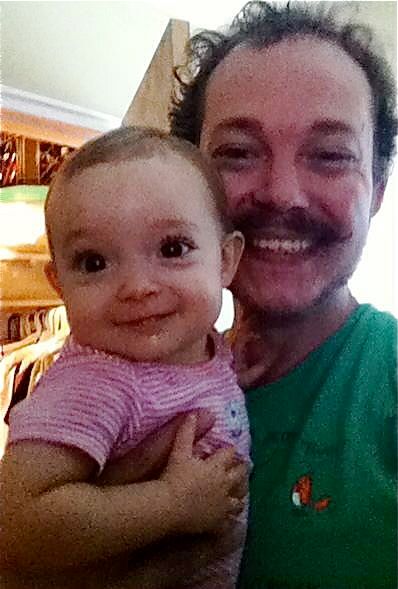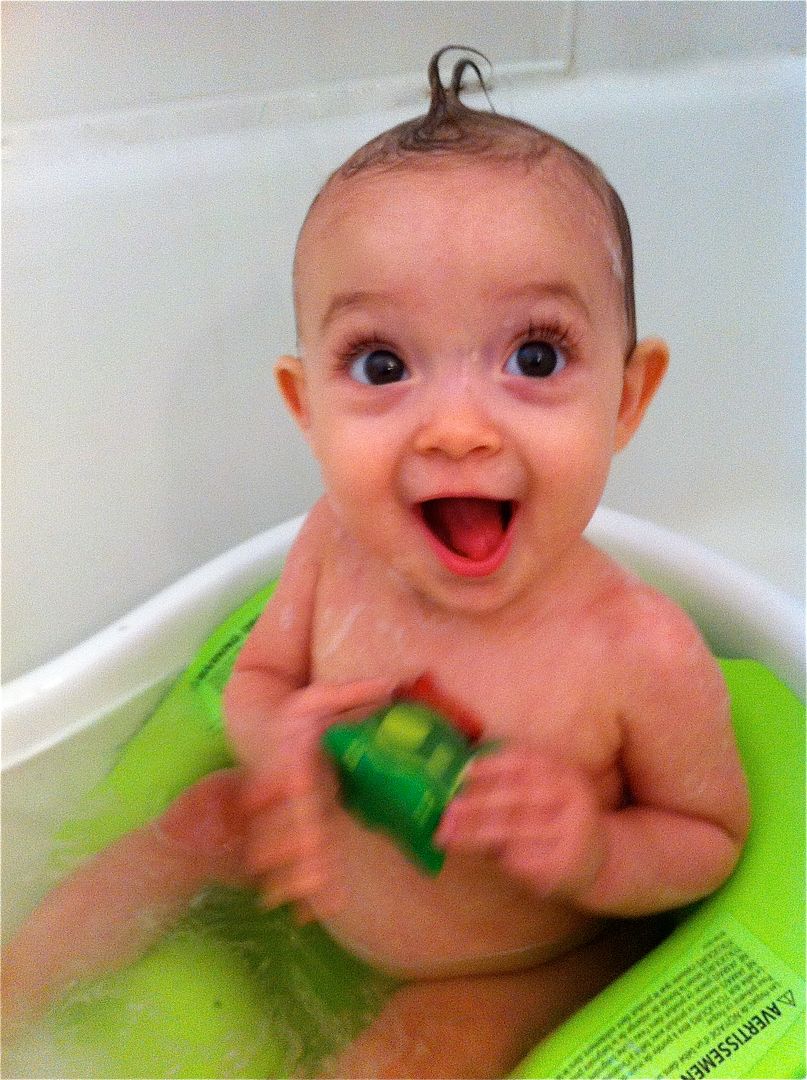 Your tenth month was nothing short of a blast. Daddy, Brother, and I laughed with you every single day. You are a funny little thing, full of expression.
You pull yourself up, stand on your own from time to time, and we keep thinking you are just minutes away from taking your first step! You also perfected your fake laugh. You use it to try to join in the fun, even if you have no idea what's going on when the big people are talking and laughing together.
Oh, and when you wave at people you become very distracted and amused by your own hand.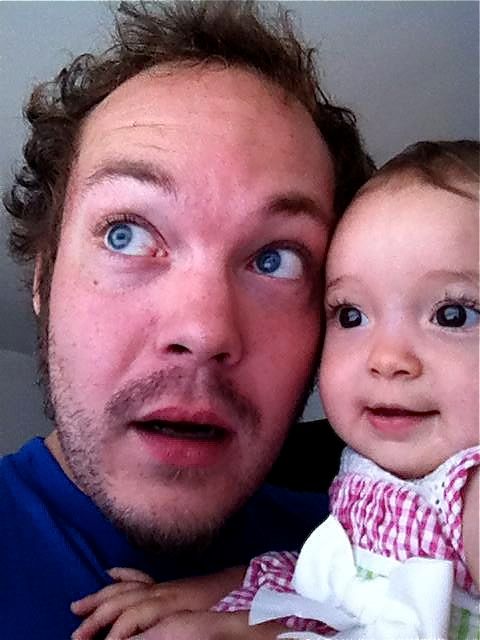 This month you also got to spend a whole weekend with Grandma and Grandpa Sanders while Daddy and I had a mini getaway.
During that time Reese let you clean him with baby wipes.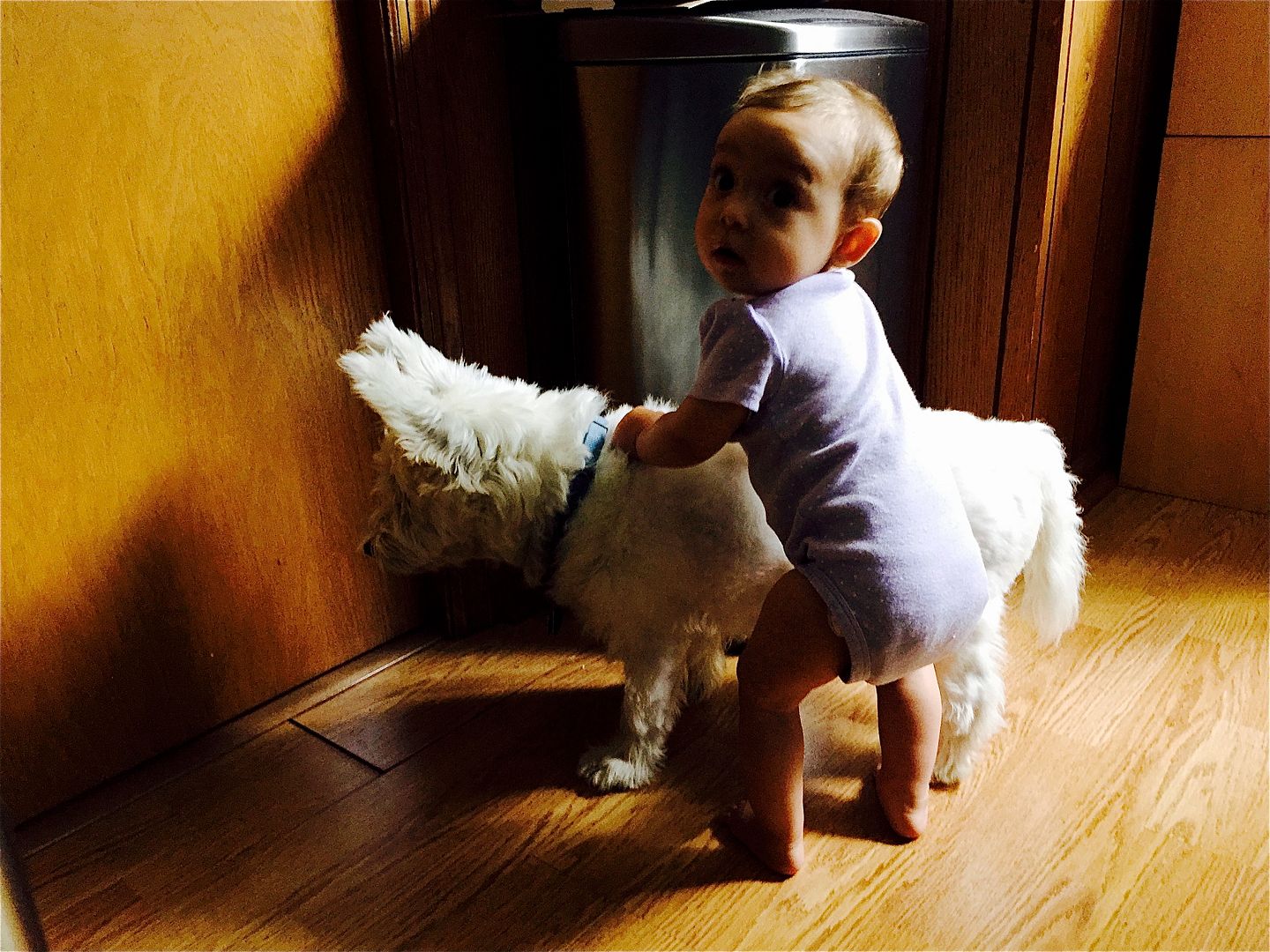 (You LOVE baby wipes!)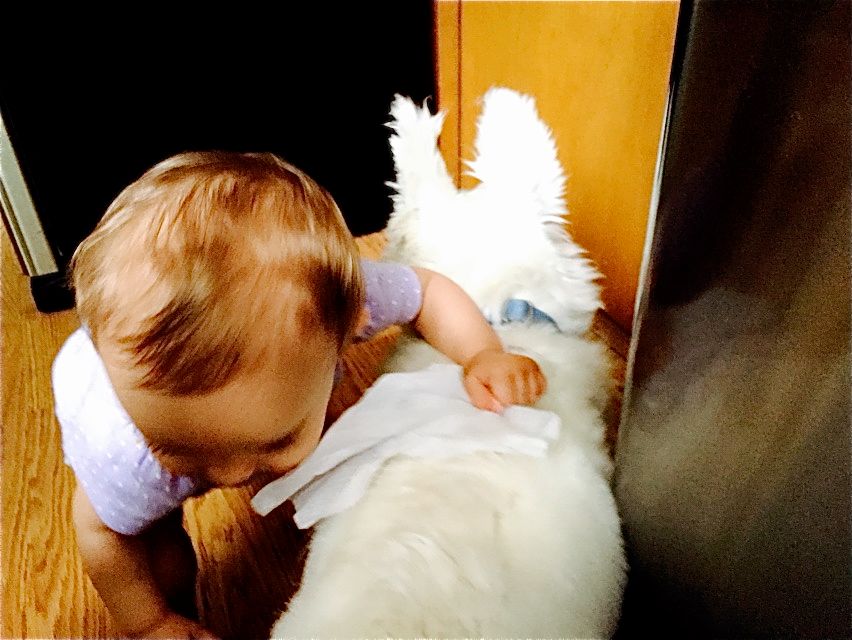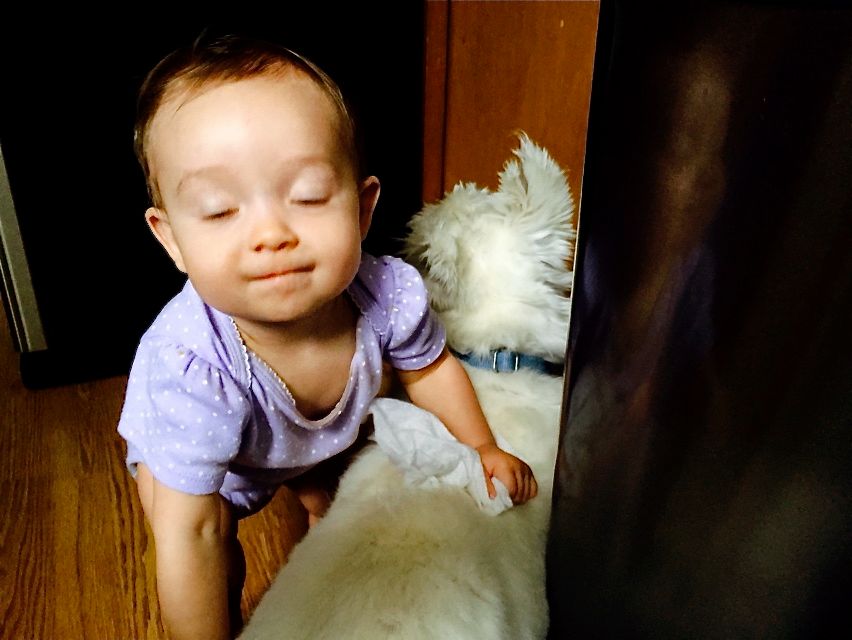 And you also got to enjoy the Food Truck Festival.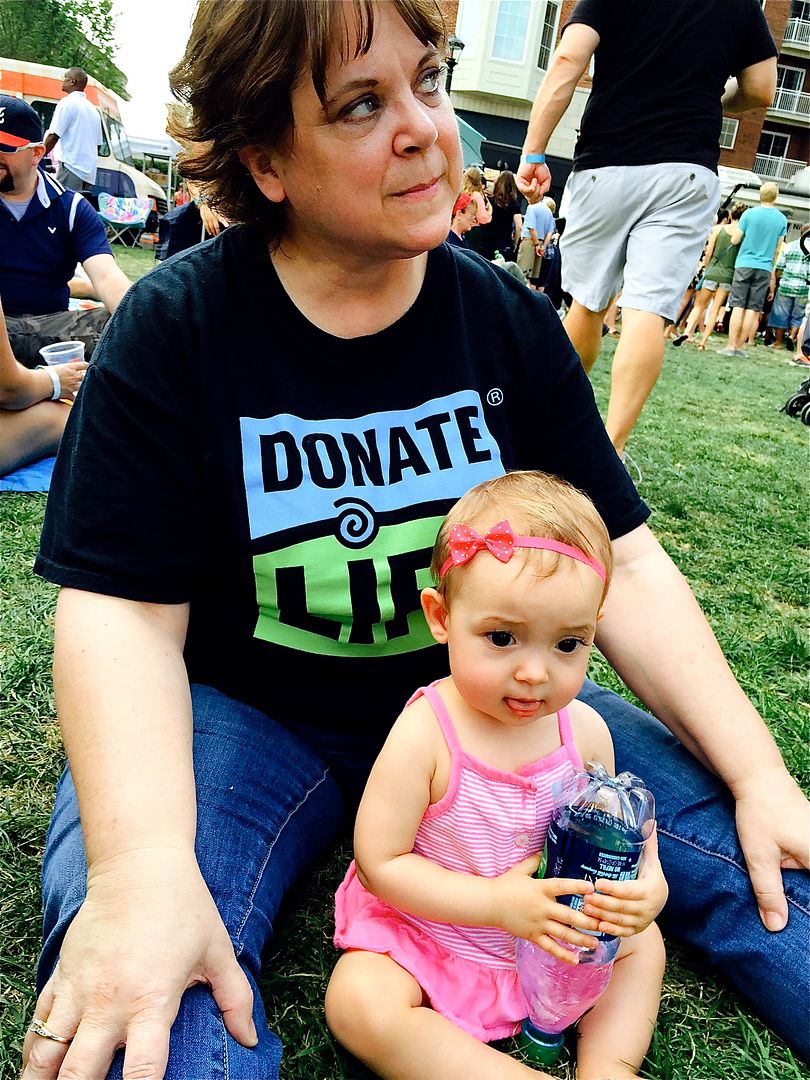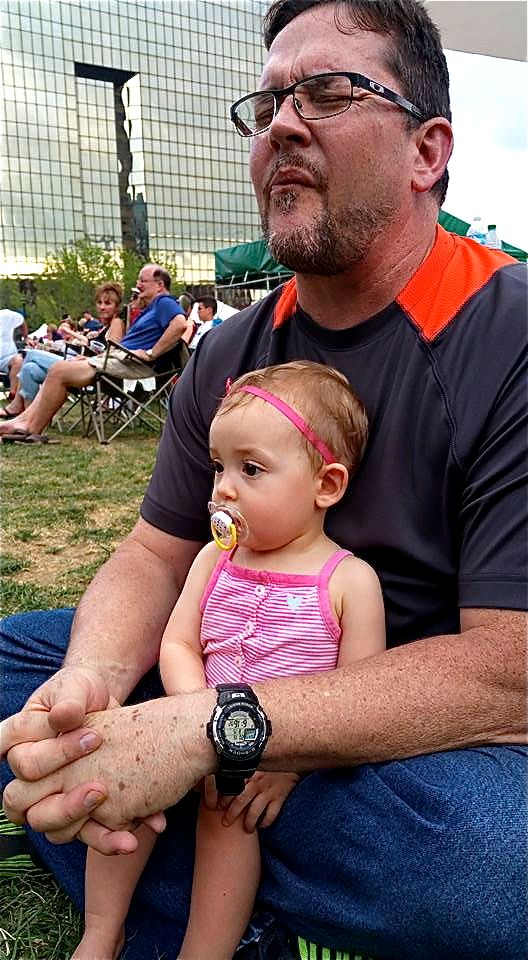 (jamming to the music with Grandpa)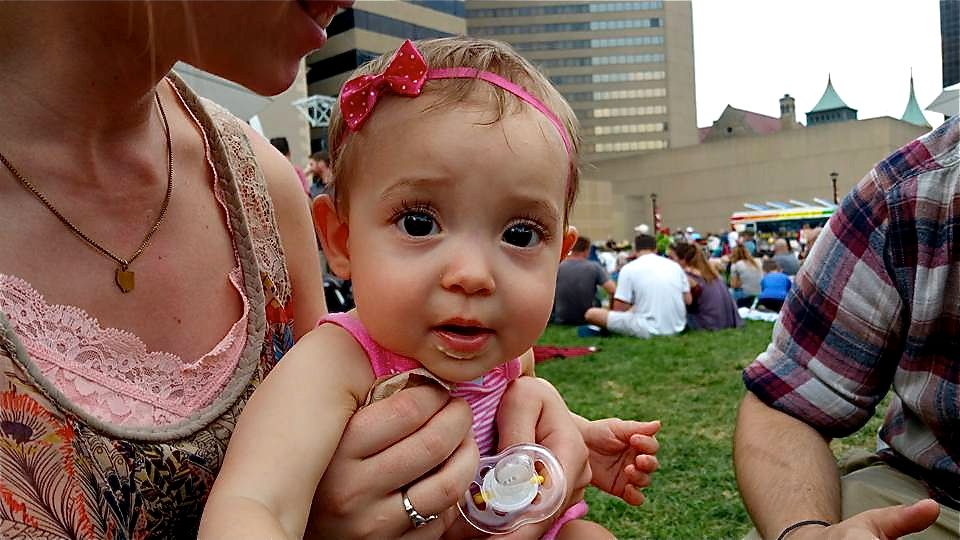 Your Aunt Rebecca and Uncle Jacob let you try a Schmidt's cream puff!
You got to spend some time with Grandma and Grandpa Martin.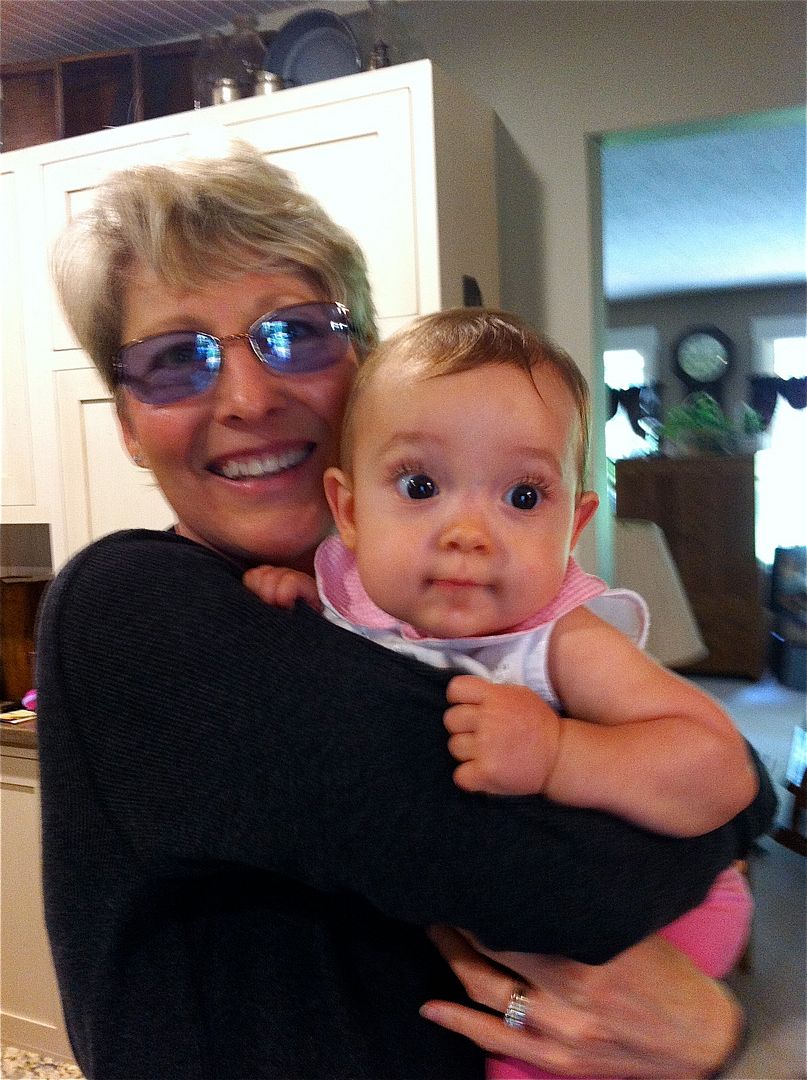 And they let you try a frosty!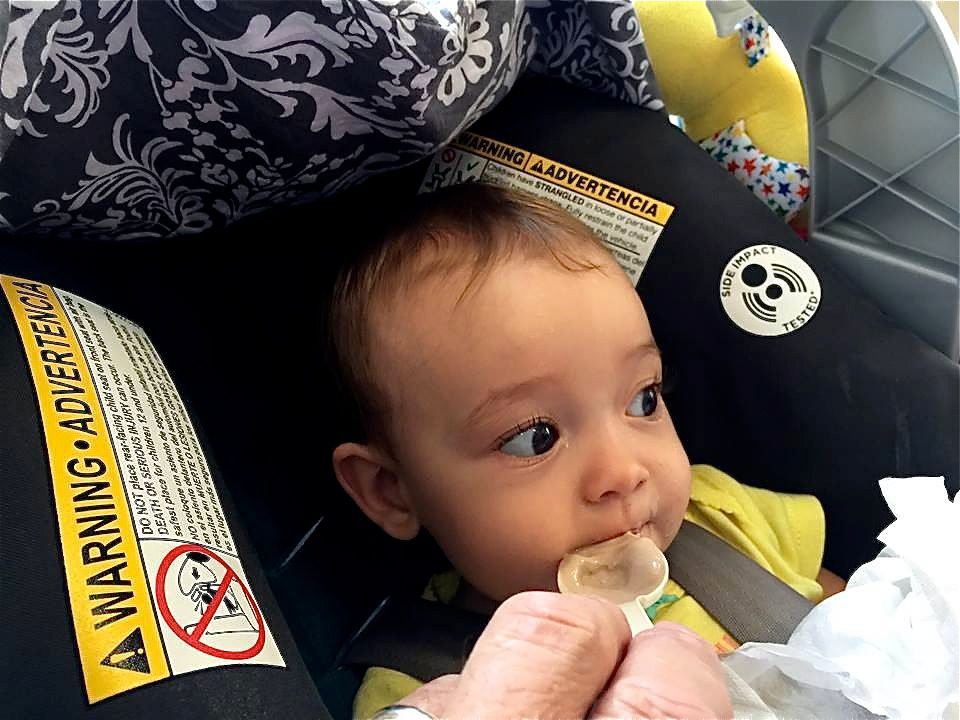 (You have all kinds of people around to spoil you, you lucky thing!)
On Wednesdays you take a walk with Grampa Sanders to pick your brother up from school and play on the play ground.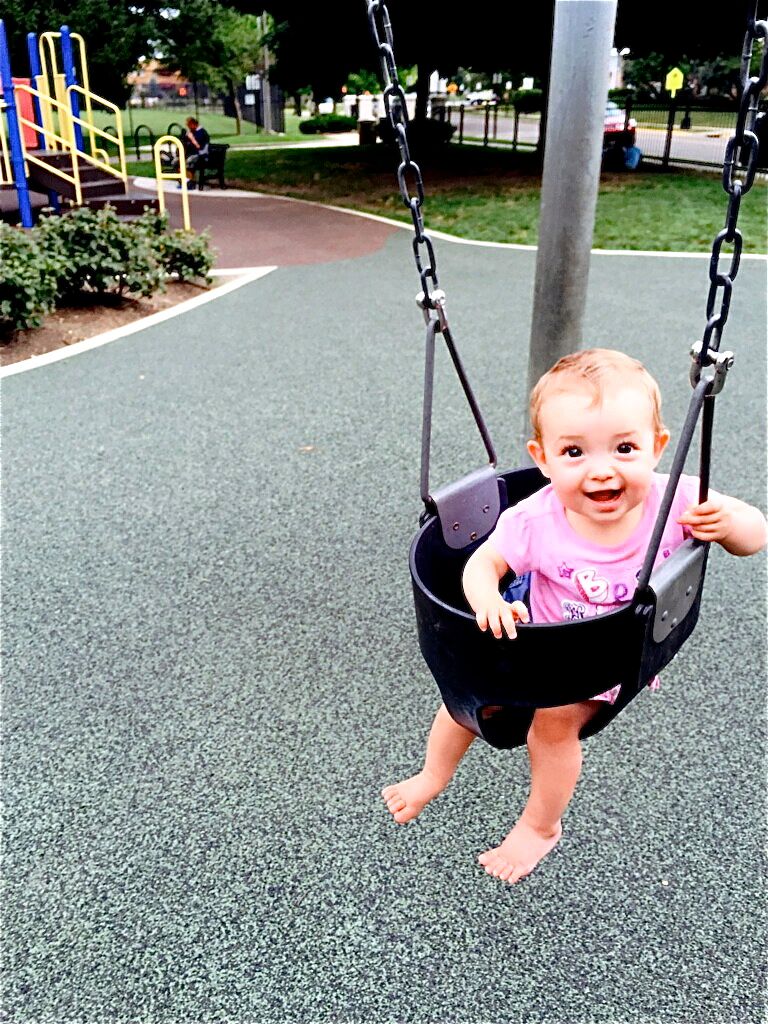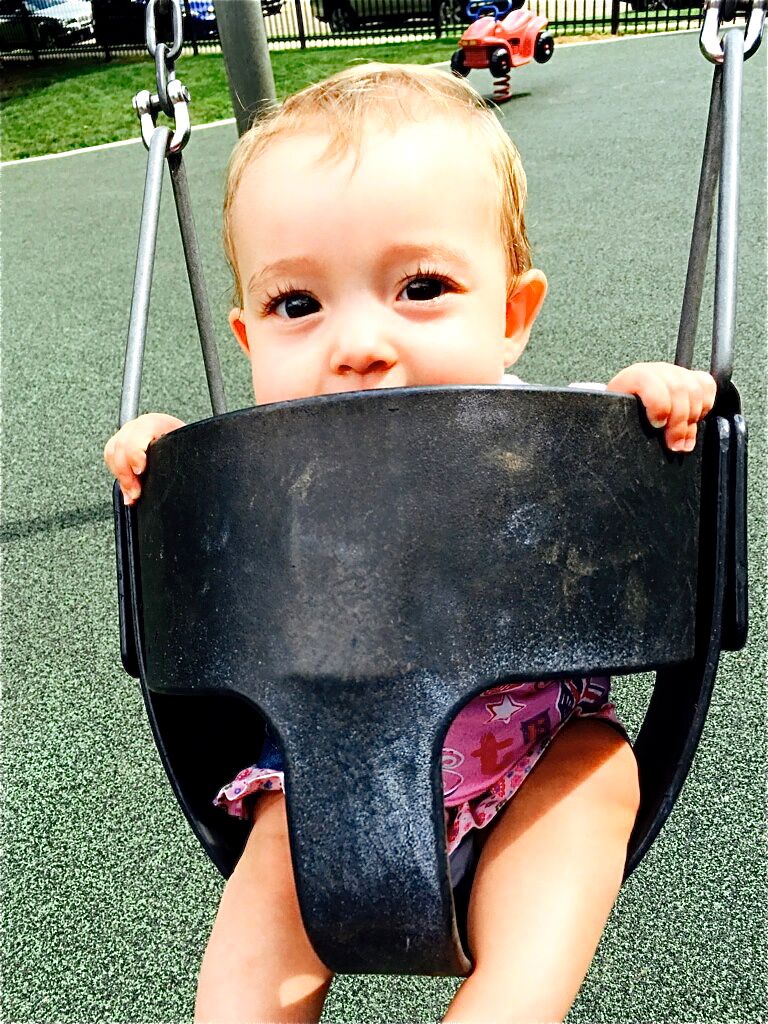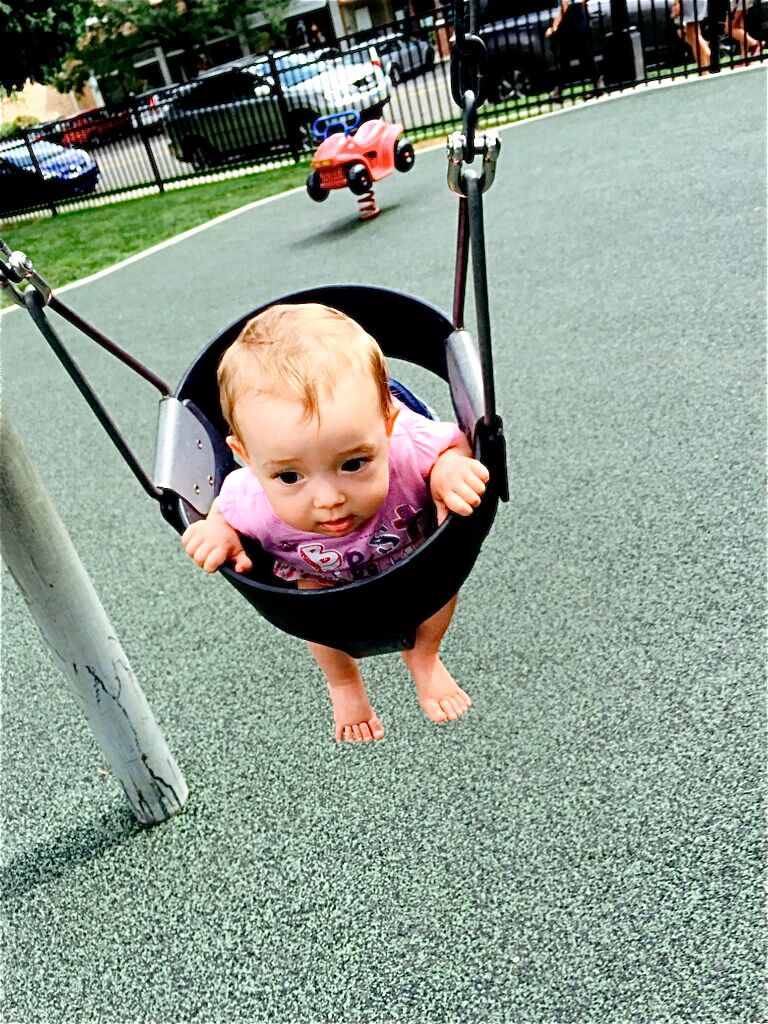 You love to swing.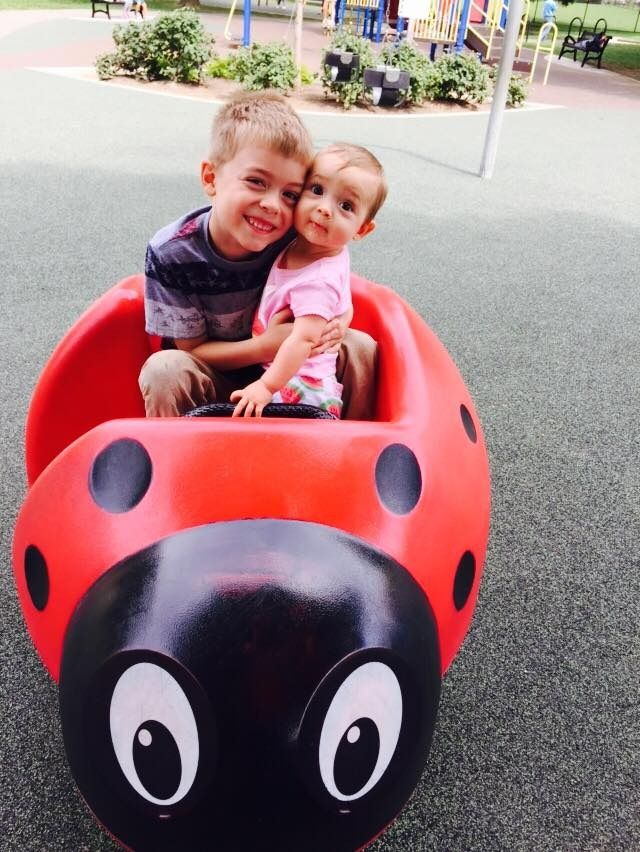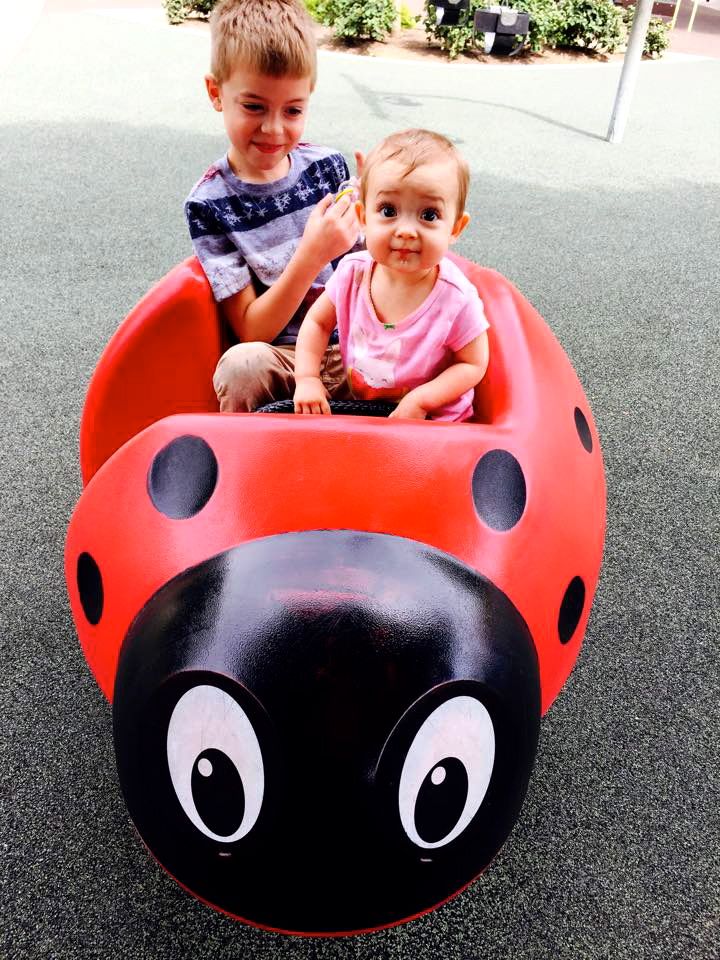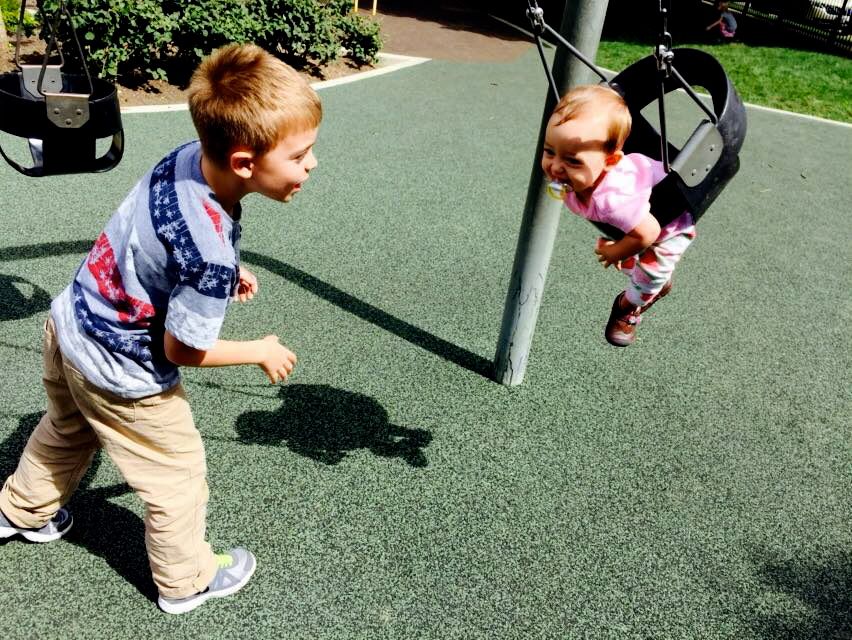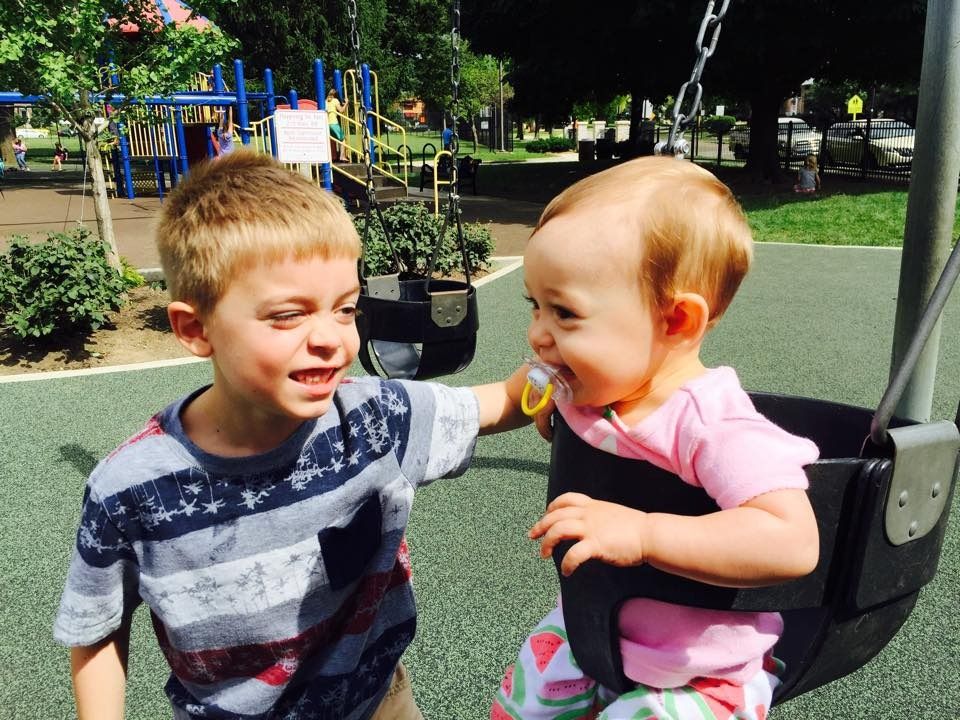 For Grandpa's birthday we visited Uncle J and Aunt Rebecca's new place in Athens, and got to hang out at the restaurant – Casa Nueva – at which your uncle works.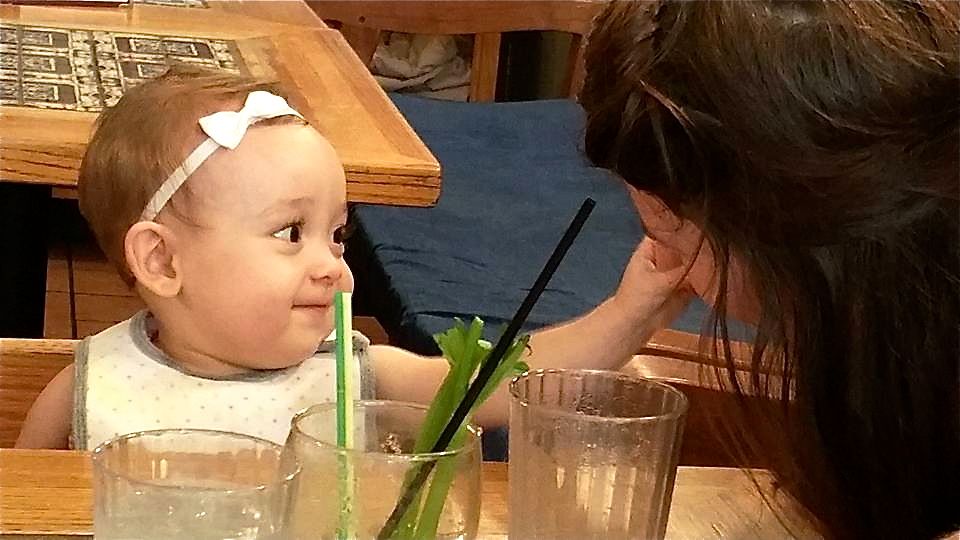 (honking Aunt Rebecca's nose)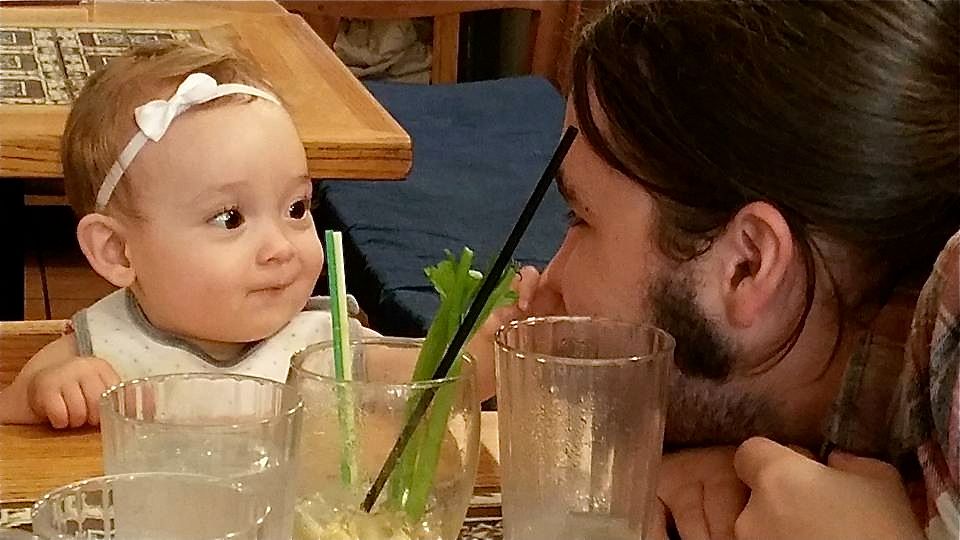 (honking Uncle J's nose)
And you and your Uncle Matt had a very important bonding moment over a mango popsicle!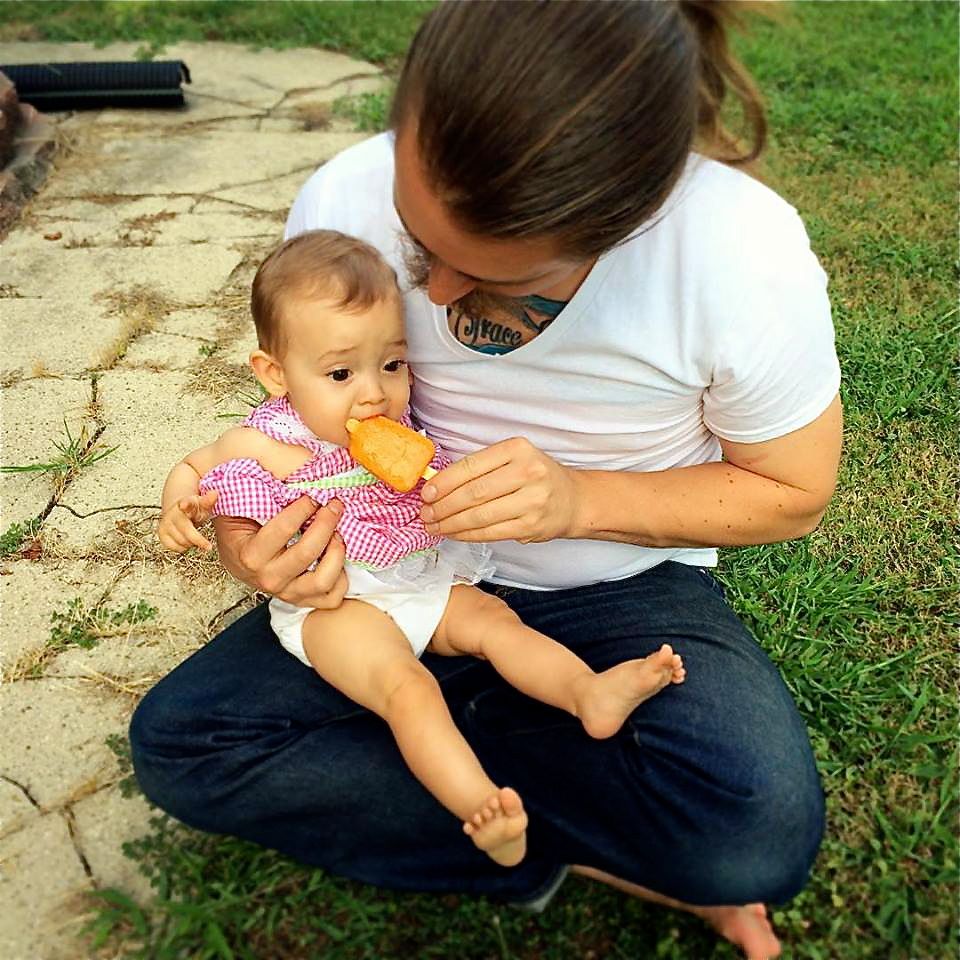 Your tenth month was the month you LOVED puffs.
You could have eaten them all day every day!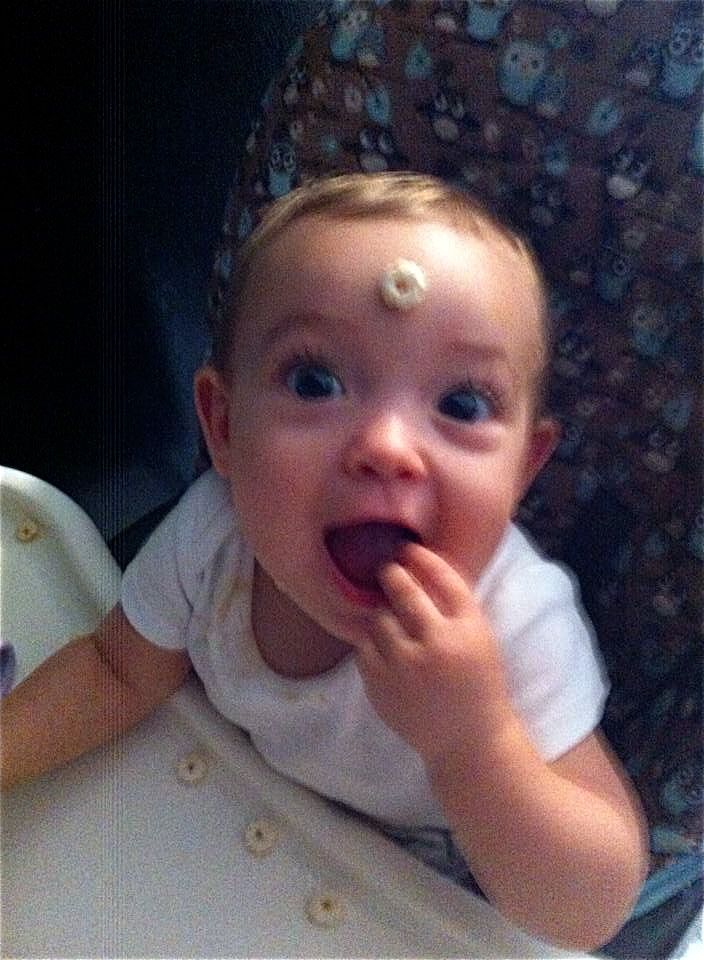 Your brother would also want me to include in this post that you exclaimed, "YAY!" to him one day after giving him a high-five. He was so excited about that! He is so proud of you!
You also started stepping up on things and climbing and you accomplished ALL KINDS of exploring.
You therefore were taken to Stride Rite by Grandma and fitted for your very first pair of walking shoes!
And lastly, toward the very end of your tenth month – while Mommy and Daddy were at work – you started spending your days with your Aunt Aalliyah and Cousin Juno! Aalliyah dances and sings and watches Doctor Who with you. She loves on you all day while you and Baby Juniper can't seem to get enough of each other. June 'n you babble together and make each other grin 'n giggle and it's so fun to see and hear about! You seem so drawn to each other and we are excited to watch you grow together. (Bonus: You two are so freakin' cute on your own, but together it's almost too much!)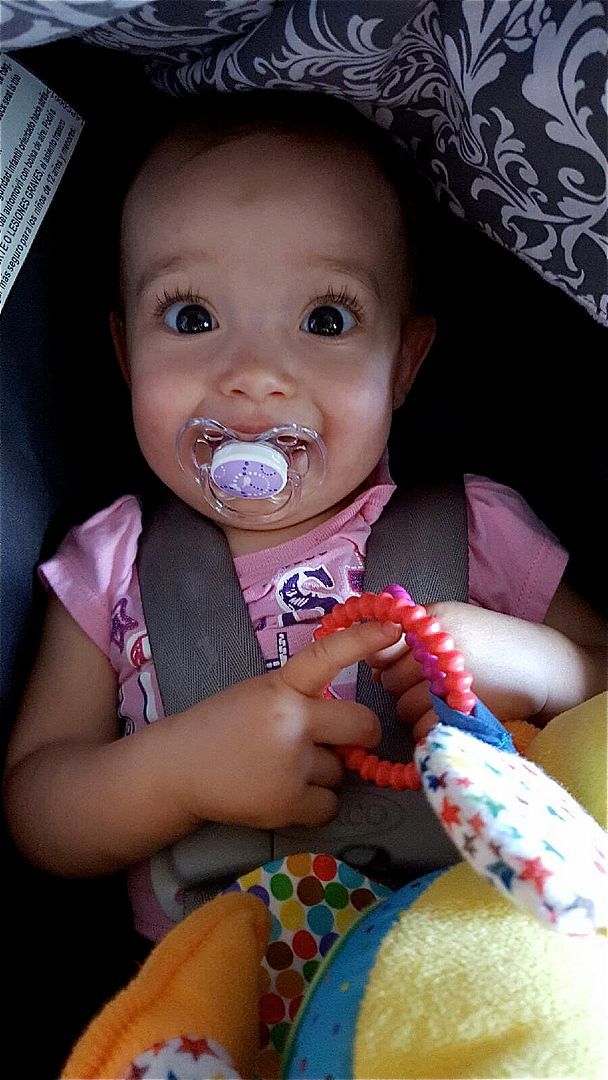 (your first drop-off picture at Aalliyah's)
So many people love and adore you, Baby Girl.
Always remember that.
<3 Mommy
Categories: Ciao Bella Vita : Daily Journal - Tag: Aalliyah, adry, becca, dad, Ella, family-in-law, jacob, Jeff, Juniper, keith, matt, mom, motherhood, reese, sherry