Thanksgiving '09
November 28, 2009
***All videos have been added!!***
Thanksgiving day was a pretty good one. Truth is, is started out pretty rough. I had spent the entire night previous trying my very best to get to sleep and got a grand total of one hour of restless shut-eye. Usually I can tolerate one sleepless night- it happens fairly often- but this had been the fourth night in a row during which I got less than four hours. By day four of sleep deprivation I am usually sick and cranky. So there you have it- I woke up sleep deprived, sick, and cranky.
So, Ben drew a Lavender Soak Epsom Salt bath for me and put a plate of peanut butter toast by the tub. Oh man, I felt like a new person as soon as I got in. I'd never had an Epsom salt bath. It was glorious and it saved my Thanksgiving day for sure. I AM THANKFUL FOR EPSOM SALT! And for a husband who took care of me.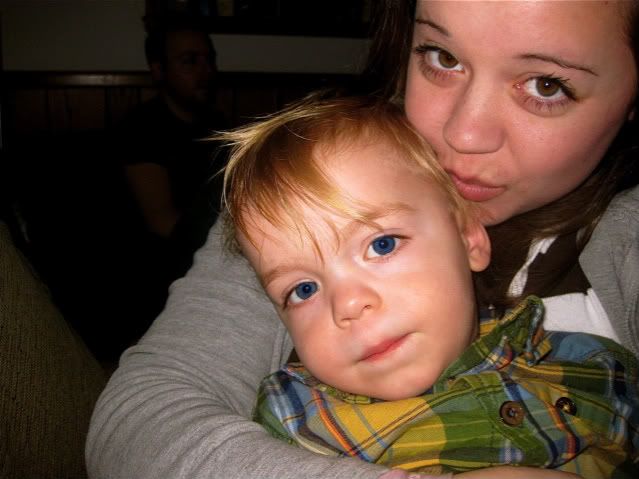 One day he will smile for pictures!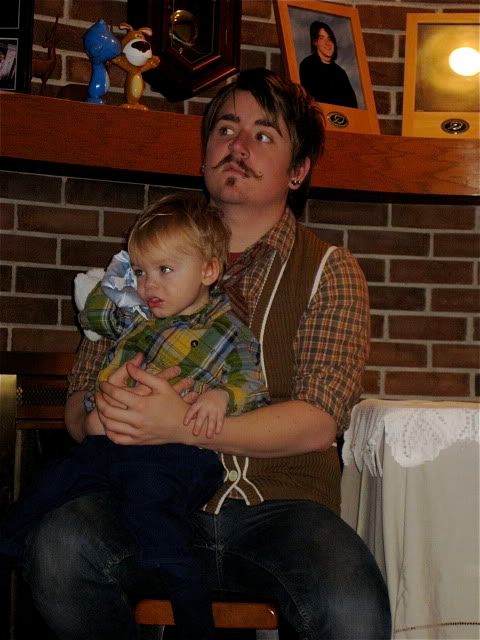 I snapped like 5 pictures of Matt and Adry, just of the two of them naturally- they weren't posing- and in every single one Matt was making some sort of funny face.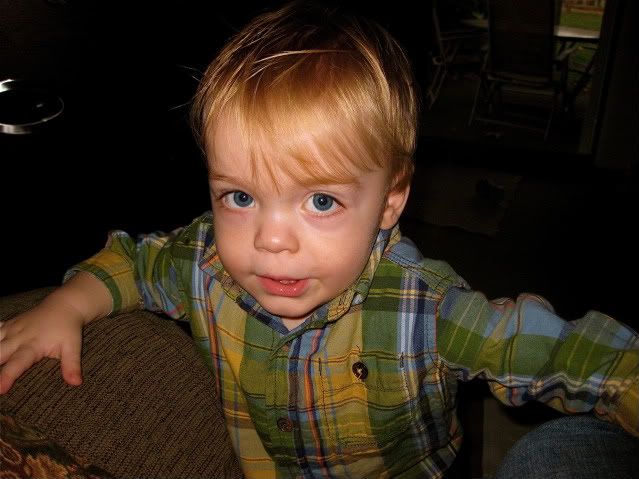 The turkey… which I didn't eat any of. I don't remember the last time I ate turkey on Thanksgiving. I have to save stomach for all of the awesome food I like so much more.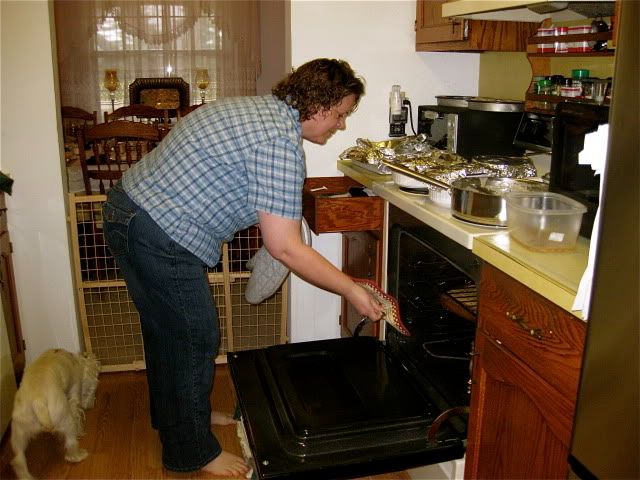 The Food Woman in Action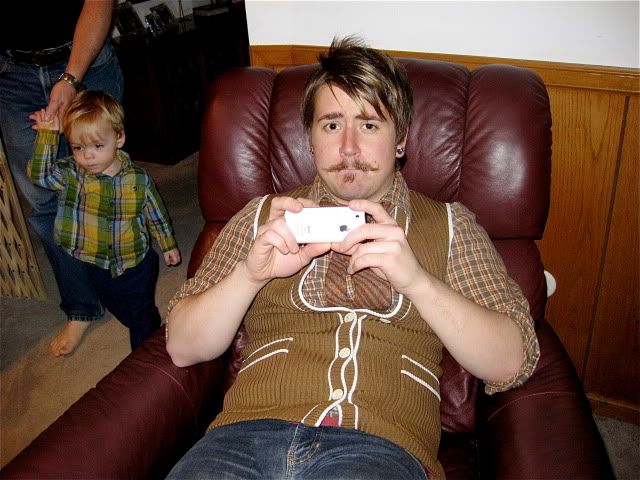 T. Matt and his iphone
Adry's new name for Matt is 'Uncle T'. He never could say 'Uncle Matt', but he can say Uncle T. It comes out 'Guggle Gee', but at least ya' know what he's tryin' to say.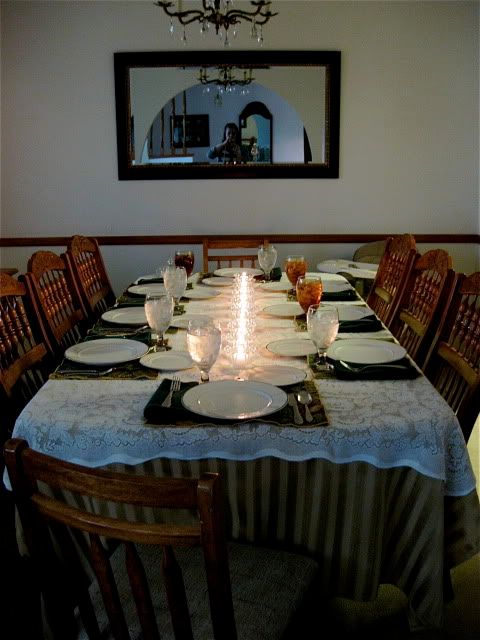 We ate by candle light.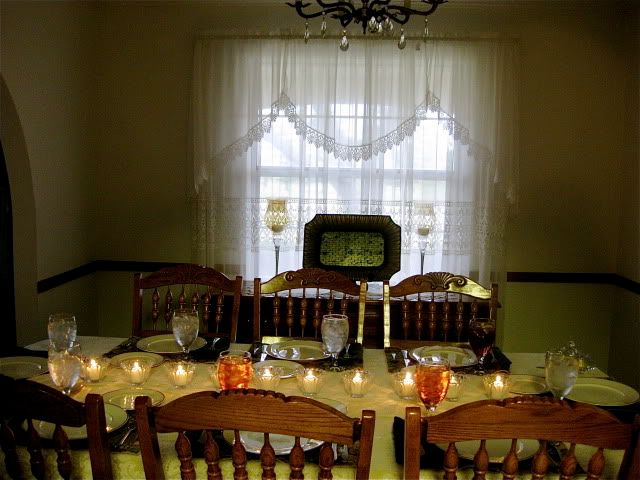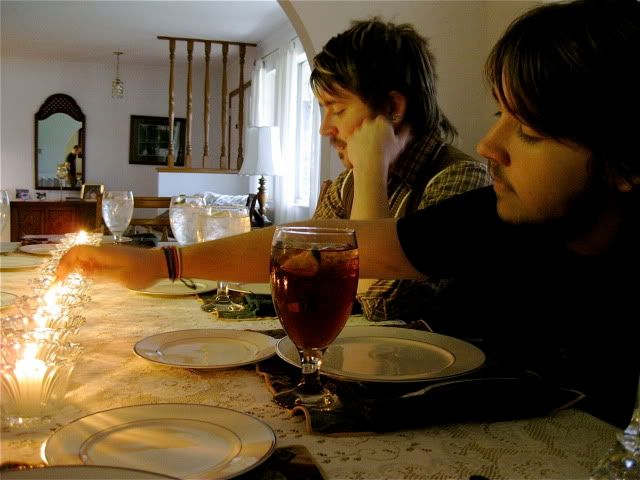 Boys… playing with the fire, of course.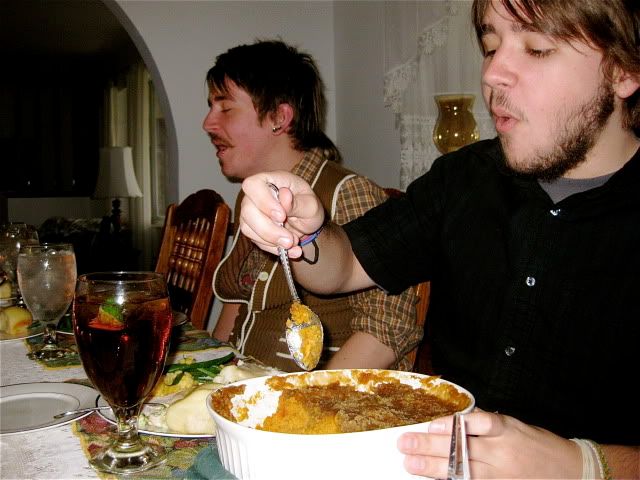 I think they were both saying, "OHwee OHwee OHwee OH" because the plate was hot. My brothers—they sure are a lot alike for how different they are.
And by the way, Jacob is serving himself the best sweet potatoes in the entire world.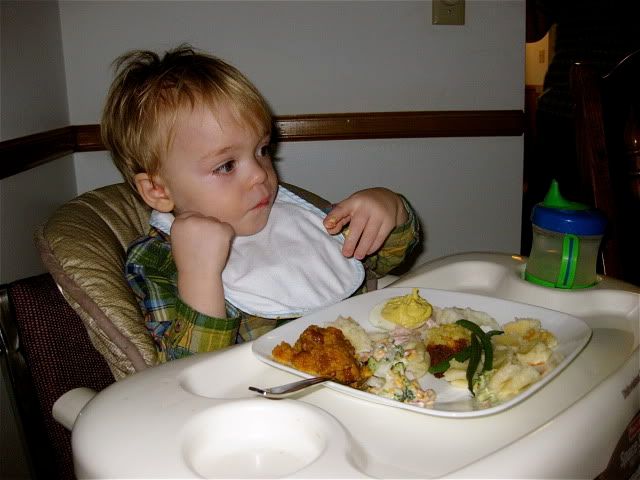 OK, so I learned a couple of things this Thanksgiving about Adry and motherhood.
1) Adry LOVES eggnog. I mean PURE LOVE. I've never seen this kid love anything like he loves eggnog, and I've never seen a person love eggnog like Adry Padry does.
2) I will NEVER EVER EVER again let him drink 2 full sippies of eggnog before Thanksgiving meal. He ate MAYBE 2 bites of all that wonderful delicious food because he was full on eggnog.

I, however, ate ALL of this. And it was awesome.
Green beans, corn casserole, best sweet potatoes ever, church potatoes, cold broccoli casserole, some other casserole that I don't even remember, stuffing, homemade rolls, hot broccoli casserole, mashed potatoes with sherry turkey gravy, another casserole I forget, devilled eggs, and there were a couple of dishes I didn't serve to myself including the turkey. Mom worked hard and she did good. I've been craving leftovers!
A couple of hours after the meal I was cramping up like crazy. My tummy with its 'Oh, hai- I'm lazy and I don't like to contract!' issues was NOT happy with me. At all.

Well, there you have it- one of the two bites he took.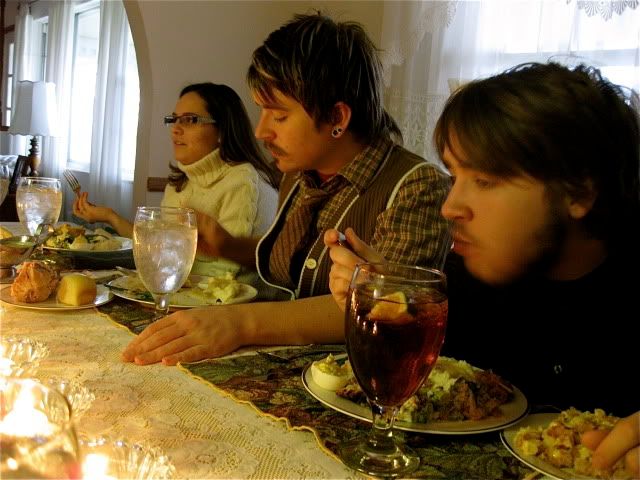 The Symphony of Thanksgiving Meal– NOM NOM NOM NOM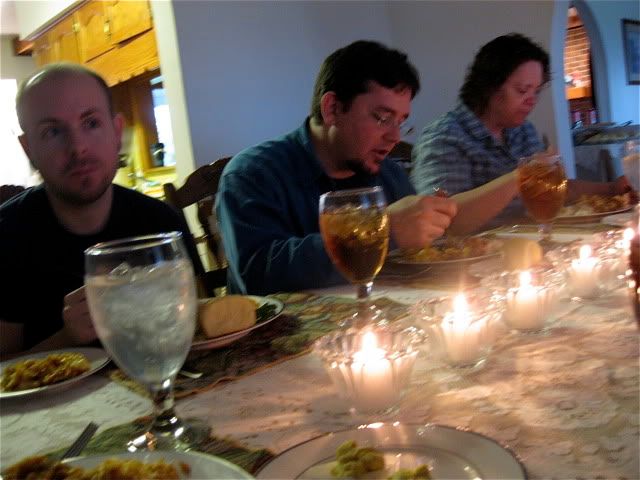 Hutch's family Thanksgiving meal tradition: grandpa making sure everyone eats at least one black eyed pea
Our Thanksgiving meal tradition: eating mass quantities
VIDEO CLIP: Jacob was determined to eat every last bite on his plate(s). This took place at the very end of the meal, and he was so full he was eating one little potato cube at a time. It looked like he was about to go into a coma and face-plant his plate.
VIDEO CLIP: Earlier during the meal dad was telling a story about the largest table he'd ever seen in his life and he described it as AWESOME! But when he said, "AWESOME!" he jerked his head forward- very Farley like- and his glasses fell off. My brothers found this VERY amusing. This video takes place post-meal and Matt and J are talking about it again.
VIDEO CLIP: This is just regular post-meal talk. The more I watch it the more I get a kick out of the very end of the clip when dad uses this low, quiet voice that trails off when he says, "The… National… Boooard". Like, what? What was that, dad?
After the meal with my family Ben, Adry, and I went to Ben's parents' house to visit. It was around that part of the day that I felt like my insides were rolling around my abdomen shaking angry fists at me.
Meanwhile Adry entertained and danced to the Baby Einstein Vincent Van Goat intro song on repeat. Kid is crazy for Baby Einstein. He spent time with his Great Grandma Ellwood, Great Aunt Kristi, Cousin Blake, and his new Aunt Brit. He ate mints and cheesecake and then once again would not eat any real food. I wish I could've gotten some pictures of him with some of the family members.
That night we went back to my parents' house for some movies and games.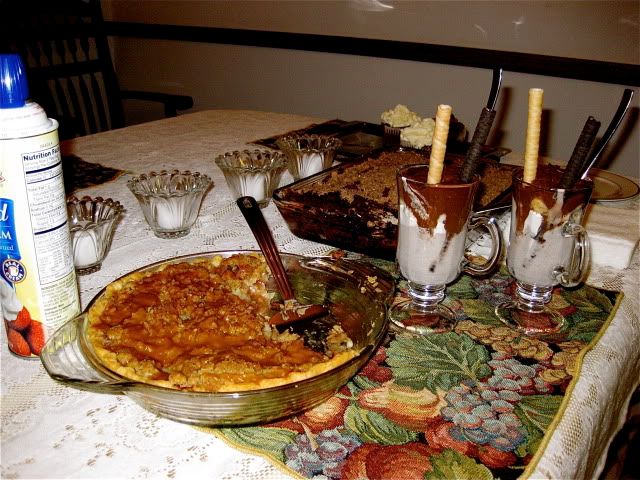 Mom made some sort of apple pie dessert concoction, parfaits, the same "ooey gooey amazing yumminess" that I loved so much last year, and she bought some cupcakes from Mer's Cakecupery business.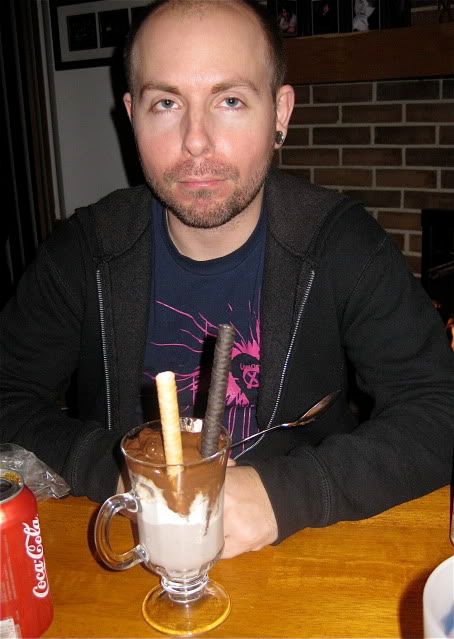 Behold: Ben with his parfait. He purposely ruined this picture with his creepy face, and ya' know what? I am posting it IN SPITE. He thinks he will make a funny face in the photo and so I won't post it. Well, Mr. Ben. I hope you're happy.
We ended the night with our traditional Thanksgiving day movie 'A Christmas Story', the traditional story-telling by Ben of why he DESPISES 'A Christmas Story' and REFUSES to watch it (something about when his brothers watched it for 24-hours straight whilst reciting every single line and making Ben go clinically insane for life), our traditional suck-it-up-'cause-we-gon'-watch-it-anyway response, a game of Uno, and the movie 'Tommy Boy'.
Also, Alexz and Becca eventually joined us. I missed them during the meal, but apparently they had families or something that they ate with. I think I said something to the effect of, "WHAT?! They have FAMILIES?!" and Jacob said, "I KNOW! They should just… kill them… or something… and come here with us" and I ignored him because I was kind of creeped out. In his defense, I believe he was in a casserole coma and had no idea what he was saying.
***I am so thankful for the time I get to spend laughing with my family. I love them more than anything.***
Categories: Ciao Bella Vita : Daily Journal - Tag: adry, alexz, becca, ben, dad, family, family-in-law, hutch, jacob, matt, mom, thanksgiving, videos