Santa Claus is Comin' to Town
December 20, 2009
Today was sort of a lazy day.
I had a long list of Things To Do and only accomplished about one third of it.
The good news is that I finished all of my Christmas shopping! But I also intended to spend the afternoon and evening wrapping and never got to that…
Instead I watched Elf. (which, I hardly laugh out loud during movies, ESPECIALLY not at slapstick comedy, but Elf, for some unexplainable reason, tickles me every time. When the taxi runs into him, when he does the splits up the escalator, when he says "SMILING IS MY FAVORITE!", when he covers his eyes and runs into the lockers– I just have to giggle.)
And I also played around with our Santa hat and took pictures of myself and Adry… and even Reese Pete will make an appearance under the cut. My mom might kill me for that. I will explain that under the cut as well!

I tried my best to get a cute picture of Adry in the big Santa hat, but Kid is unstoppable! He doesn't quit moving. …Which is kind of why Baby Einstein is a sanity saver sometimes because it's the only thing Kid will sit still for.
ALSO, I am kind of getting a kick out of the baby hand prints and smears on the fireplace door. Awesome.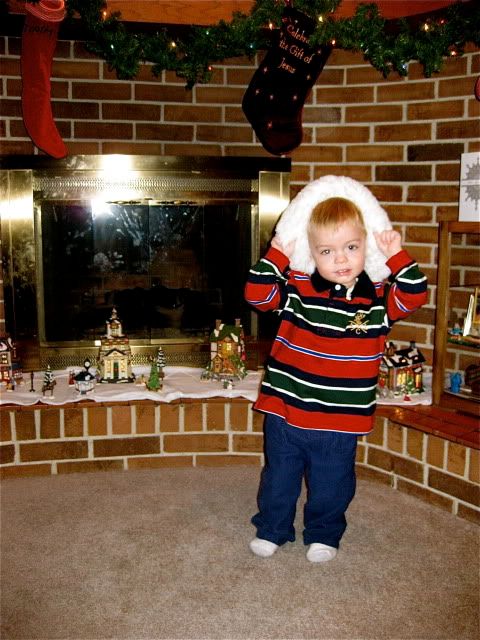 I will post a kissy face picture of myself in a Santa hat, yes. I normally wouldn't, but I kind of like how my polka dot boots made it into the photo.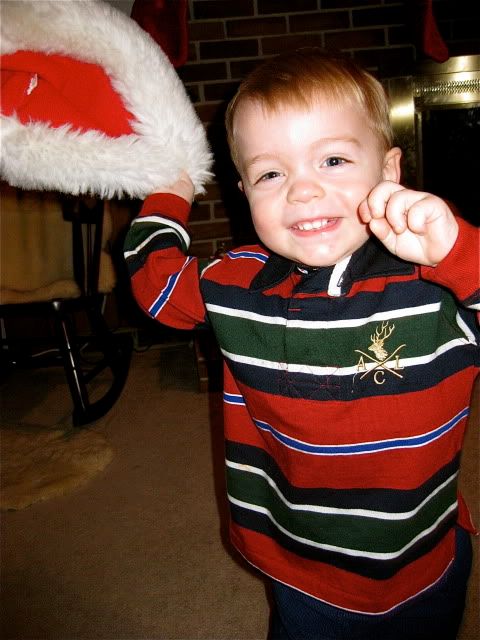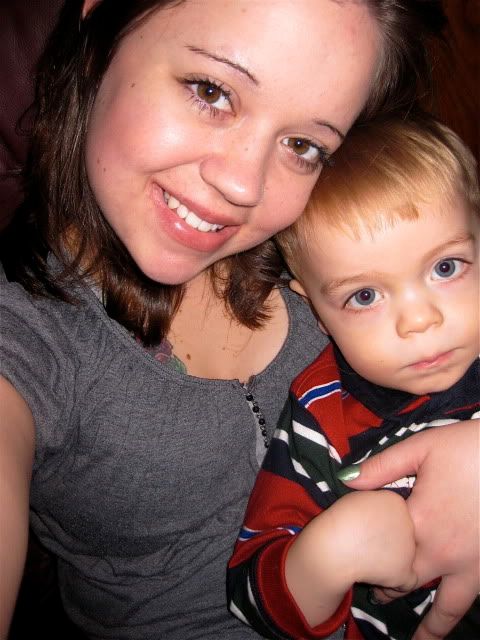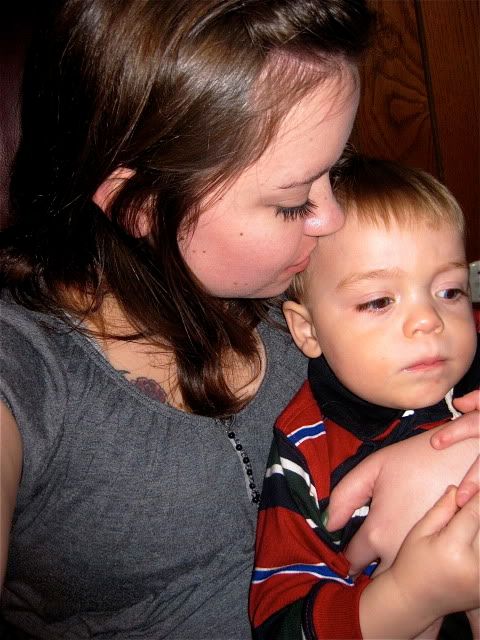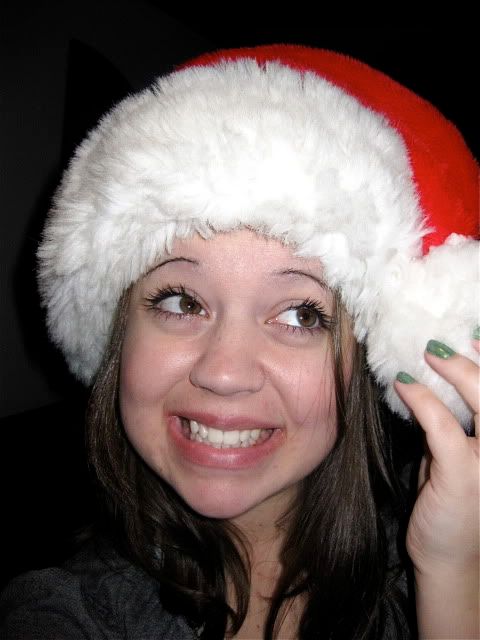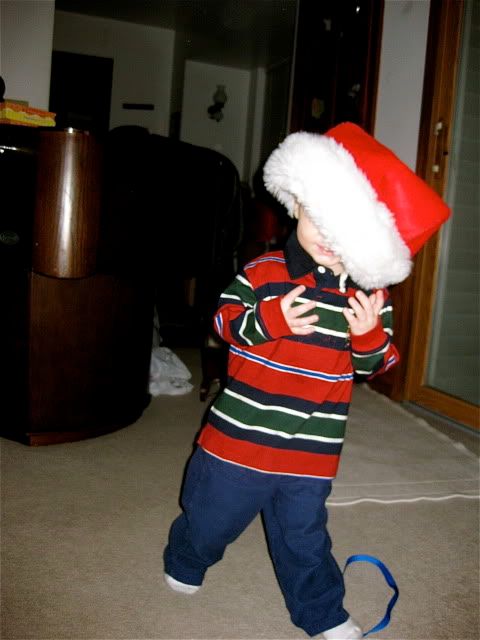 He enjoyed running around with the hat over his eyes, getting dizzy, and falling down… because he's weird.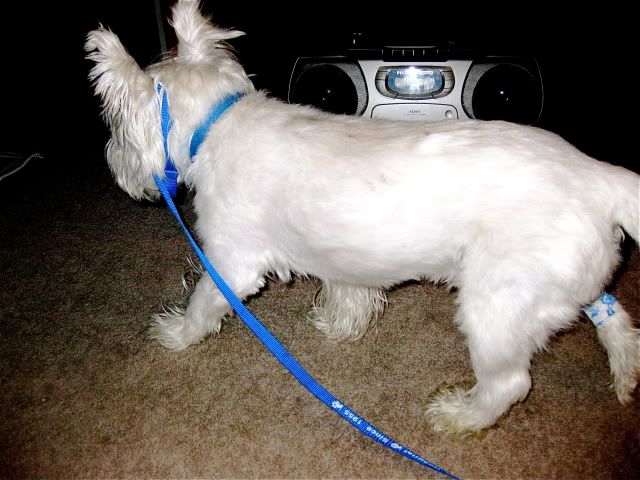 Reese had just gotten back from the vet with two new blue leashes. Mom took the leashes off, but then Adry spent the next half hour chasing Reese around trying to reattach them. He finally managed to loop one around his ear and clapped at himself and said, "yaay!". Poor Reese is a good sport. Since Adry joined the family I have a whole new respect for that little canine. He's always been a turd to me- he growls if I so much as brush his fur with the tip of my toe- but he puts up with ANYTHING when it comes to Adry. Adry shows his love by lying on Reese, giving him tight full-body hug squeezes, petting him oh-so-ungently, shoving toys in his face trying to get him to play tug-of-war, and Reese takes it all without an audible complaint. His pack instincts tell him Adry is the pup. For a small preppy little westie you really are a good boy, Reese Pete. Especially because you don't jump up and I can say, "go away" and you leave the room- that's my favorite part about you. (I'm not a pet lover, it's true.)
Anyway, mom has disallowed me to post pictures of Reese for the past few months because he has been very ill. VERY ill. Like, almost died ill. He had a terrible skin infection/disease/something or another that caused open sores all over his body. Mom took him to the vet and he had to be completely shaven (except his head and one or two legs) and he was stuck wearing a cone for a while. The veterinarian had said he might not have lived. Anyway, poor Reese lost weight and looked like he was some sort of starving, diseased, third world dog. It was awful. But the cone is gone, his fur is growing back (still not groomed, though), he gained some weight, and here he is being a sport about running around with a leash on his ear. But he still isn't the cute little westie we are used to.
From last year at christmastime (Santa hat included… gotta keep the theme!):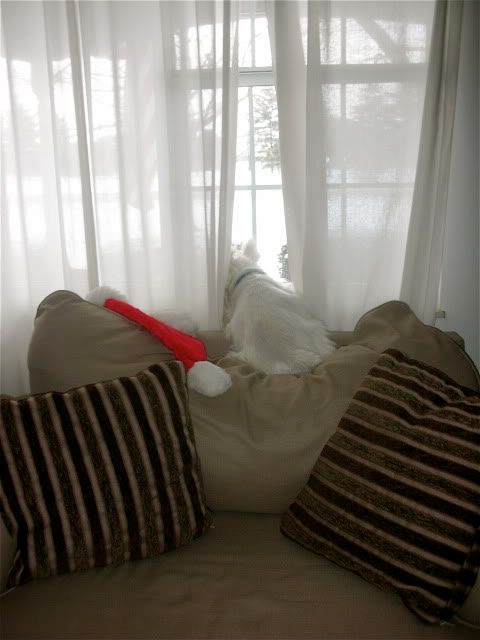 Categories: Ciao Bella Vita : Daily Journal - Tag: adry, christmas, reese, self portraits