Christmastime Two Thousand Nine
December 26, 2009
(It's late. I'm tired. But I felt like journaling. Ignore mistakes.)
Christmas is officially over. Sad Face. Every year on December 26th I am tempted to get depressed. I have to remind myself to look forward to New Year's Eve and my birthday. This year I started to get depressed on Christmas Eve because Christmas Eve meant I only had two more days left of Christmastime. I just want Christmas to last all winter, THAT'S ALL!
But, I'm looking back on this year's Christmas (already) and thinking about how it was a really great one. …A few minor challenges involving a really sick and pukey baby, but overall just really great.
Have I mentioned how awesome of a family I have? And how thankful I am for them? Every day I am so, so thankful. When I think of other people who are far away from their families during the holidays (or who don't even have a family to be near) I am filled with compassion; I just want to share my family and all of the fullness I feel.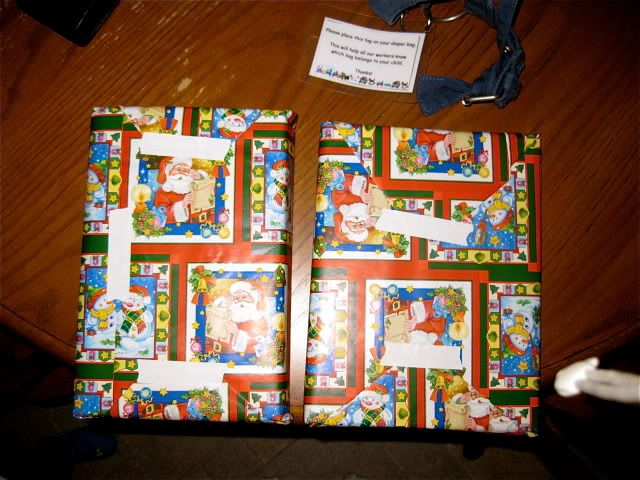 I don't know. Ben's wrapping job kind of gave me a chuckle. Masking tape. He said we didn't have scotch tape, but… why didn't get just go out and get some when he got the wrapping paper? See, this is why I love Ben. He's so goofy and doesn't really understand that he is, haha.

Do you realize how hard it is to get a decent picture with/of my child? Especially when he is sick?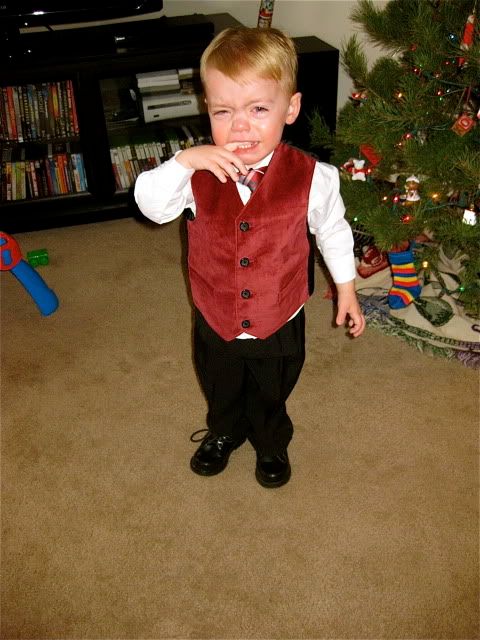 He spent pretty much all of Christmas Eve doing this. Crying. If he wasn't crying he was whimpering. If he wasn't whimpering he was whining. He was so sick. Even so, I dressed him up in the Christmas Eve church outfit Grandma Sanders got for him and WE WENT TO CHURCH, dang it!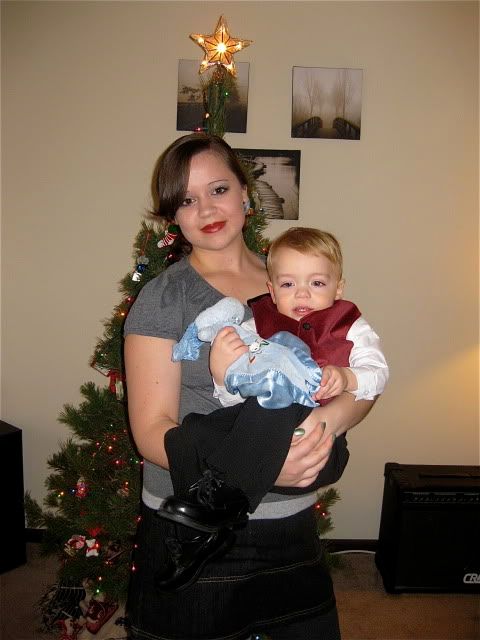 Hello, plastered smile. I was so frazzled. It's stressful to try to get ready and go about trying to accomplish things during the day with a clingy, crying sick toddler. I mean, it would have been an accomplishment to break away for 10 minutes to get a shower. …which I didn't, but the way- I had to bring him in the shower with me. AND hold him as he refused to be set down. Poor baby.

I was determined to have a good Christmastime.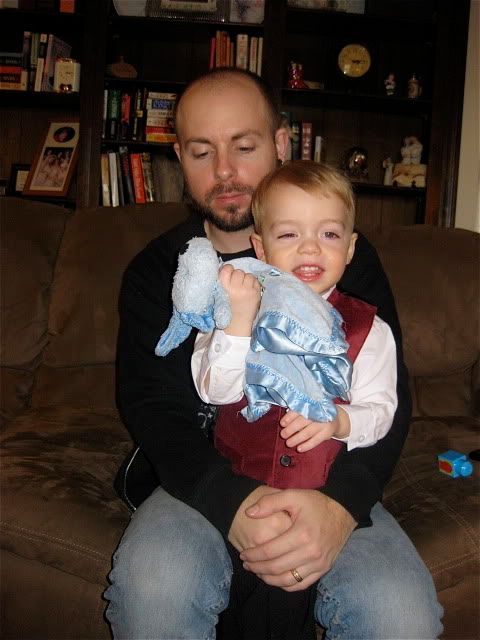 Sometimes he became distracted from his misery and decided life wasn't too bad after all.

Chex Mix at Grandma and Grandpa Sanders' house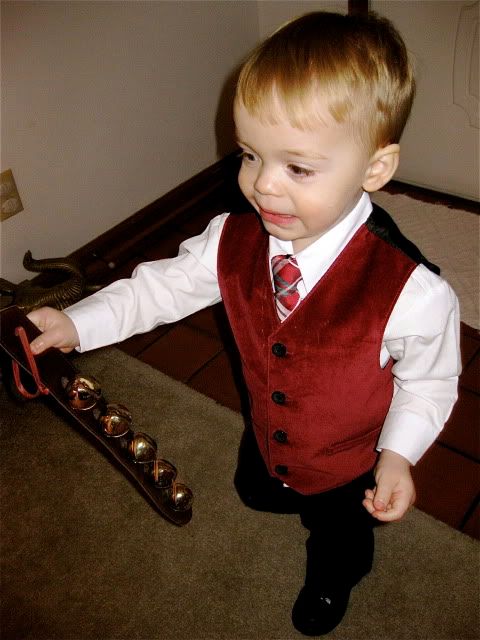 playing with the jingle bells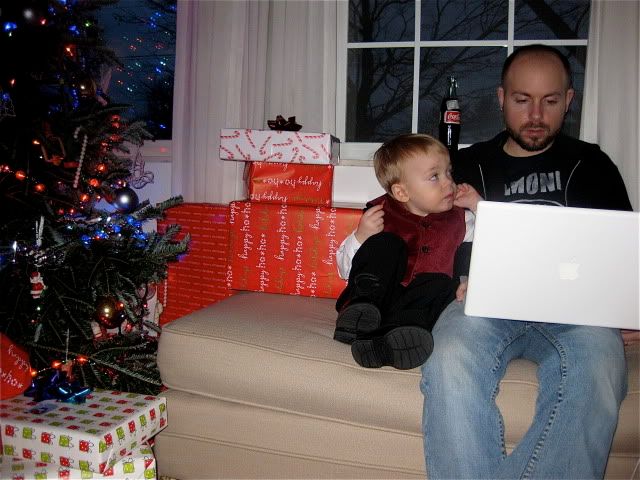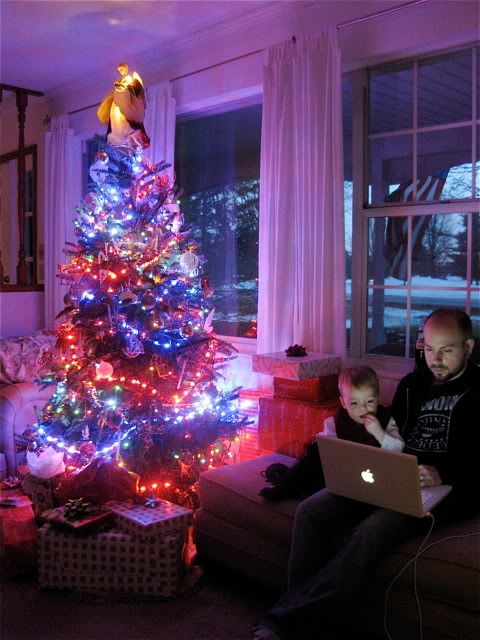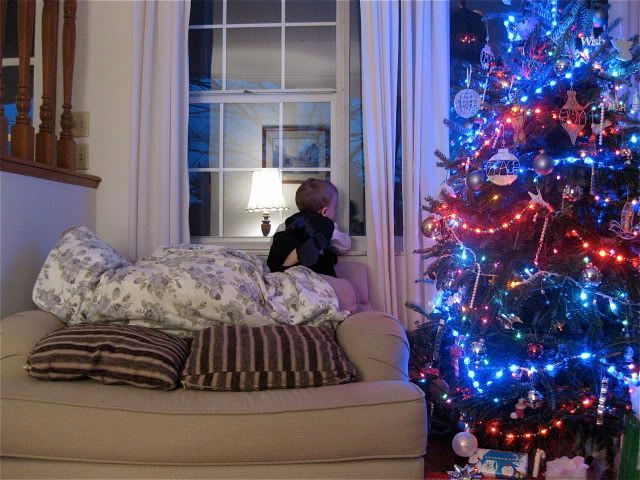 feet crossed, looking out over the snow (which melted before Christmas. boo) and cars driving by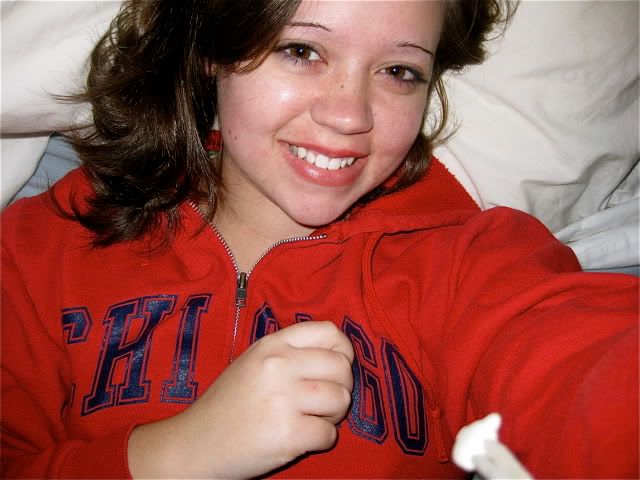 right before falling asleep on Christmas Eve
CHRISTMAS DAY: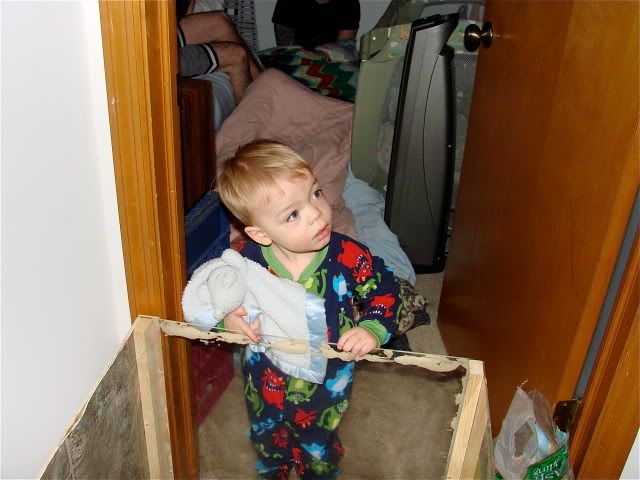 Adry feeling the anticipation of Christmas morning! …he was blocked off by Lester the Hedgehog's cage so that he couldn't run and see all of his presents.

Ben, Matt, Jacob, Adry, and I all packed into my parents' office to sleep. Blankets everywhere!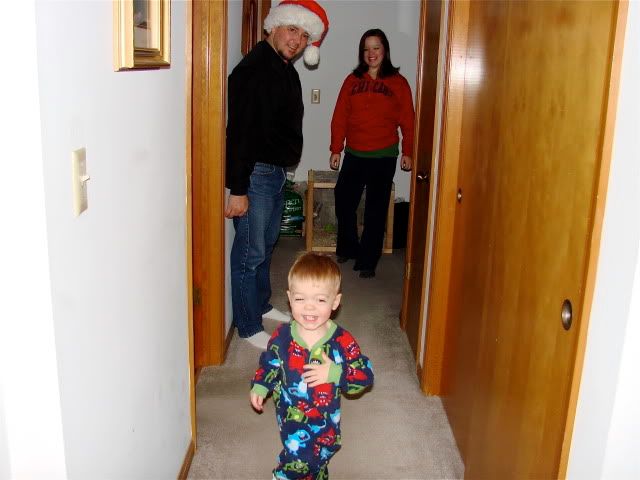 He was finally allowed to break free! He made a run for it to all of the good stuff in the living room.

Uncle Jacob was apparently half dead as he made his way to the living room.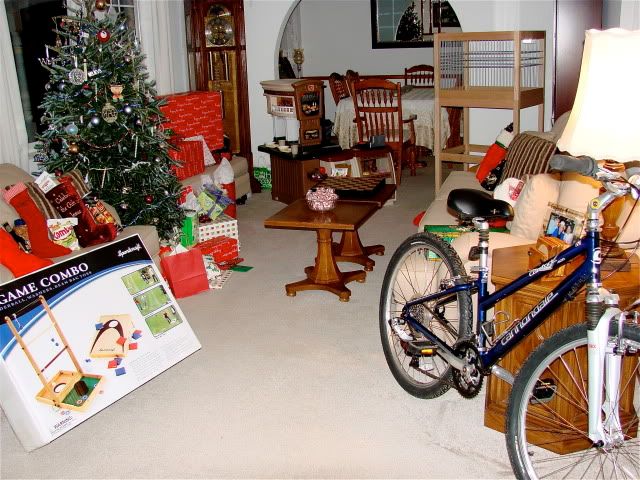 Christmas Morning "BEFORE PICTURE"
Adry got a GIANT deli/cafe complete with stove, oven, microwave, refrigerator, cash register with credit card, display case, metal cooking utensils, plats, cups, silverware, pastries, vegetables, and fruit. It is pretty amazing. Jacob got a car.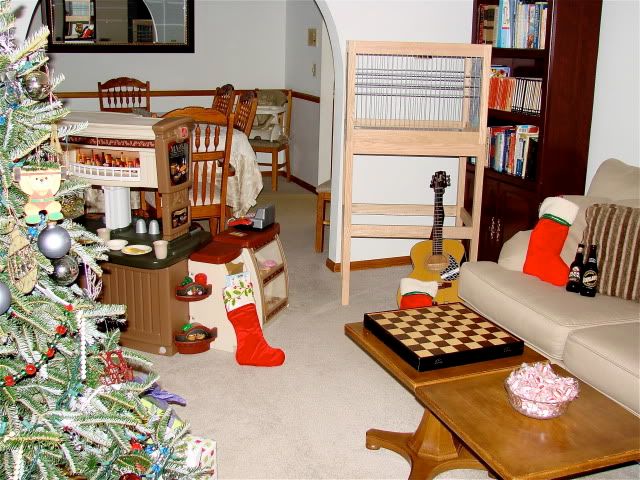 Matt got a new hedgehog cage that my dad built (he did a great job!) and an acoustic guitar. I got an AWESOME comfort bike. I took it for a whirl and OMG. I can't even tell I am riding a bike. I am pretty excited about it.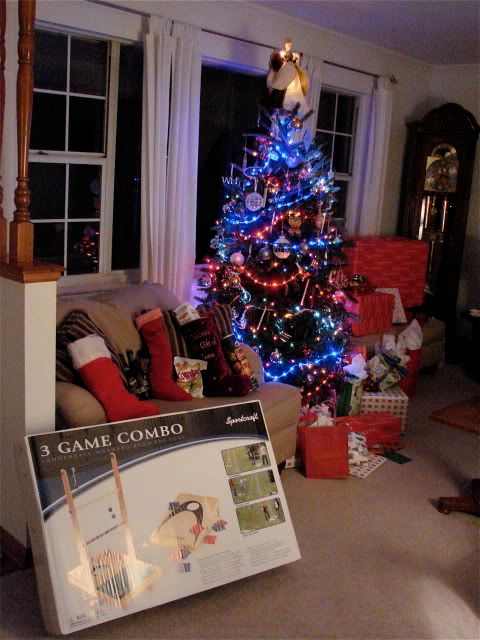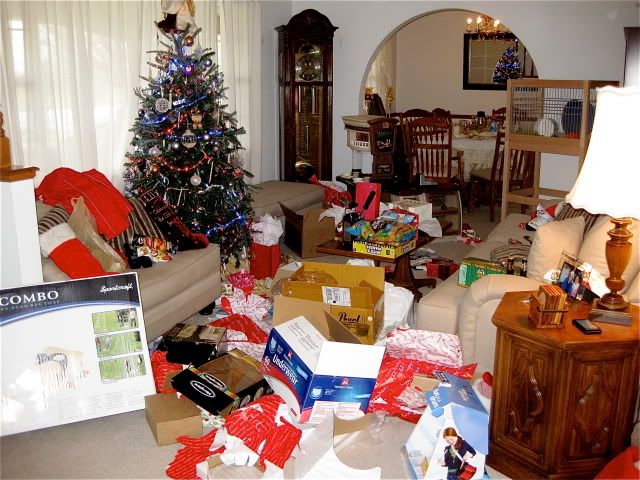 Christmas Morning "AFTER PICTURE"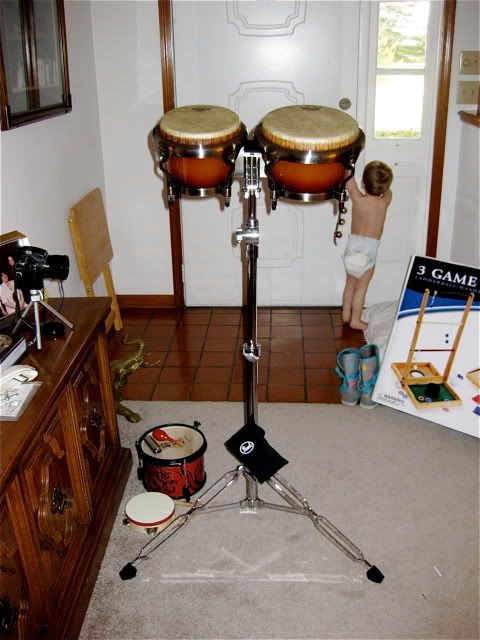 Matt, Alexz, Mom, and I all went in on bongos and bongo stand for Dad.
I got mom some este lauder Pleasures perfume.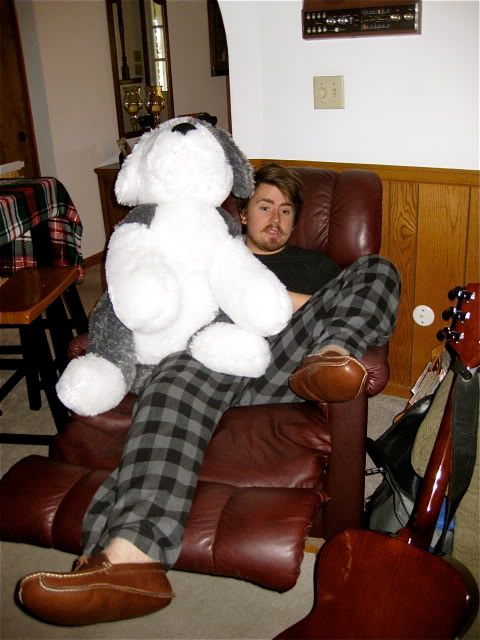 Matt and Alexz got Adry this adorable, soft, cozy, gigantic stuffed dog. I told Matt I wanted him to hold the dog to give him some scale. I said, "smile or look decent or something" and this is what he came up with. See, no one cheeses for me. It's sad.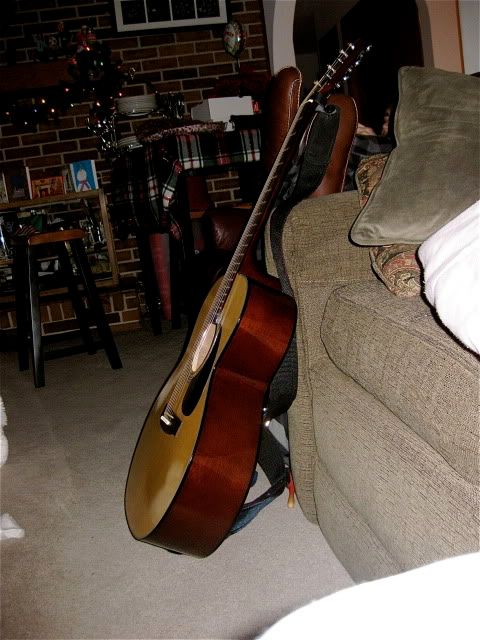 Matt's guitar

MY BIKE!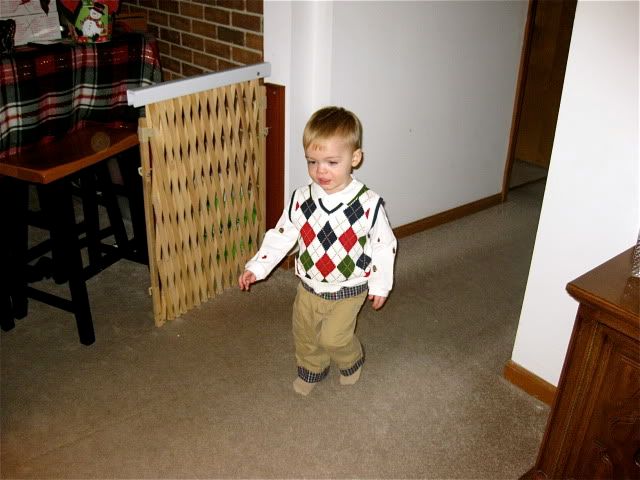 After a delicious Christmas brunch of french toast, cheesy eggs, fruit salad, cheesy potatoes, and bacon we were able to get Adry into his Christmas Day outfit (given to him by Grandma Ellwood), but it didn't last for long….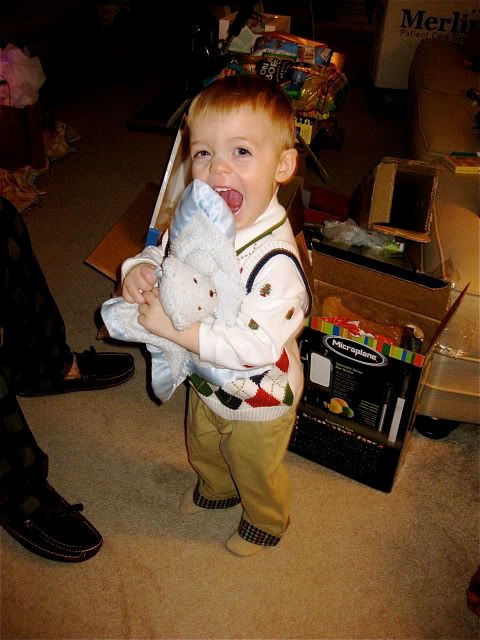 … He seemed to be doing fine health-wise until in the car on the way to Grandma and Grandpa Ellwood's when he threw up everything he ate for the past ten days, plus a kidney and maybe half of a liver. It was not a good day for his Christmas Day outfit, nor for his car seat.

On our way to The Ellwoods' (pre-puke inciden)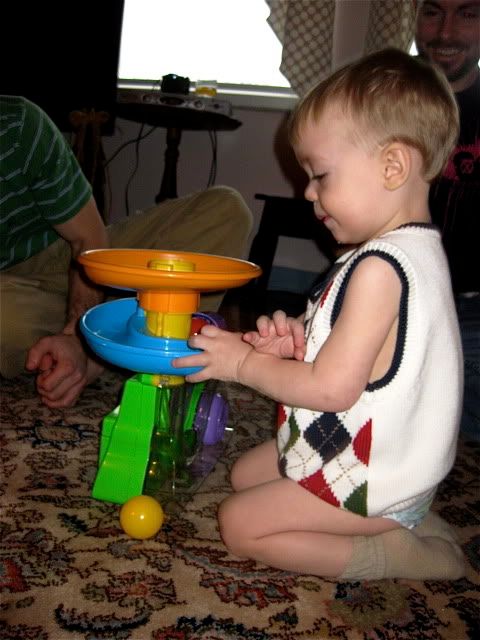 We had to strip him down and Grandma Ellwood washed his outfit only for it to get puked on again later. I believe my poor guy was sick to his stomach a total of four times throughout Christmas Day.
But, for a good chunk of time he was able to forget about his sickiness in order to focus on the heaps of new toys he received. I didn't know this many toys existed in the world. TOYS TOYS EVERYWHERE!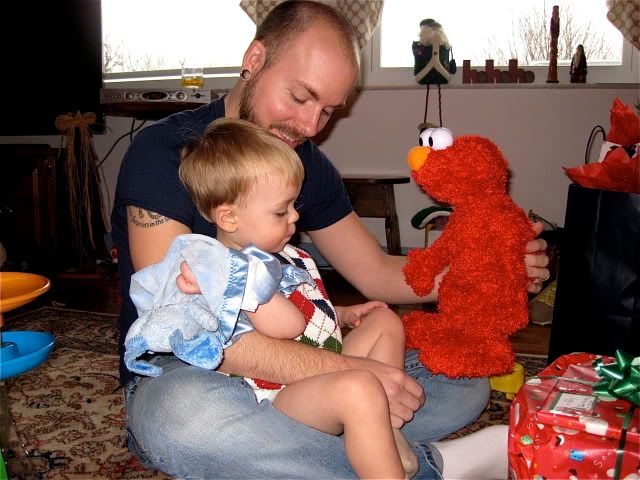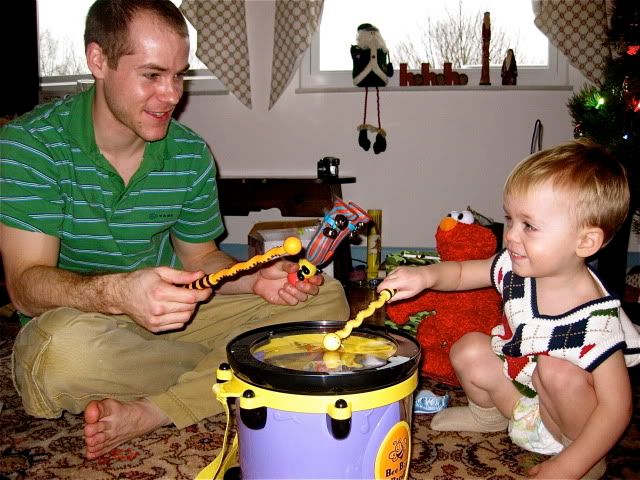 Adry has two uncles and a grandpa influencing him to be a drummer. He plays on Uncle Dan's drum set at Grandma and Grandpa Ellwood's, and he plays on Grandpa Sander's drum set back in Hilliard. Aunt Kristi got this adorable little bee drum for him.
Later in the night we played games, as usual, at my parents' place.
OK, I can't keep my eyes open anymore. Goodnight, all. Hope you had a wonderful Christmas. Now let's celebrate the upcoming New Year! 🙂
Categories: Ciao Bella Vita : Daily Journal - Tag: adry, alexz, ben, christmas, dad, family, family-in-law, jacob, matt, mom, self portraits