Midnight Bowling!!!
January 26, 2010
In celebration of my mom's birthday, and also just to hang out and have fun together while doing something different, a bunch of us went to Midnight Bowling at Sawmill Lanes on Saturday. Great time! Although I am a young, hip, partyin' 25 year old girl (wink, wink, winkety wink) it's been a loooong time since I have been out at a public event 'til after two in the morning… WITH MY PARENTS! 🙂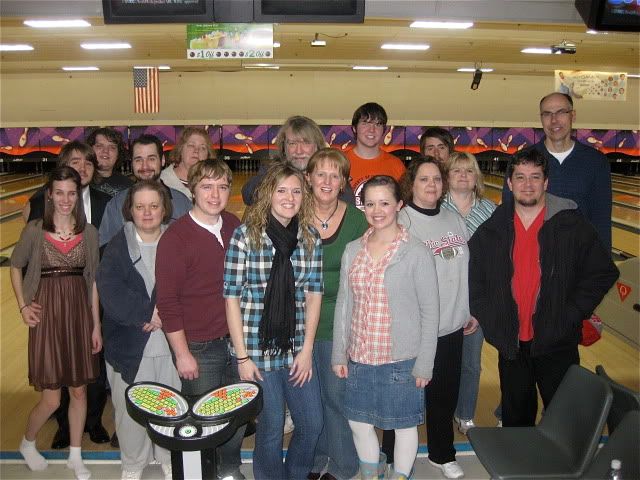 The group that went, minus Ben and Sammie who left early to pick Adry up. (This was taken at the very end of the night.)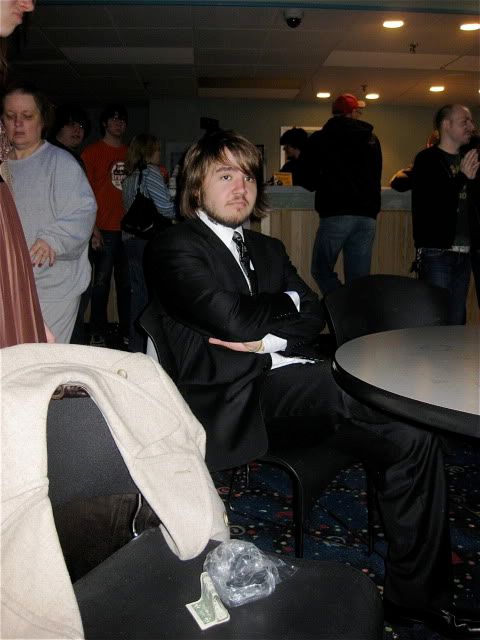 A handsome fellow. He is wearing his super nice Calvin Klein suit because he and Becca spent the day celebrating their year anniversary.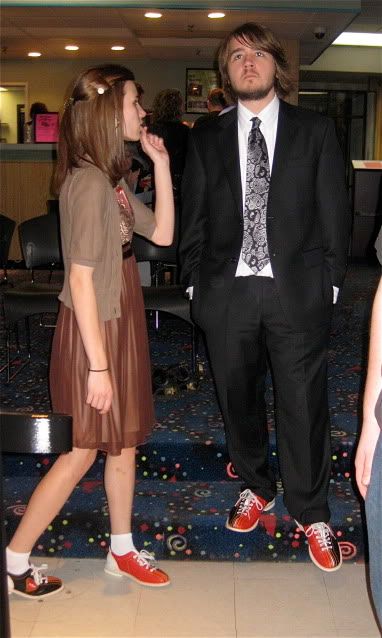 See? All dressed up.  In bowling shoes.  Love them.

Me, Dad, Mom. My dad looks drugged here, but the problem was that he wasn't drugged. He couldn't bowl because he was having terrible back pains (herniated disc- he's had to deal with it for years). He didn't want to take pain meds because of the side effects, so he suffered through it the whole night just to hang with us. Trooper. Poor dad, I love him and hate to see him in pain. HATE it.

Les was very excited that her bowling ball knocked some pins down!!!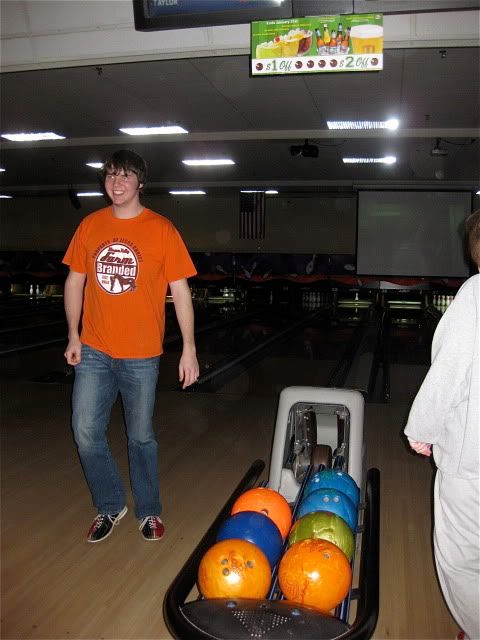 Having a good time

Pammy <3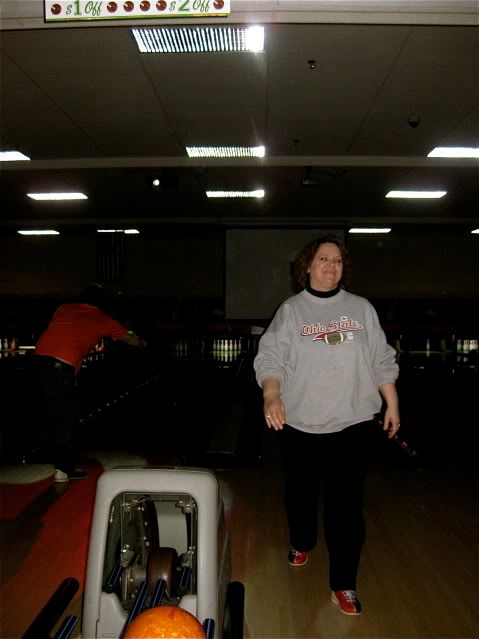 Momma, off to a good start!

Mom and dad <3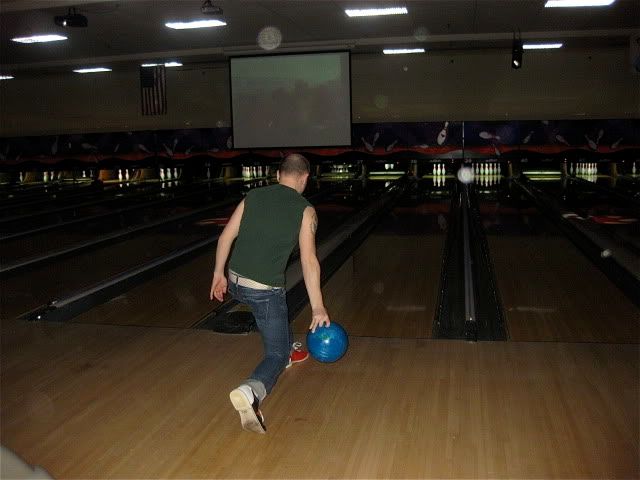 Ben in action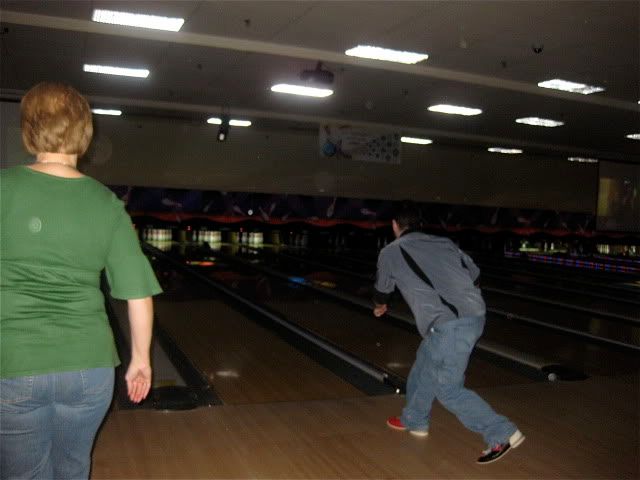 Ryan's action shot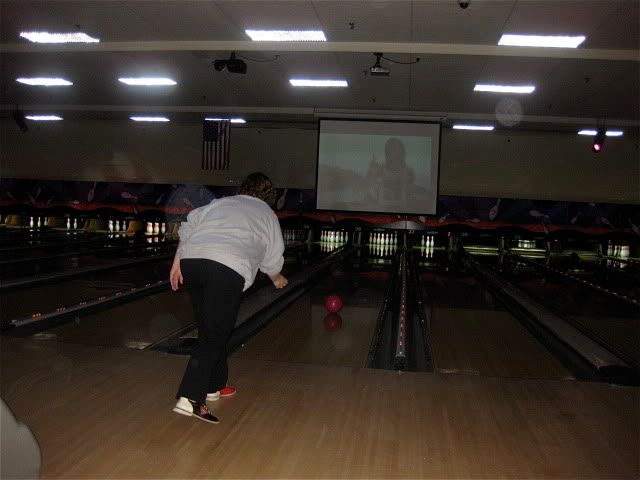 Mom in action!

Tony also had to sit bowling out due to surgery and pain and pain meds and all that yucky stuff. But he came to hang out with us, too! Trooper dads! They are the best.

AAAAAND SANDIE was there and ALSO had to sit it out I think due to a car accident knee injury years ago. She took millions of pictures, maybe as much as I did. (I took 113. See, you may think I post all of my pictures, but I'm not even posting half!) Sandie is my mom's lifelong friend from WV and we love her dearly.

Matt, Ben, Sammie, Ginny, and the back of Duke's head

Sammie, how are you so freakin' cute?!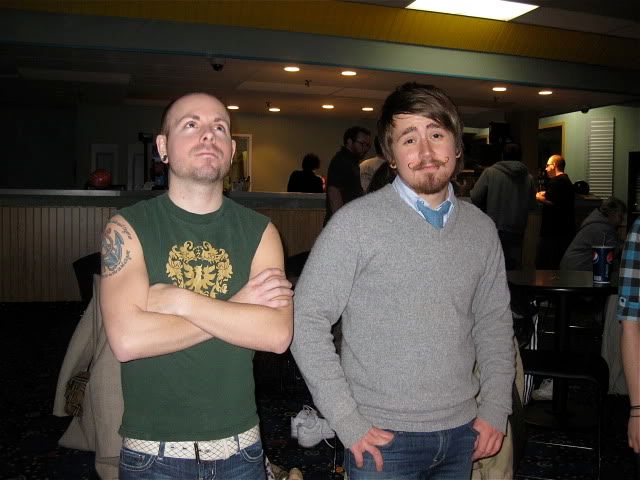 Ben and Matt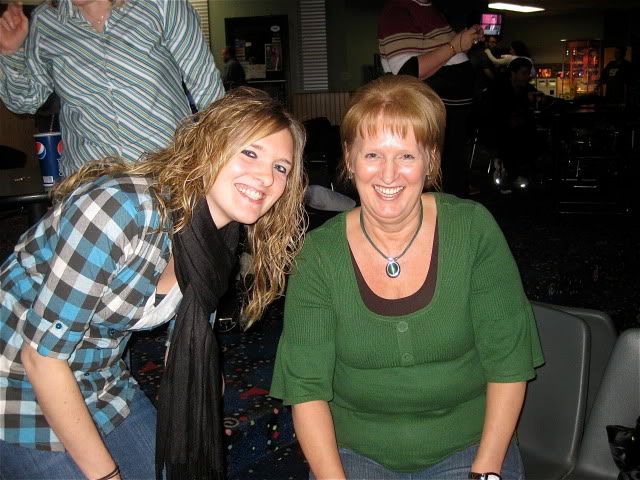 Ash and her mom, Ginny, who organized the night, bought pizzas, and brought a cake for my mom. She is too great. Much thanks to her 🙂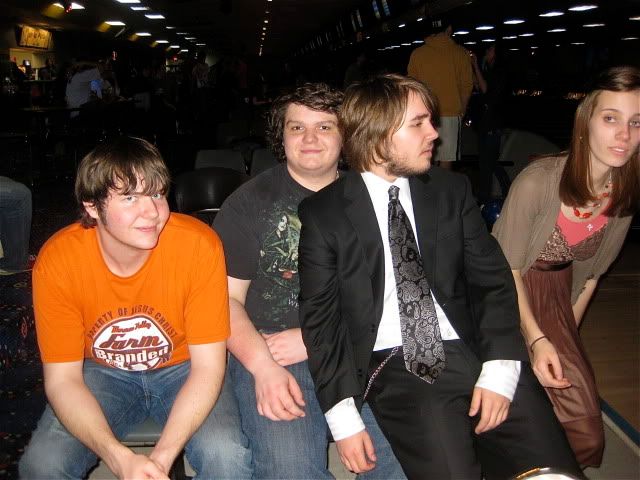 Cute kids. Tay, Jeremy, Jacob, Becca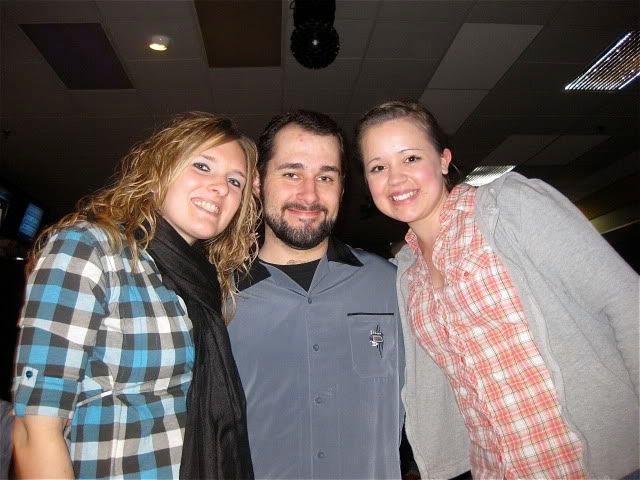 Ash, Ryan, and I

I tried to get Ash in action, but my camera is too slow, so… here she is standing and looking at her score. 😉

Matt is doing Ben's 'strong guy' pose- the pose Ben breaks out after he does or says ANYTHING that he thinks is AY-MAY-ZING, which is a LOT of things let me tell ya'.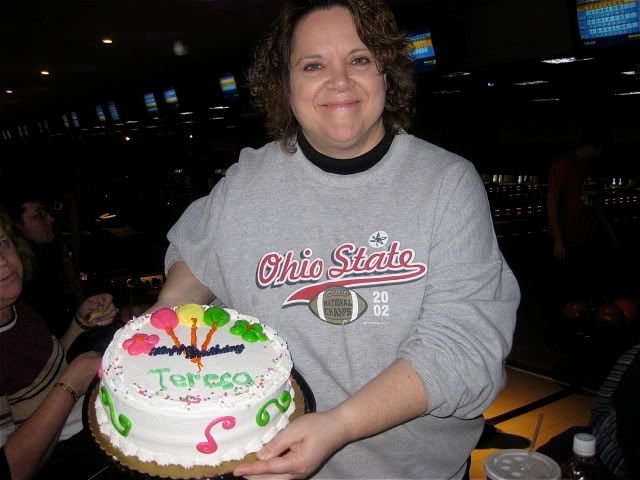 Breakin' out the birthday cake! Happy birthday, Mom!

Me and Sammie

Ryan and Matt

<3 The Ladies <3 Pammy, Mom, Les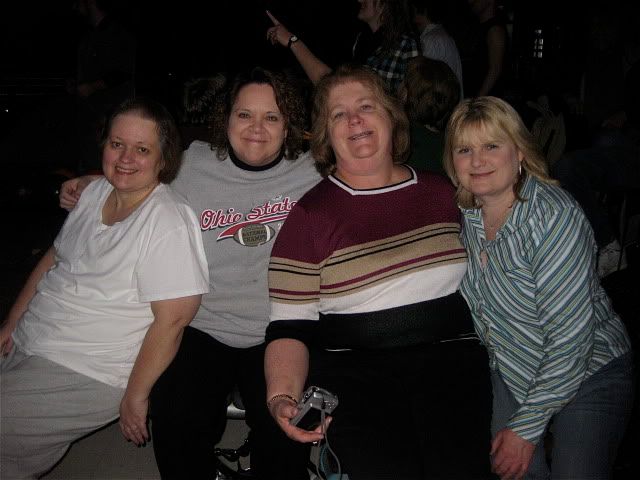 The Four Ladies (Pammy, Mom, Sandie, Les)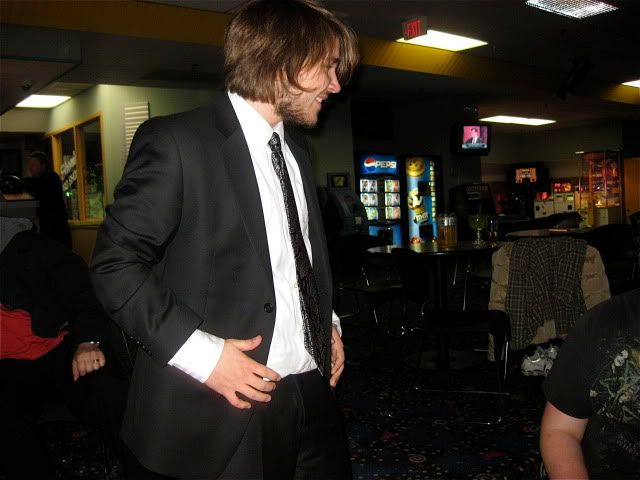 Jacob smile 🙂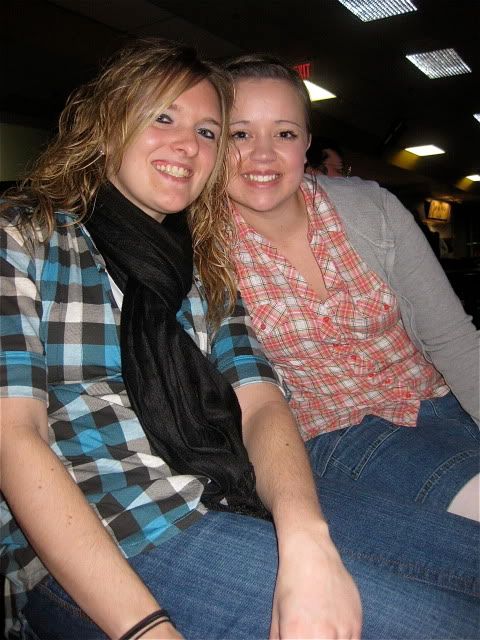 Ash and I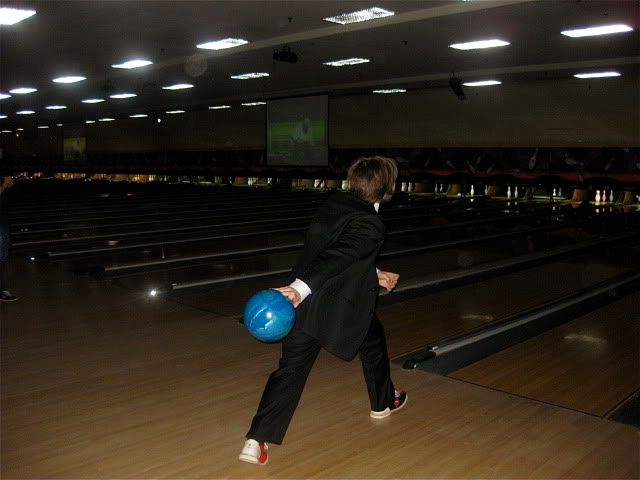 Jacob's exaggerated bowling form. Awesome. Especially in the suit. I like how Becca said, in her own LiveJournal ( ): "but I also discovered that Jacob is the single most adorable bowler in the world, what with his over-dramatized…ball-toss….thing…and his reactions." Becca also said in her journal that she was reminded that she is horrible at bowling. I had a much different experience for myself; I patted myself on the back for my top score of 36. Total. At the end of the game. 36. Um, yeah, you got nothin' on me.

Who can get enough of Jacob bowling in a super nice Calvin Klein suit? Not me!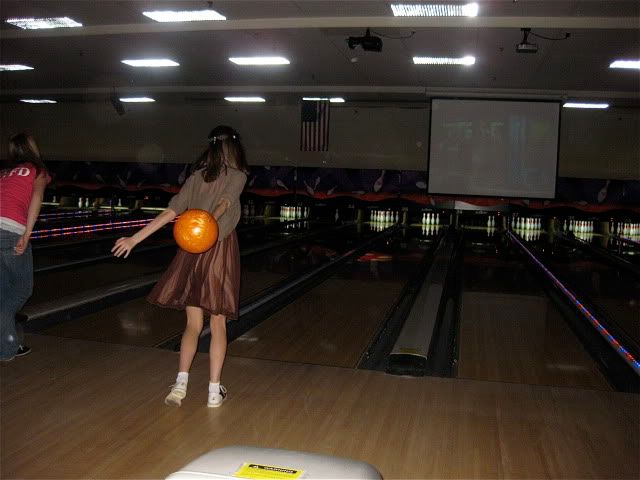 OK, Becca says Jacob was an adorable bowler, but I must say that the Most Adorable Bowler Award DEFINITELY goes to Rebecca Hoffman. LOOK AT THIS ADORABLENESS! The momentum of that little 6-pound (or whatever) ball with "extra extra tiny" finger holes is going to make her fly backwards! (with much affection, Becca. You are adorable. I love your smallness. I love smallness in general, too.)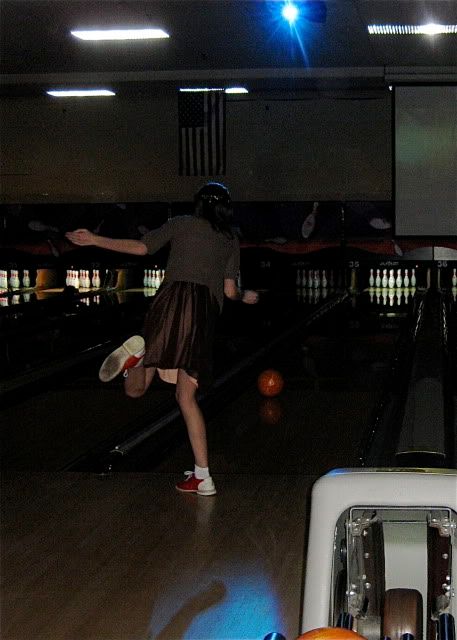 Rebecca, don't kill me for posting these!! I couldn't resist! LOOK AT HOW ADORABLE!! LOOK!

And Jacob Sanders wins the Best Follow Through Award.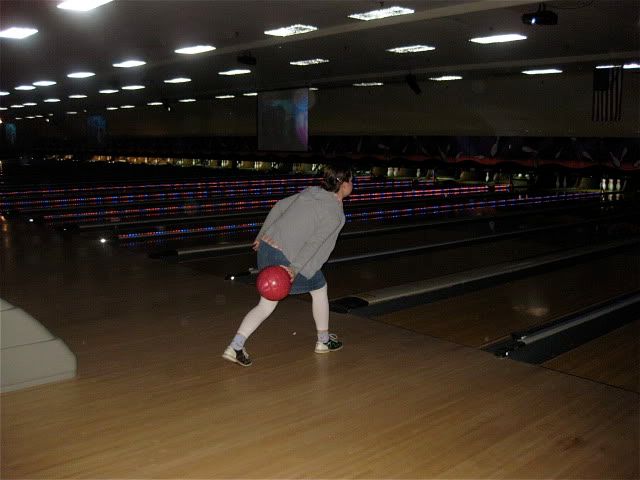 Look at that. Flawless. That probably got me 3 pins. 6 if I was lucky. I win the Most Awesome Bowler Award. Obviously.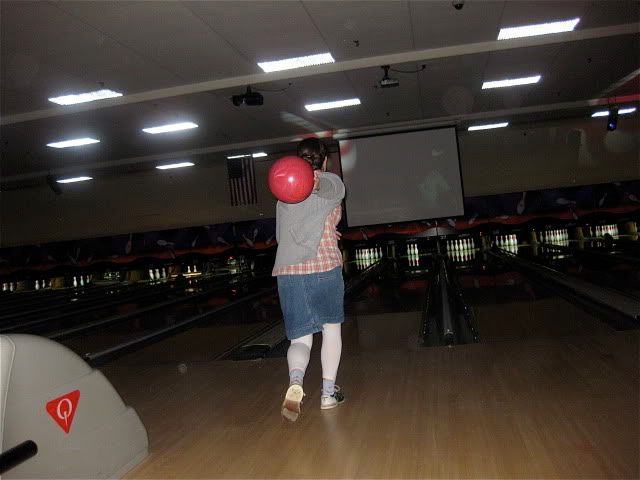 How high can I swing the ball behind me? As high as I want!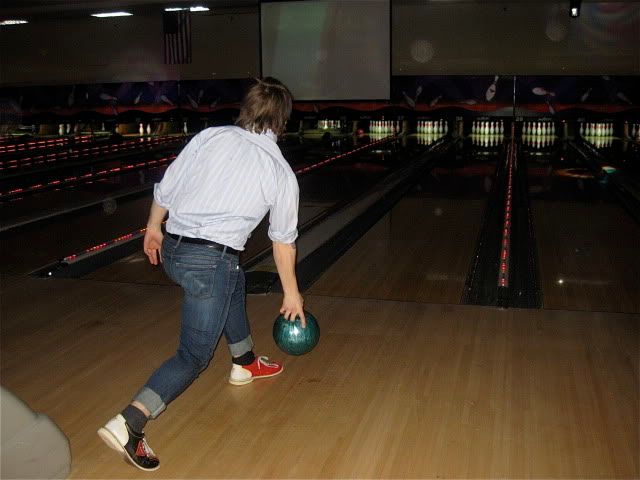 T. Matt in Action!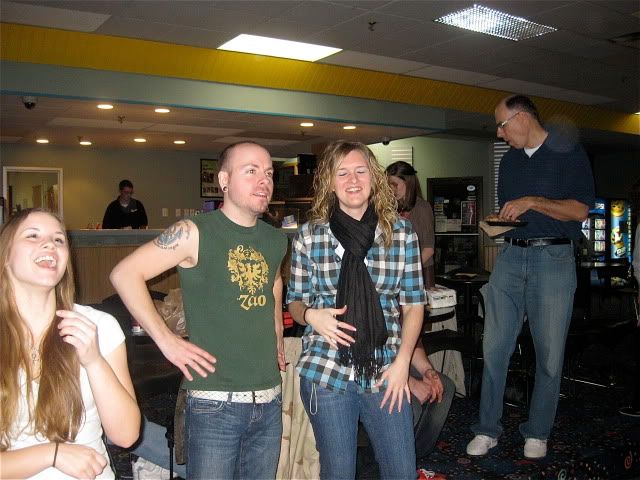 Good times. Sammie, Ben, Ash with her eyes closed, Becca in the back, and Ash's step-dad, Dave

Sammie fails at the 'tough guy' pose. Notice Tony in the background. Matt noticed that Tony was staring into the camera while I was taking photos so he said something to him and…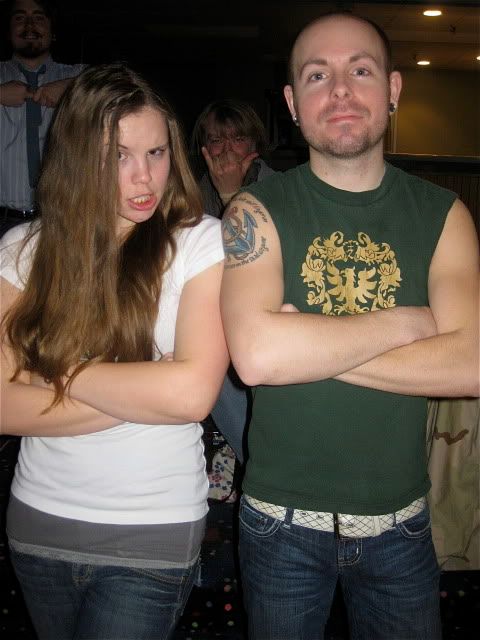 there Tony and Matt are, in the background, laughing about it. I didn't even notice! But at least Sammie managed to do a 'tough guy' pose this time 🙂

Taylor's action shot!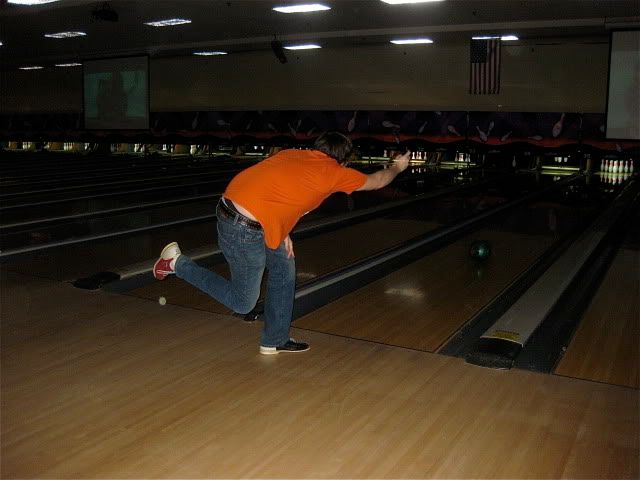 Love this one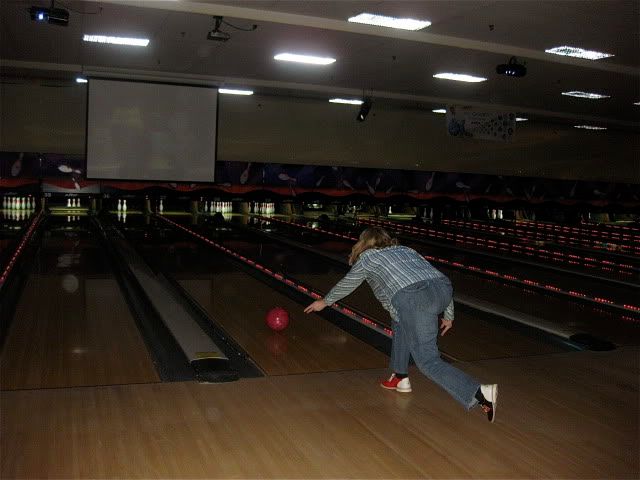 Les is a champ!

Ginny (Ash's mom), Ash, and Matt are boogyin' in the music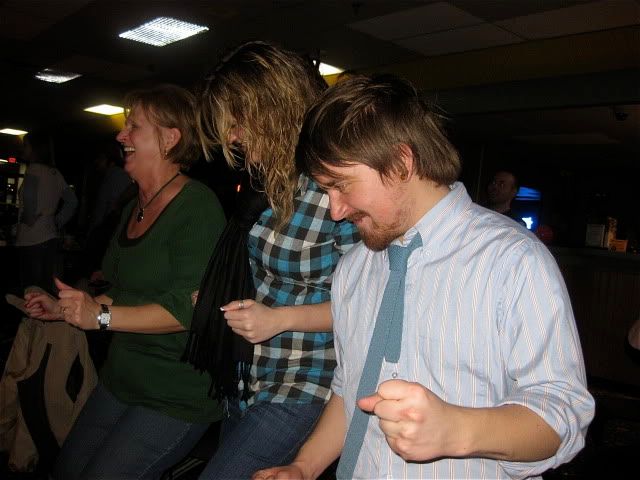 Gettin' down

My mother was having a very unlucky game so she began to experiment with her form. In this case, she pushed the ball down the lane with her foot. I don't think it was a very successful move. Teresa Sanders wins the Most Unsuccessful Technique Experimentation Award.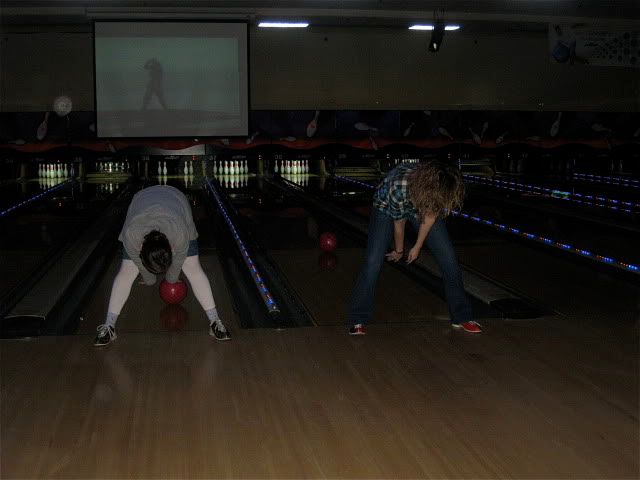 Ash and I also began experimenting with our bowling technique. I think she was more successful than I at the backwards, between-the-legs bowling form. Perhaps my follow through was poor.

Jacob says he is NUMBER ONE!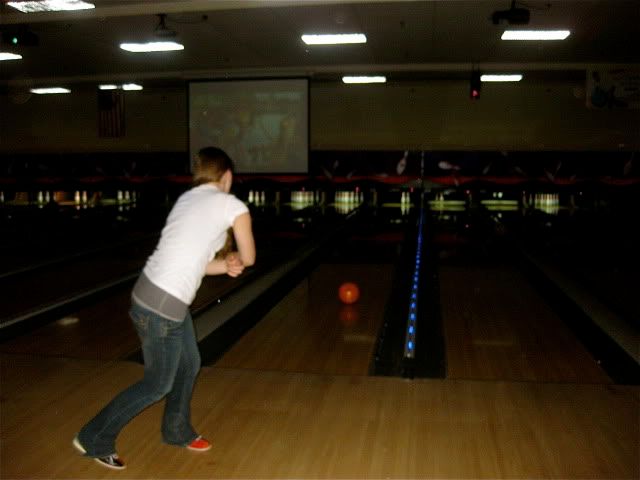 Sammie in action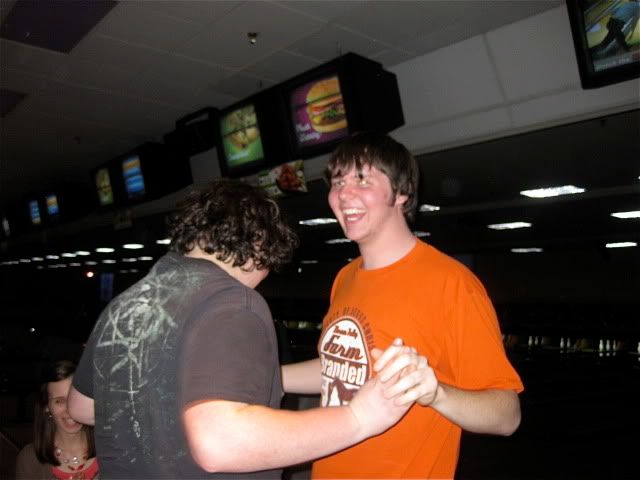 High-fiving after a good bowl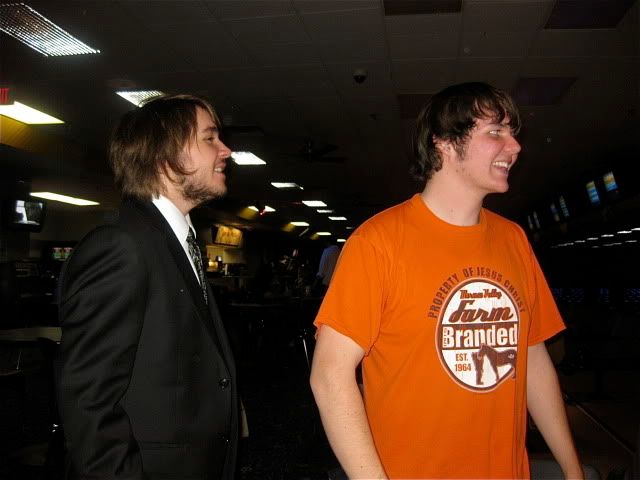 🙂

I'm not sure how this happened… perhaps someone else was experimenting with bowling technique, but this ball just STOPPED right in front of the pins and no one (even though we are all incredibly awesome bowlers) could seem to get it to budge by bowling another ball. So, Les walked down the gutter to retrieve it. Because she is Super Amazing Bowling Ball Retriever Lady come to save the day. That's how awesome she is.
Categories: Ciao Bella Vita : Daily Journal - Tag: ash, becca, dad, dillons, family, friends, jacob, les, matt, mom, pam, ryan, sandie, tay, tony