May 12, 2010
April 29 AP 119– Revisiting childhood with my son. He brings back the magic of holidays and imagination and play. Everything is new! Imagine being in a world in which you saw everything for the first time! He reminds me not to take for granted how beautiful this place is.
Video: First big slide of the day:
Video: Getting excited with 'Papa'!
Video: ONE MORE! 'Cause I think he's cute 🙂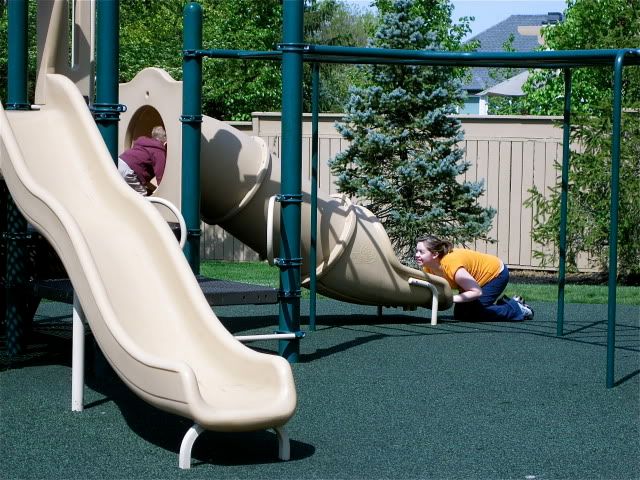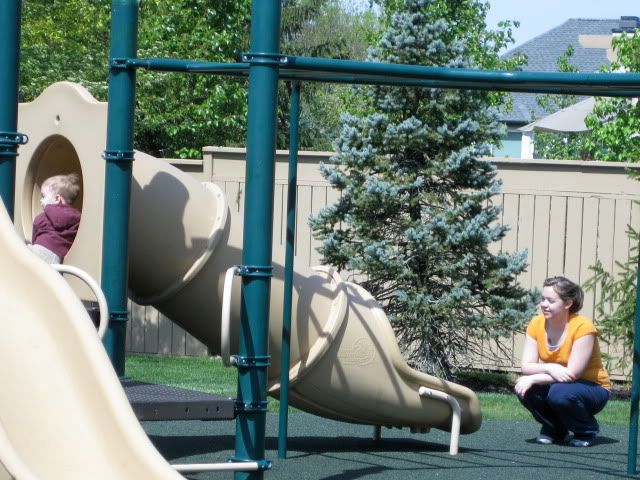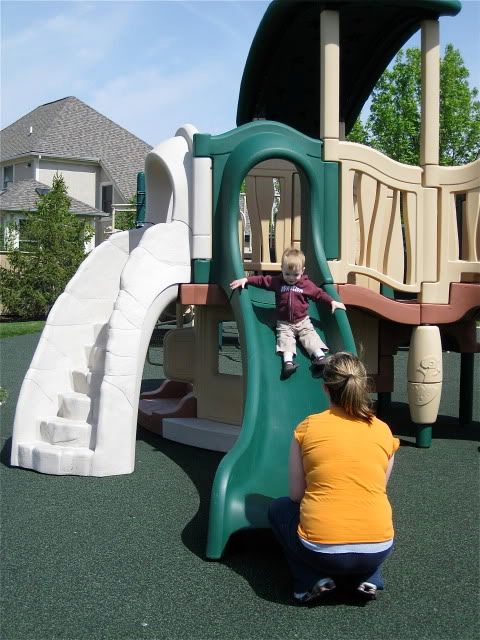 April 30 AP 120– Adry makes me giggle. On Sunday a toddler in the nursery bit him pretty hard, and I'm sure the volunteers were all over it making sure he was okay and icing his 'booboo'. (He was more than fine, by the way.) So, when he woke up from his nap the next day he began fussing for me to come get him. He held his hand up for me to kiss his booboo and what do I see? A fresh toddler-sized bite mark. I had to laugh! He cradled his hand for a good half hour, and then whined about it again a few hours later when his daddy came home.
May 1 AP 121– Adry's day with Grandma. And not because I had time to myself! But because I'm so thankful they can have that time together. Mom took Adry to see the movie 'How to Train Your Dragon', then he played at McDonalds and got to spend the night at Grandma Sanders' house. They had a great time together.  My mom is a wonderful grandma 🙂
May 2 AP 122– Talks with my dad about God. My dad's brain is full of a lot of big ideas. I love to soak them up and expand my own thinking. I LOVE his view of God, and as I grew older I began to really adopt it as my own. I'm pretty sure we see eye-to-eye on everything, now. I was uncomfortable with his ideas when I was younger- I was a little fundamentalist who wanted to simplify everything. But I love that the possibilities are endless– it seems evident to me that God is a god of process, a god that is able to be surprised… and that maybe he doesn't have a specific plan for each of us, but he has a definite WILL… and, just like in father-son relationships he may envision what he wants for his children, but he can be equally pleased with outcomes he may not have expected. Here he put this whole chaotic universe into motion- he brought galaxies together and put them into orbit- and he makes it clear that OUR prayers matter– that we can take requests to the creator of the universe and it MATTERS. I mean… whoa! Ya know? What can be said about how awesome that is?
And then to top it off, the night after our discussion there were a couple of Discovery specials on about the beginning of the universe and black holes and I thought it was all amazing!
May 3 AP 123– When the husband cleans the shower and does the dishes and straightens the house… without me asking! I came home from a bike ride to a sparkling apartment. It felt WONDERFUL!
Categories: Ciao Bella Vita : Daily Journal - Tag: adry, appreciation project 2010, ben, christianity, dad, mom, videos