Hocking Hills Camping Trip Part 1 of 3
July 15, 2010
Day One: Sunday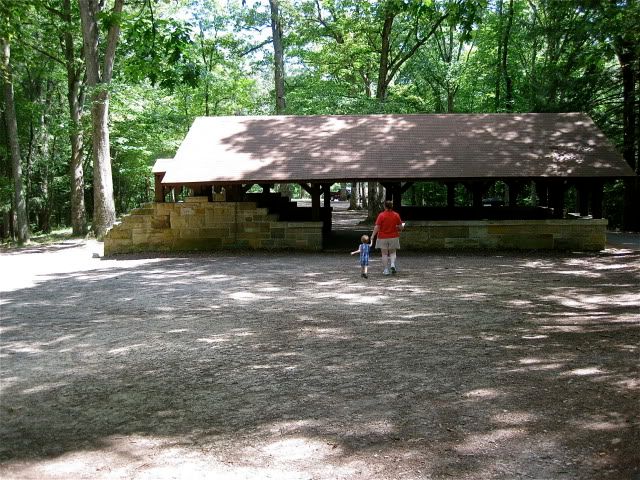 Grandma and Adry check out the shelter house.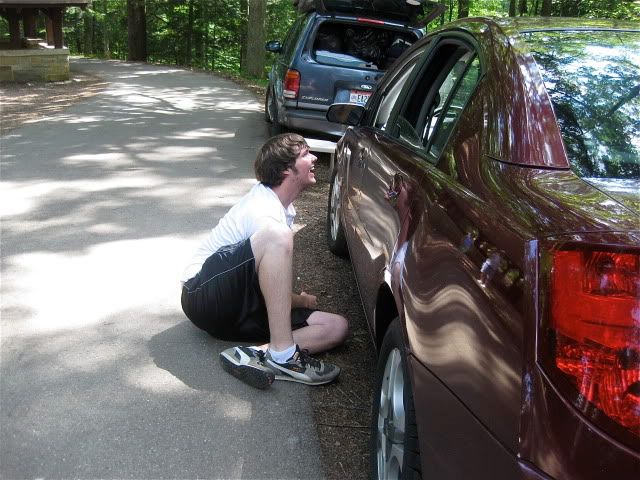 Tay plays with Adry by the car while others set up their sites.  (Tay had been working hard to set up his site and help with my tent as well!)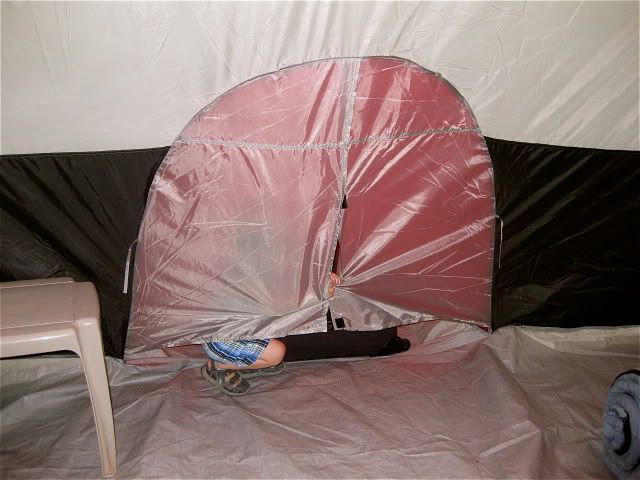 Adry loved this little nook in Pam and Tony's tent.
VIDEO: Adry chases Tony's niece.
MVI_5342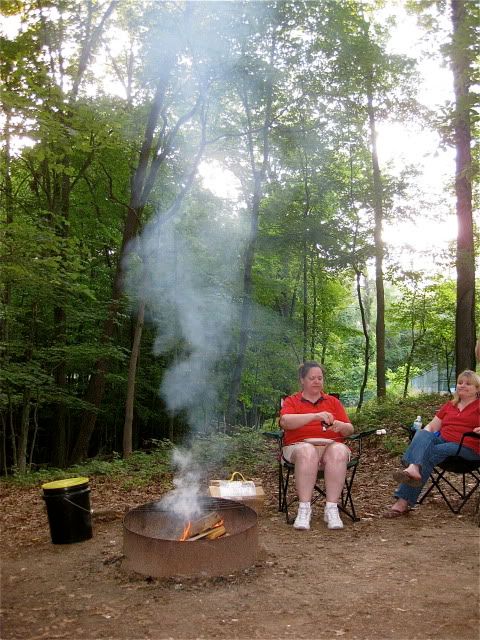 Mom by the Fire
That night, after setting things up, Adry and I were absolutely exhausted. As soon as I crawled into the tent to lie beside him on our mattress he put his arm around me. I love being his mommy.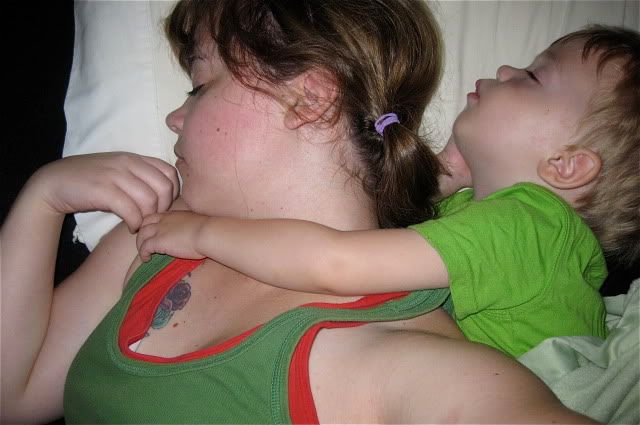 Day Two: Monday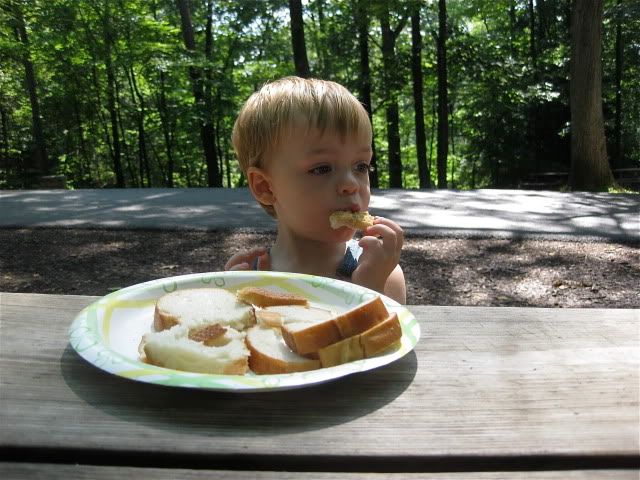 Eating a Peanut Butter Sandwich for Lunch
VIDEO: Just a little looksie into the random life of Adry Padry. He is off in his own little world eating his PB samich. He must have a song in his head because he claps his hands and tries to headbang but almost loses his balance. Then he decides hitting the top of his head is a good idea.  And OH, WHAT'S THIS IN MY MOUTH? He takes his chewed bite out of his mouth to examine it- OH YEAH, IT'S JUST THIS SAME SAMICH I'VE BEEN EATING! and he pops it right back in to continue chewing.  Also, please take note that he offers his drink up to the sky god before taking a swig, and then before asking for more graham crackers (even though there is still some on his plate) he breaks out in a merry toddler tune. All within 1 minute 30 seconds.
MVI_5357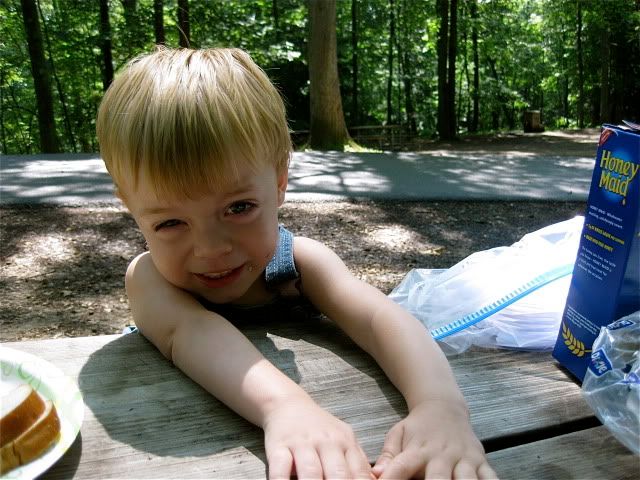 He is saying PEEEEEEEEAASE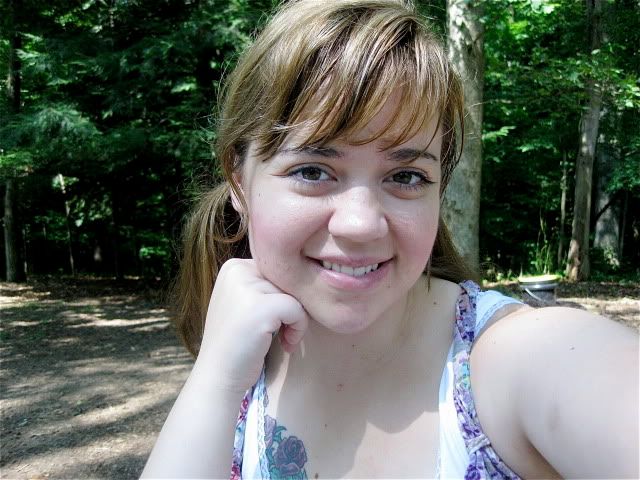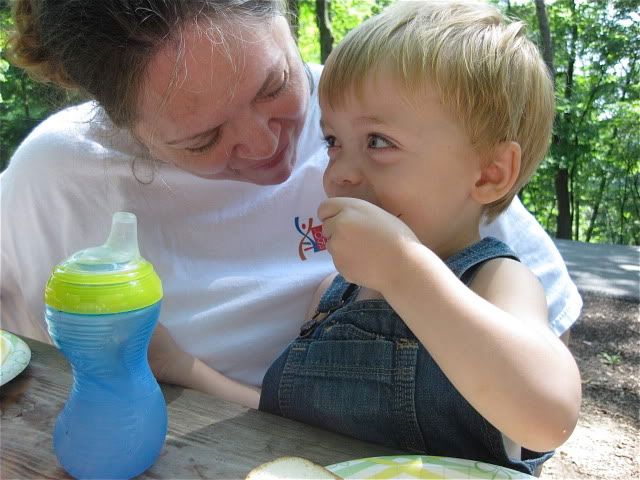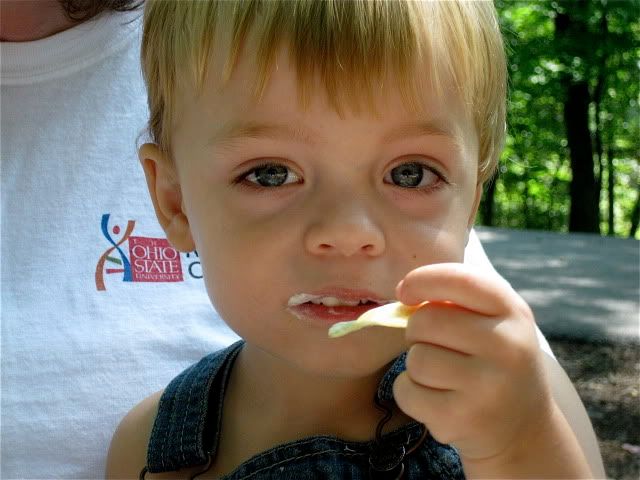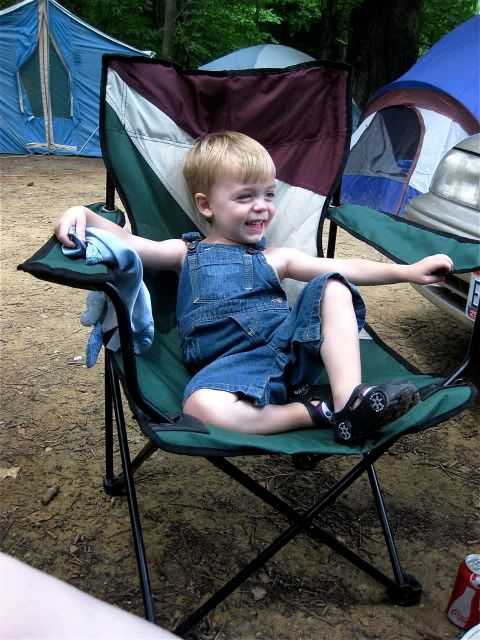 Chillin
SEE MORE PICTURES AND VIDEO UNDER THE CUT!  Prepare for Taylor's DARING FEAT and see if he makes it back alive!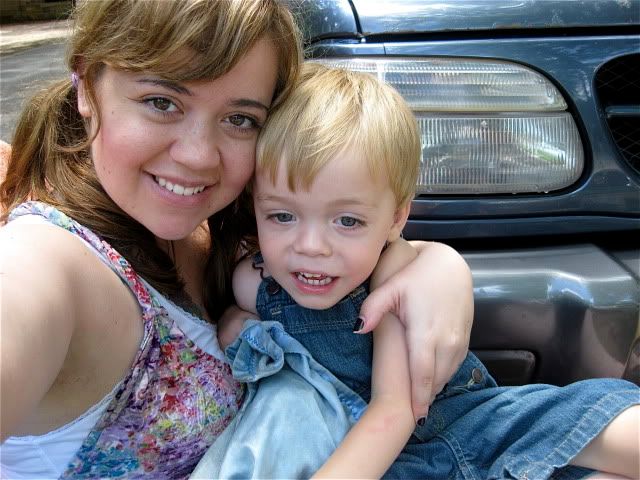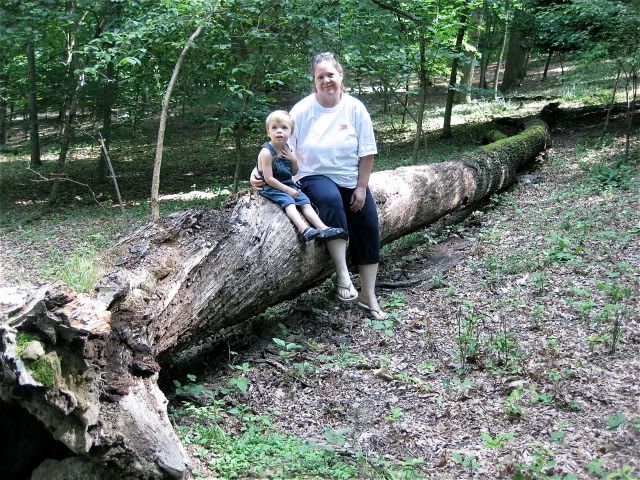 We found a fallen tree back in the woods and Adry loved it.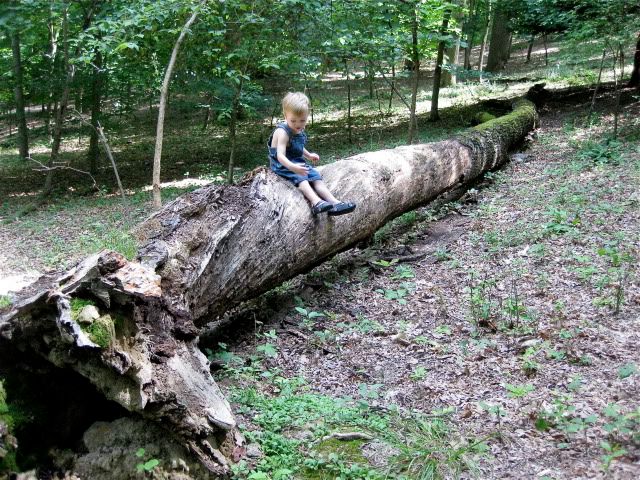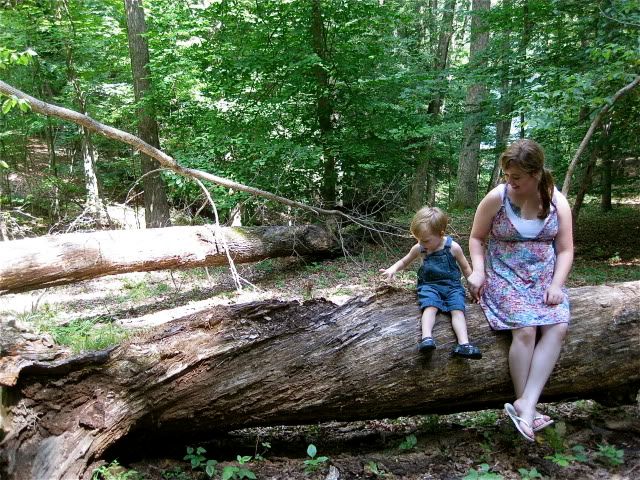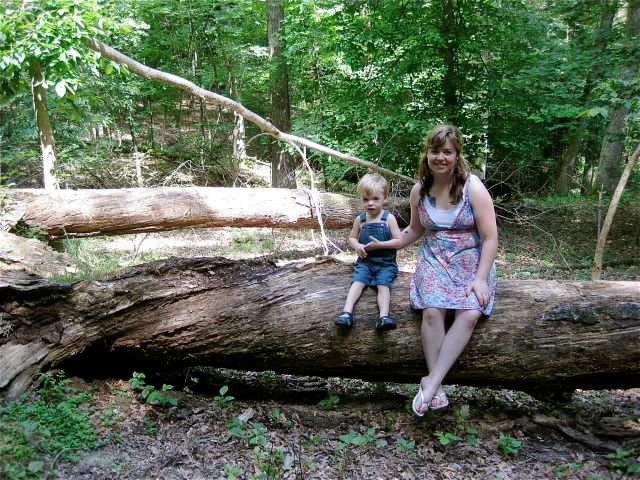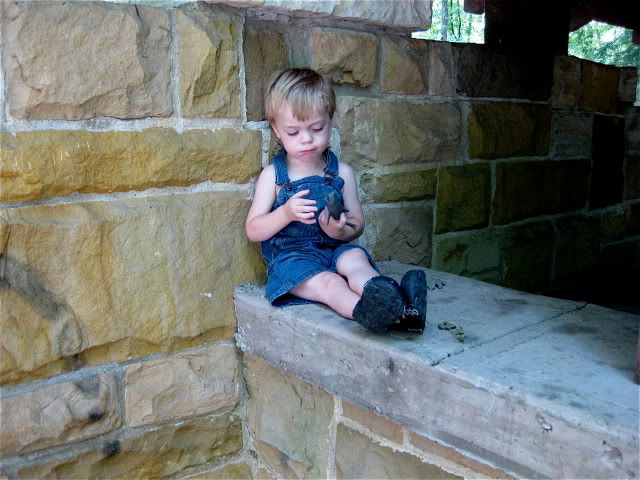 Adry is playing with the hidden treasure Grandma found in the woods: a squishy rubbery bean-filled shark.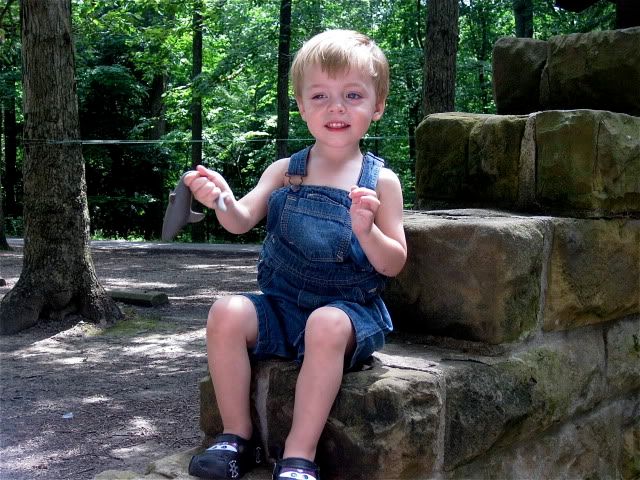 Tony is walking back to the creek.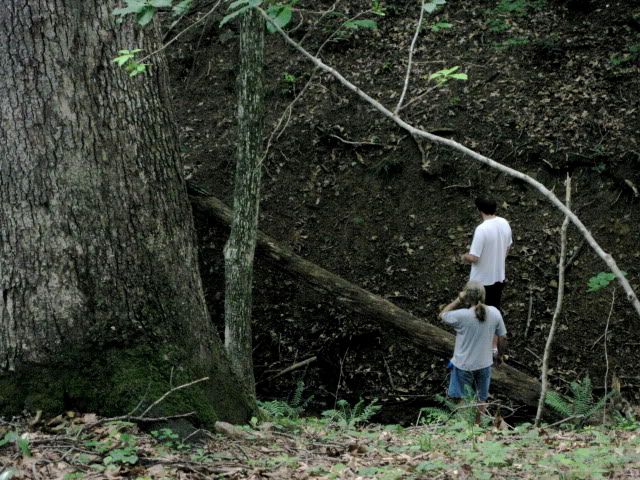 Taylor Performs a daring feat: crossing a thin tree to the other side of the bank… FIVE HUNDRED (minus the hundred) FEET IN THE AIR!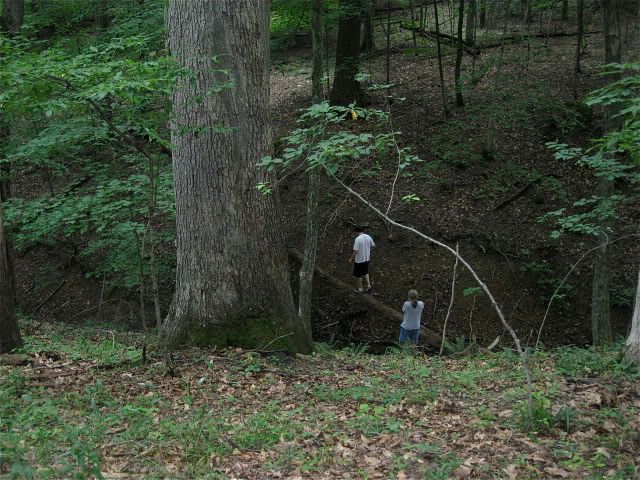 Phew. He's lucky he made it out alive.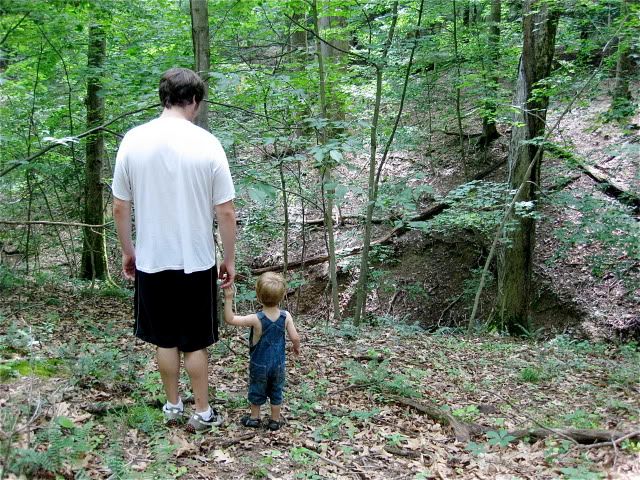 Adry has claimed Tay as one of his favorite friends. I told Tay he should feel lucky – not everyone gets to hear a toddler call after them and beg for attention all hours of the day.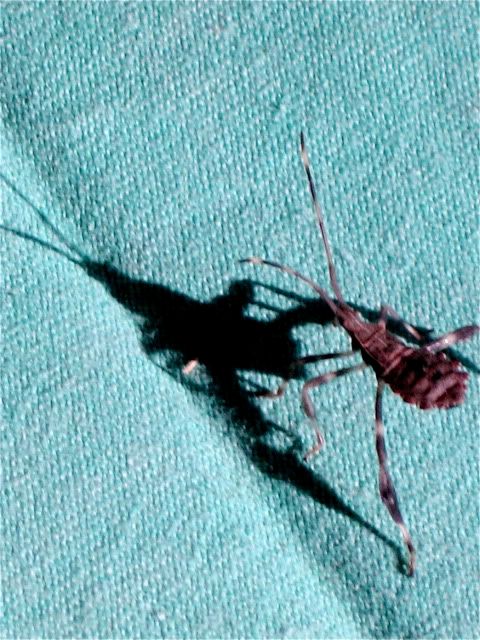 I spotted this bug (obviously he was nature's selection for dinner that day. He is clearly supposed to be hanging out on tree bark, but like a genius he made his way to the bright green tent. I saved his life. You're welcome, bug.)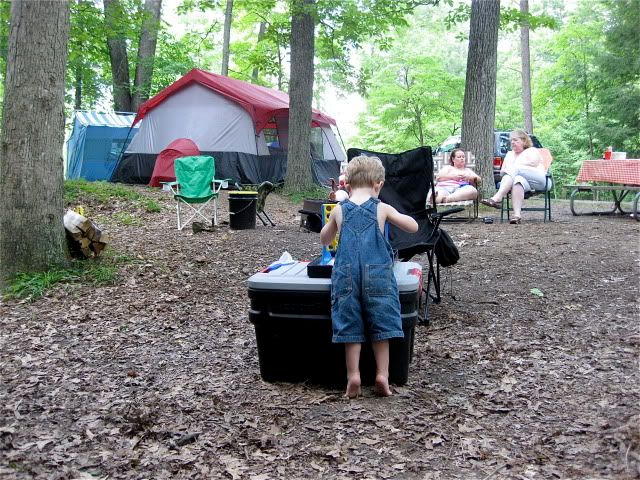 I know I am biased, but I think this fella is adorable.

Dad is using the bug book to try and identify our barky buggy friend.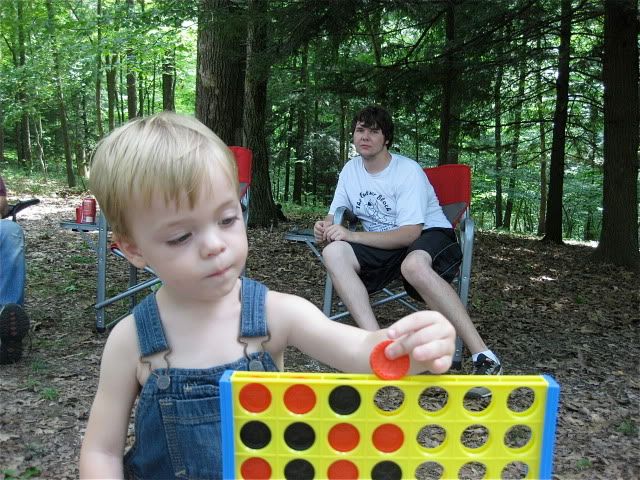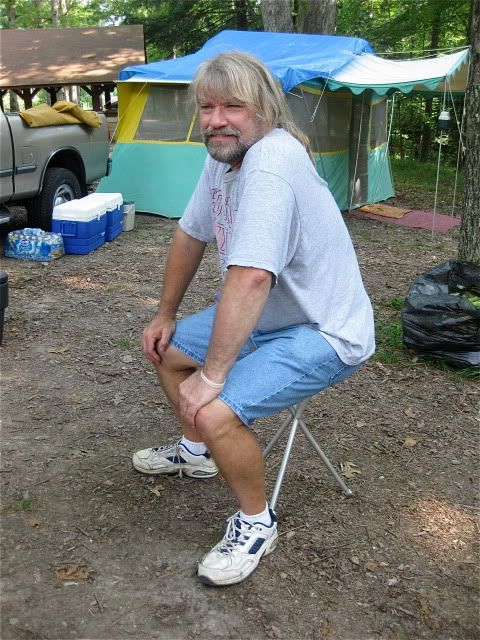 Tony got out his sport chair.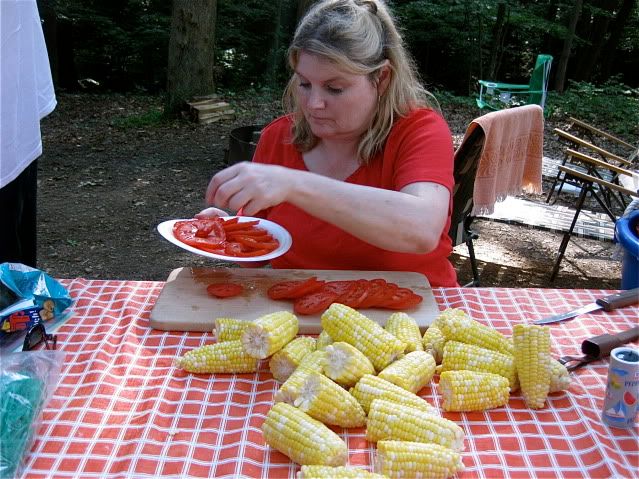 Mmmm. The ladies prepared DELICIOUS melt-in-your-mouth hamburgers and corn on the cob for dinner that night.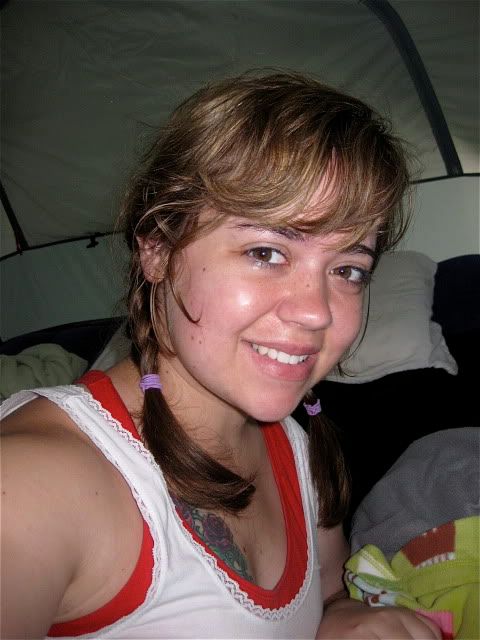 Here I am back in the tent for the night. I gradually look more unkept as the days go on.
Day Three: Tuesday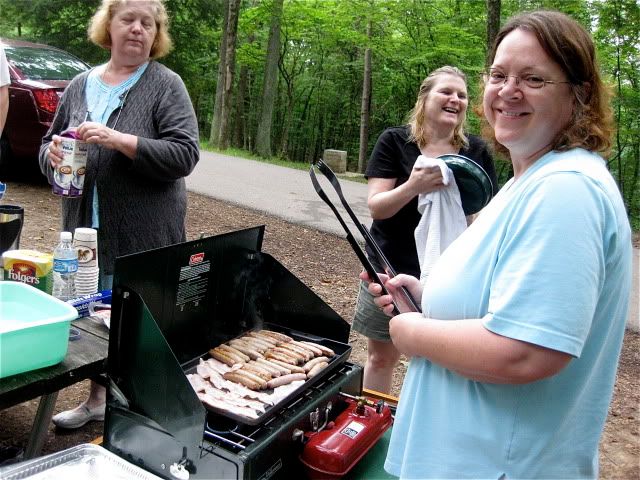 The Food Woman made eggs, bacon, sausage, and pancakes for breakfast.
VIDEO: Adry listens to Grandpa play harmonica.
MVI_5428
Stay tuned for Hocking Hills Camping pictures Parts 2 and 3, coming soon! You will get to see the rest of Day Three and our hikes to Old Man's Cave and Cedar Falls.
Categories: Ciao Bella Vita : Daily Journal - Tag: adry, dad, les, mom, pam, sandie, tay, tony