Miss Eleanor Joyce~7th Month
June 20, 2015
I'm posting this a bit late. These pictures and updates are reflective of Ella Bella between May 5th and June 4th!
My dear happy, curious, squealy, bright-eyed Eleanor: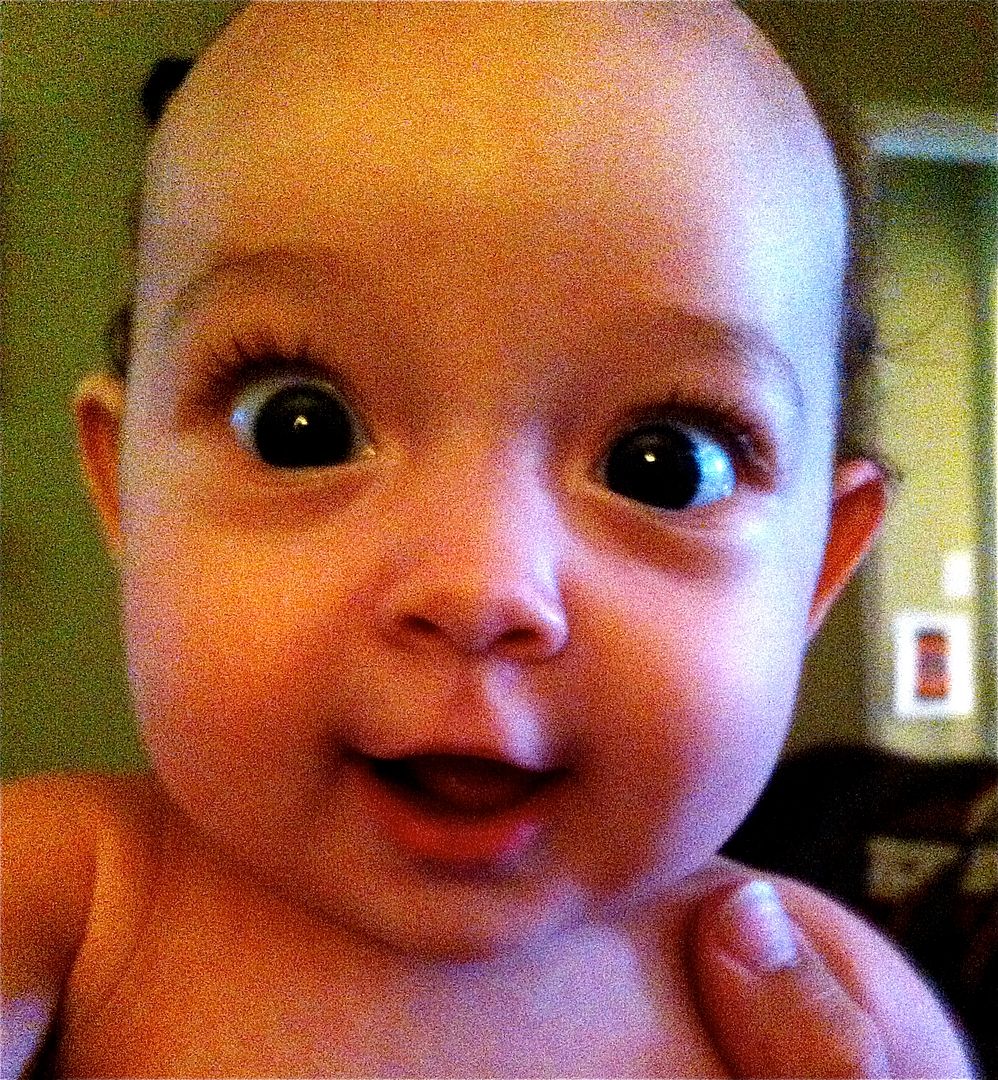 Your personality is beginning to show!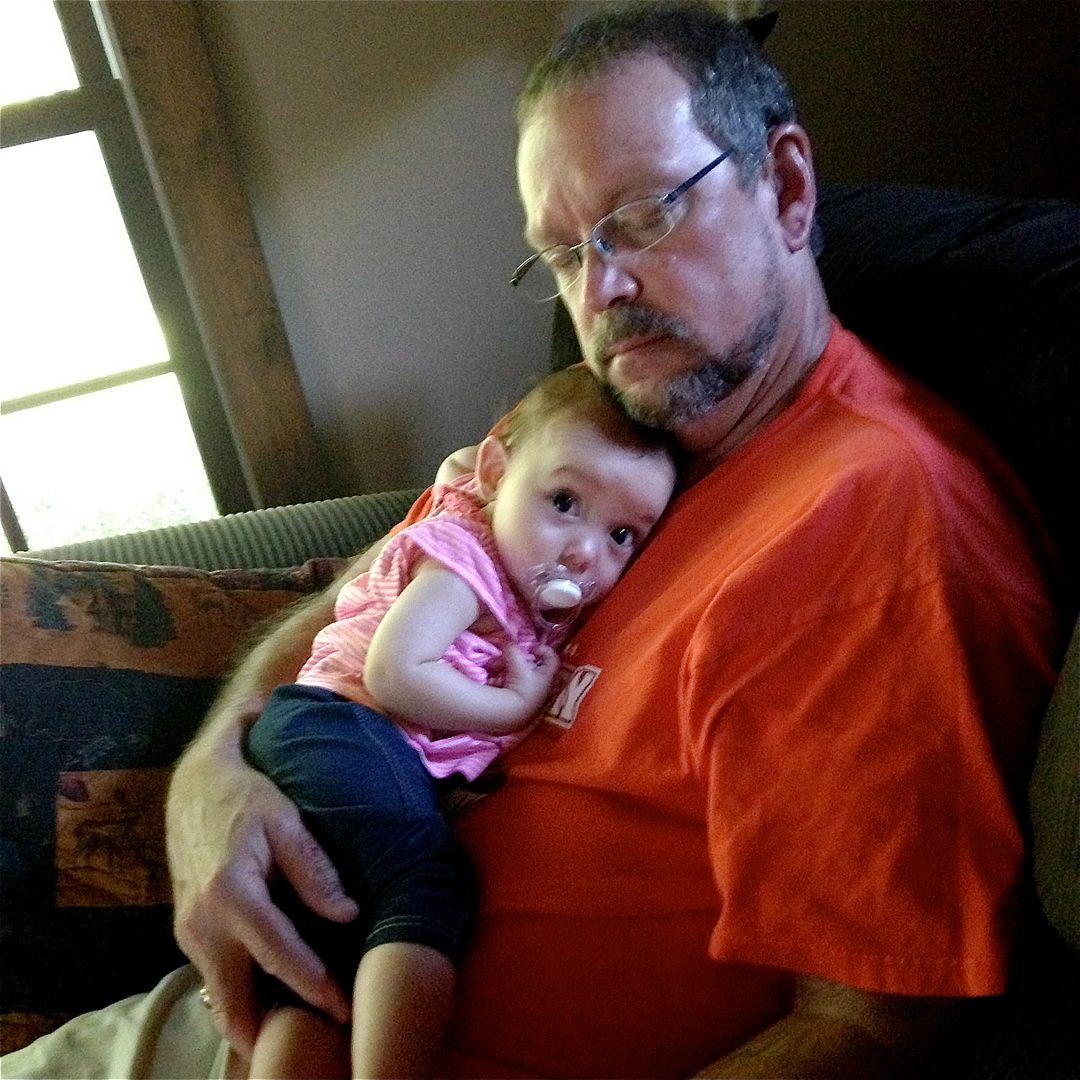 (snuggles with Grandpa Martin)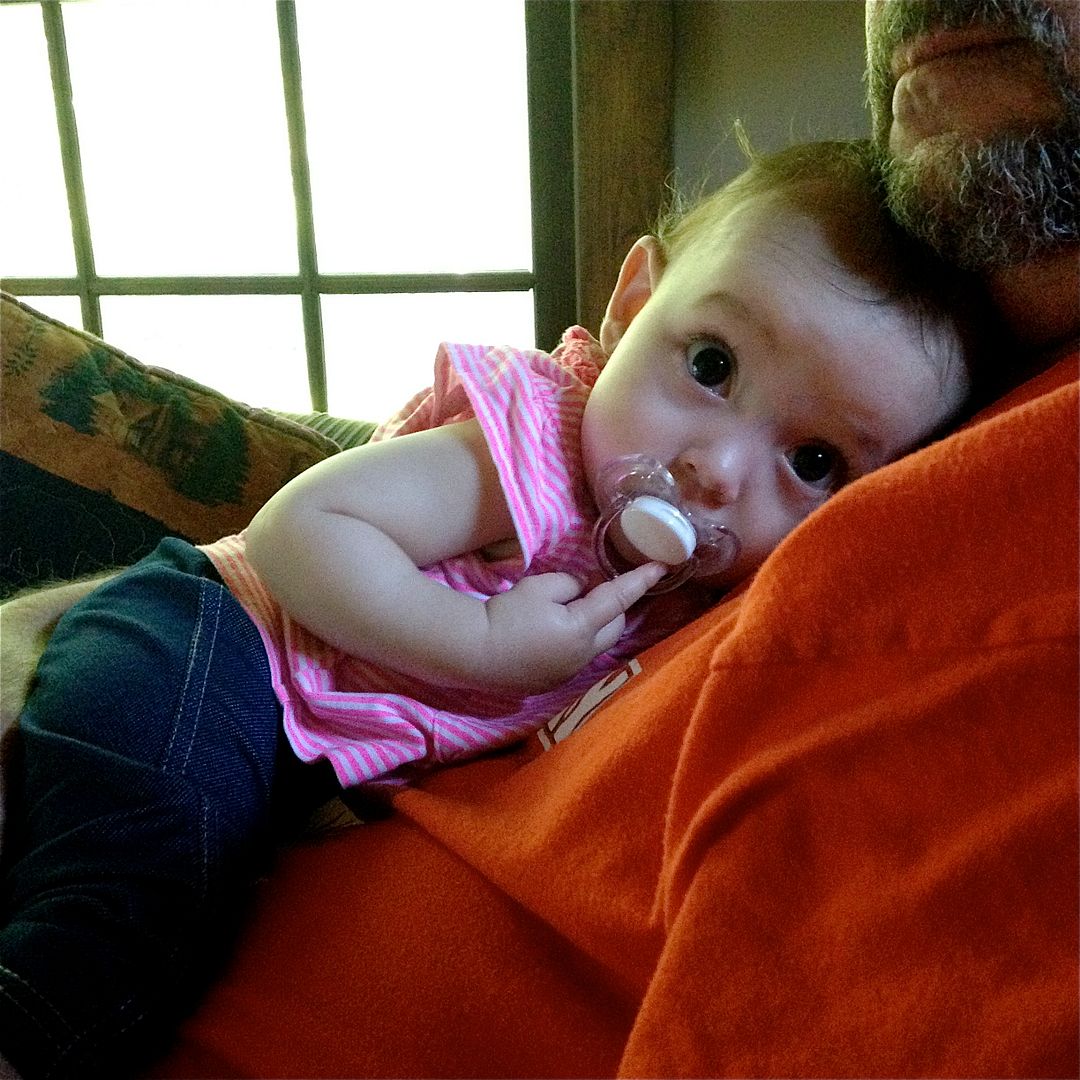 You love attention, you love to be watched and admired… just like your daddy 😉
You also can never decide which toy to play with when there are options. You pretty much just want to grab and explore any toy or thing in sight all at once- they're just all so exciting and interesting it's hard to focus on only one at a time! (which is also a lot like your daddy, actually.)
Except when it comes to Green Ducky!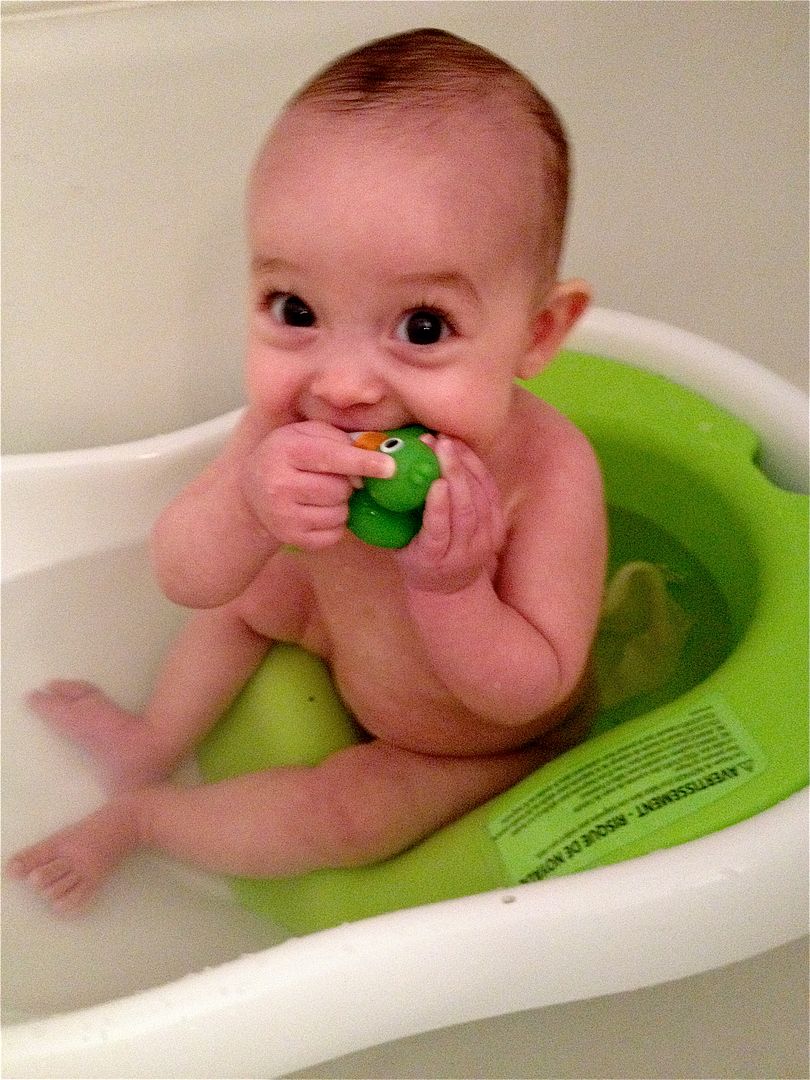 Green Ducky comes out at bath time and you LOVE him. He is your favorite and he trumps all other toys. I have to sneak him away from you after you fall asleep in order to put him back with the bath toys (because your brother got him for you and he'd be heartbroken if Green Ducky got lost).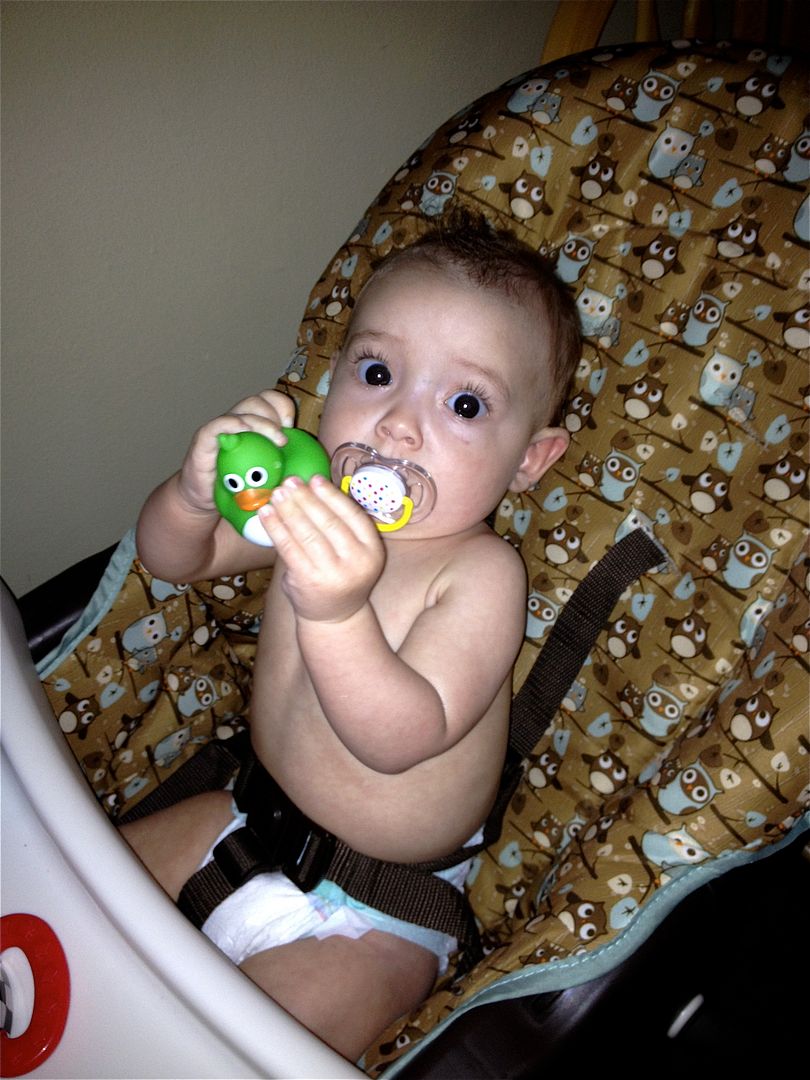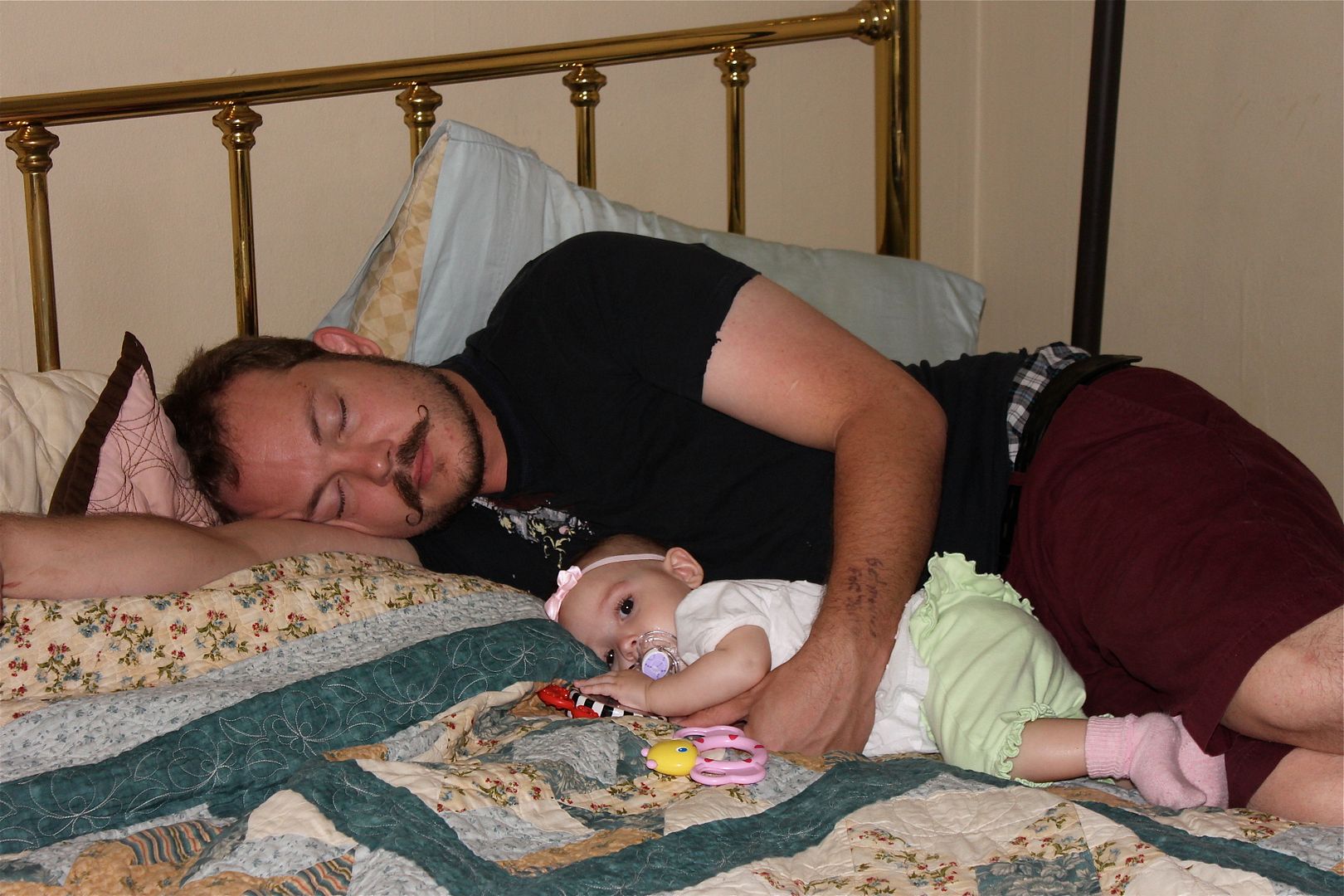 (snuggles with Daddy)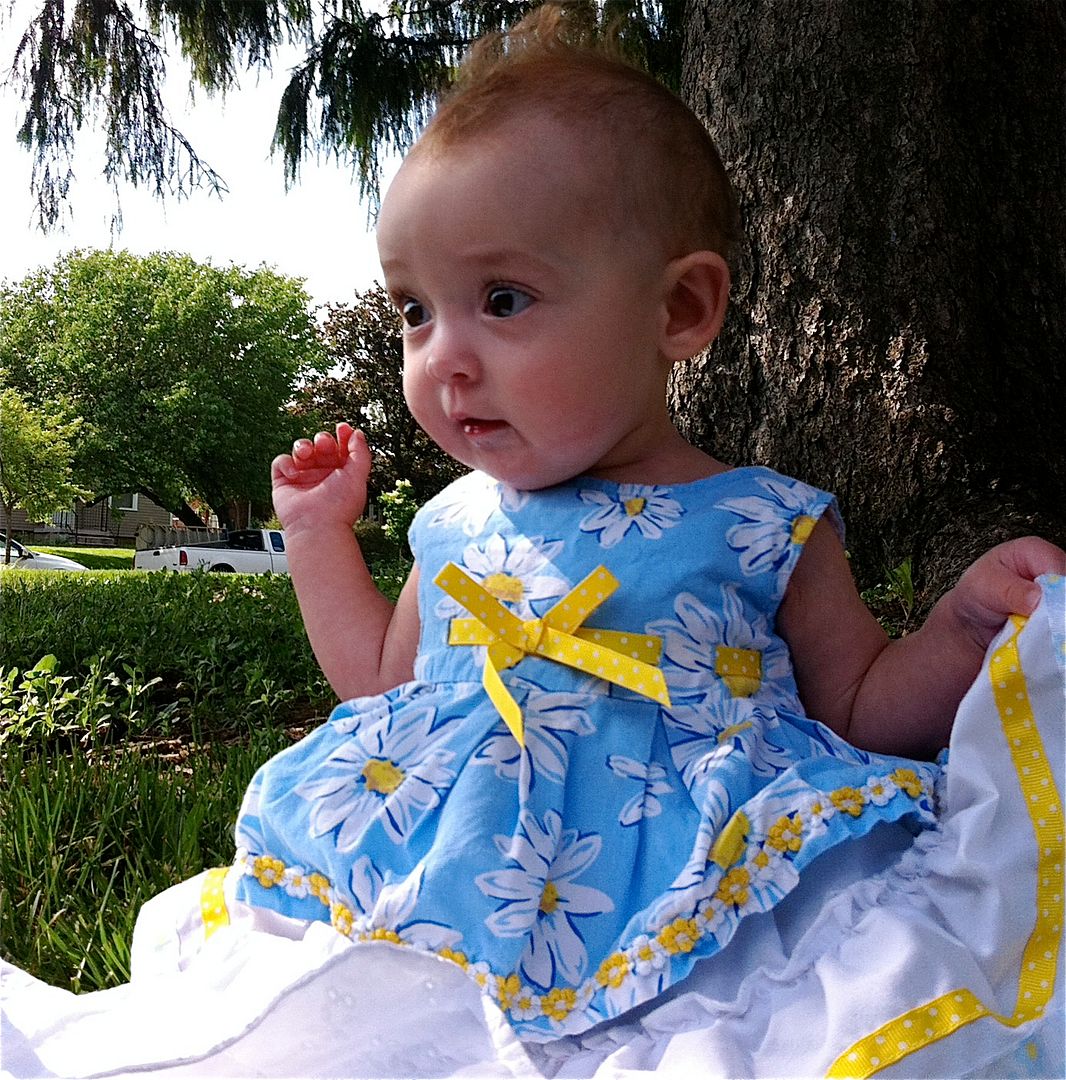 You're also developing your own little sense of humor. You think people's reactions when you pull their hair (or ears, noses, or eye sockets lol) are hilarious.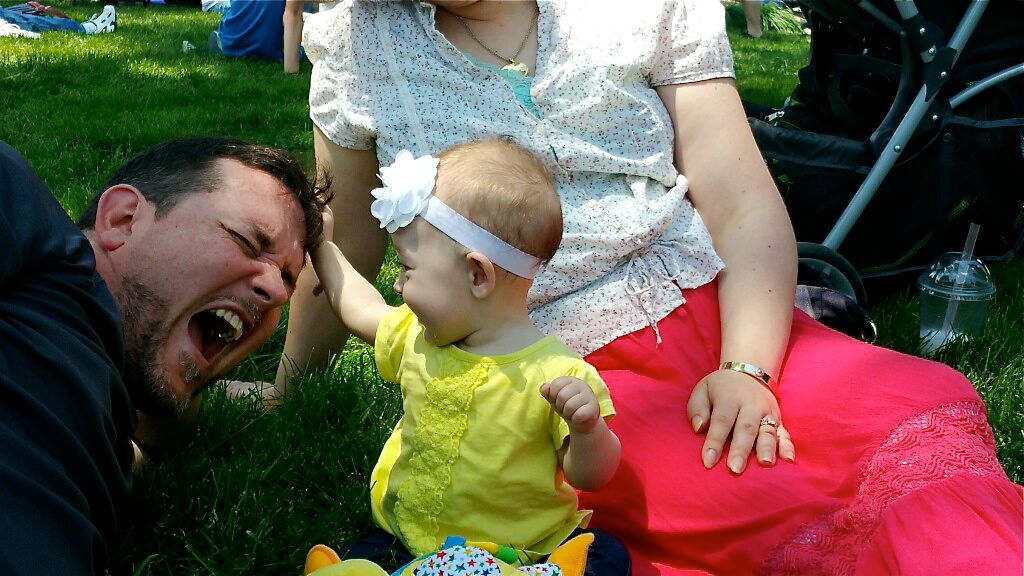 You also think being an Ellacopter and crash-landing with your daddy is hilarious.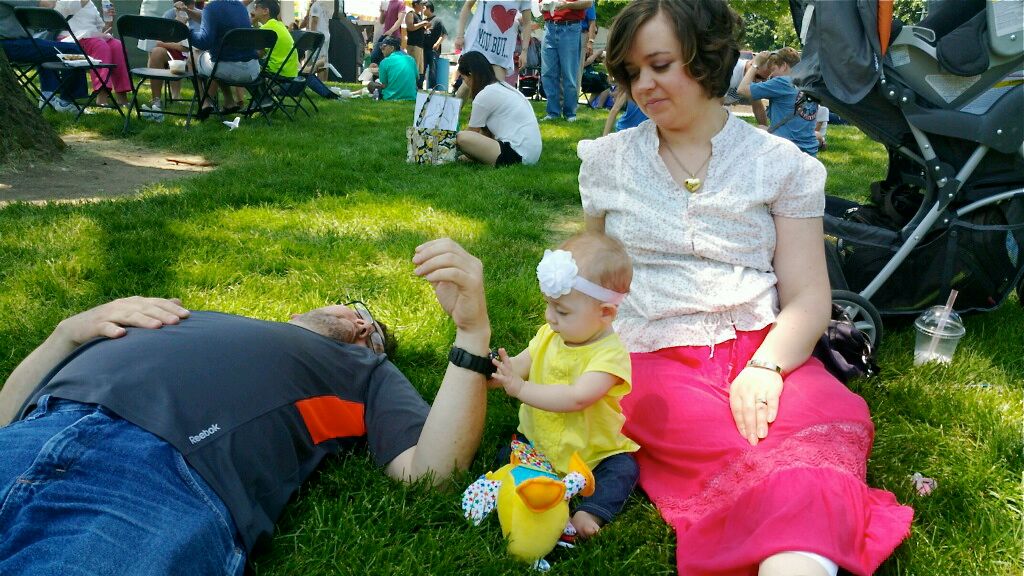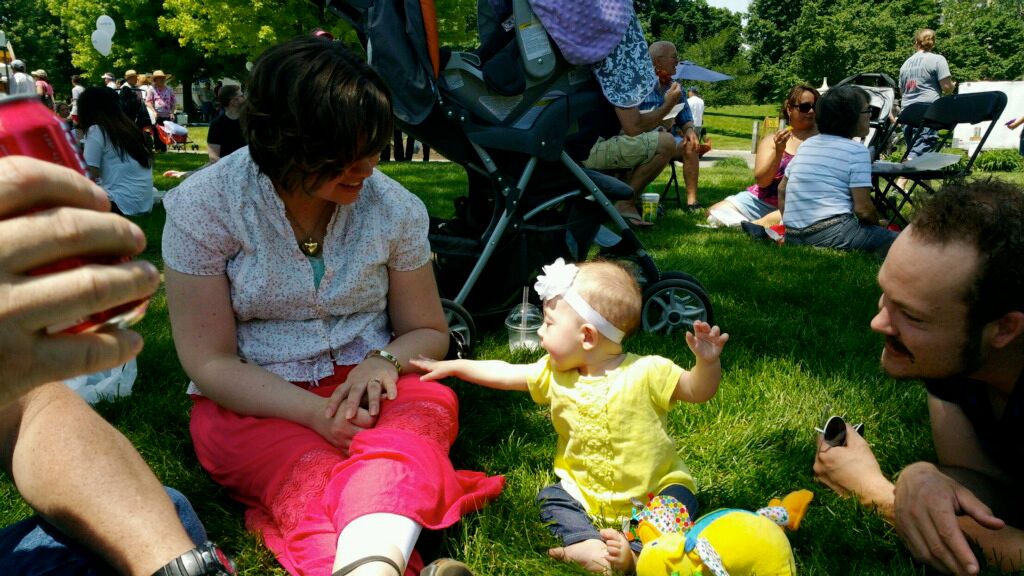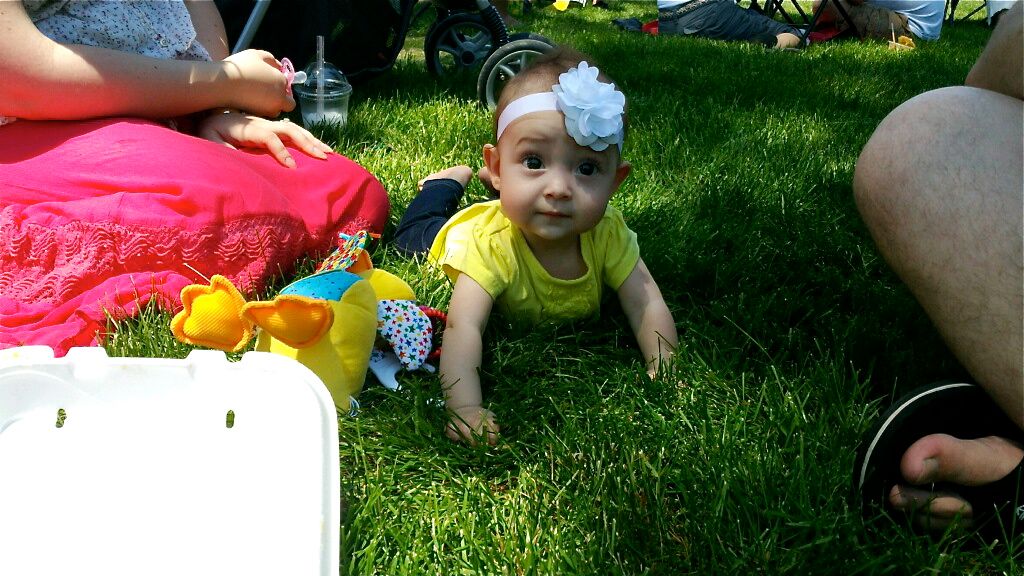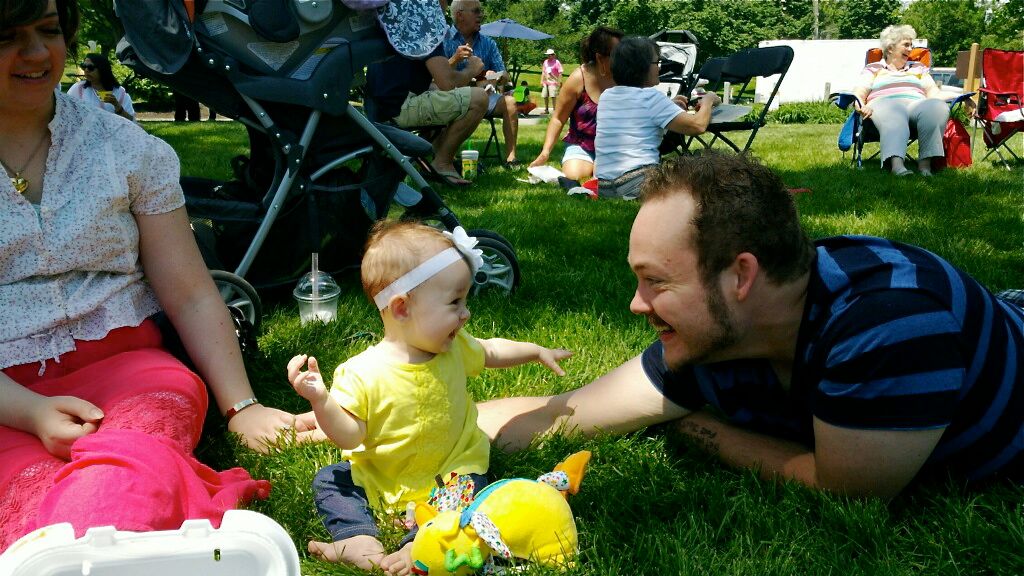 You are sensitive to sudden, loud noises including but not limited to your Grandpa Sanders and Uncles getting riled up. …But regardless of whether you toughen up and get used to it or continue to be a sensitive and delicate, I know they are and will be some of your favorite people ever just like they are for your big brother. 🙂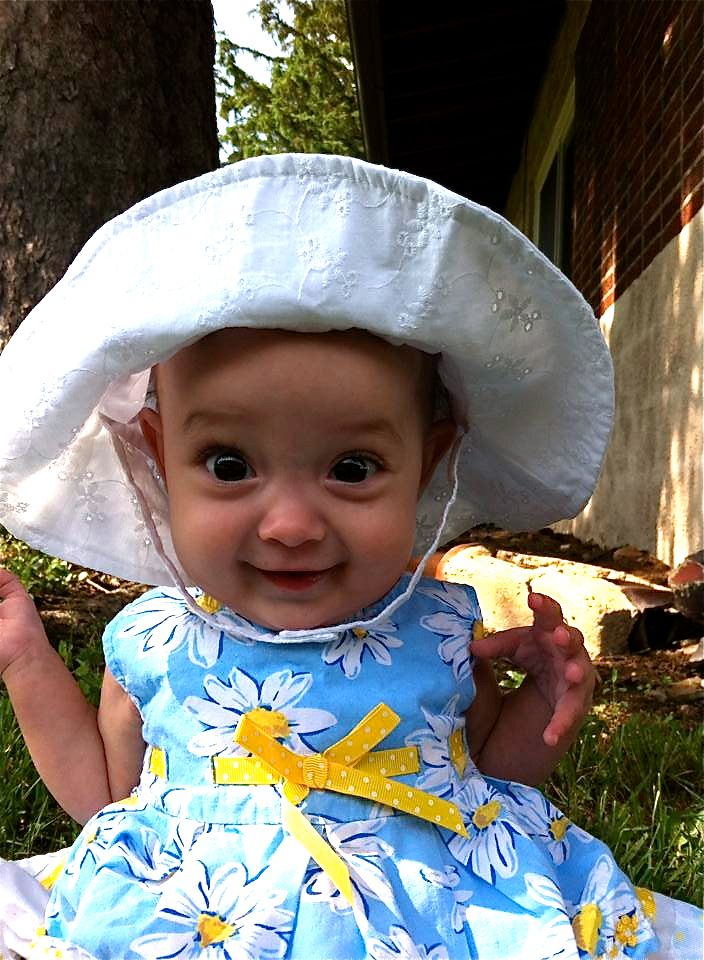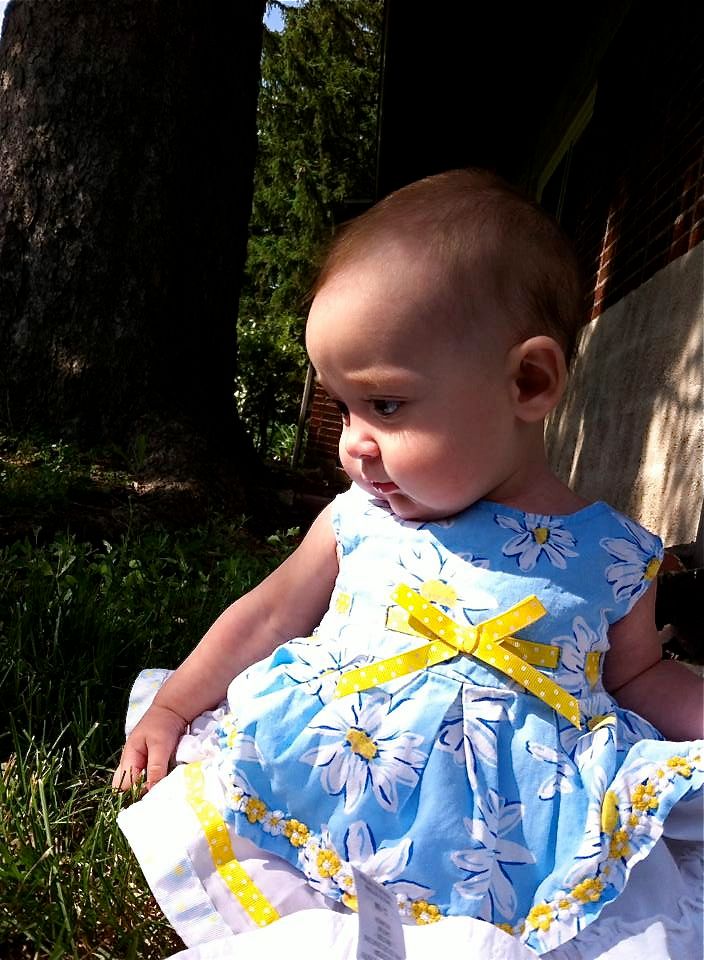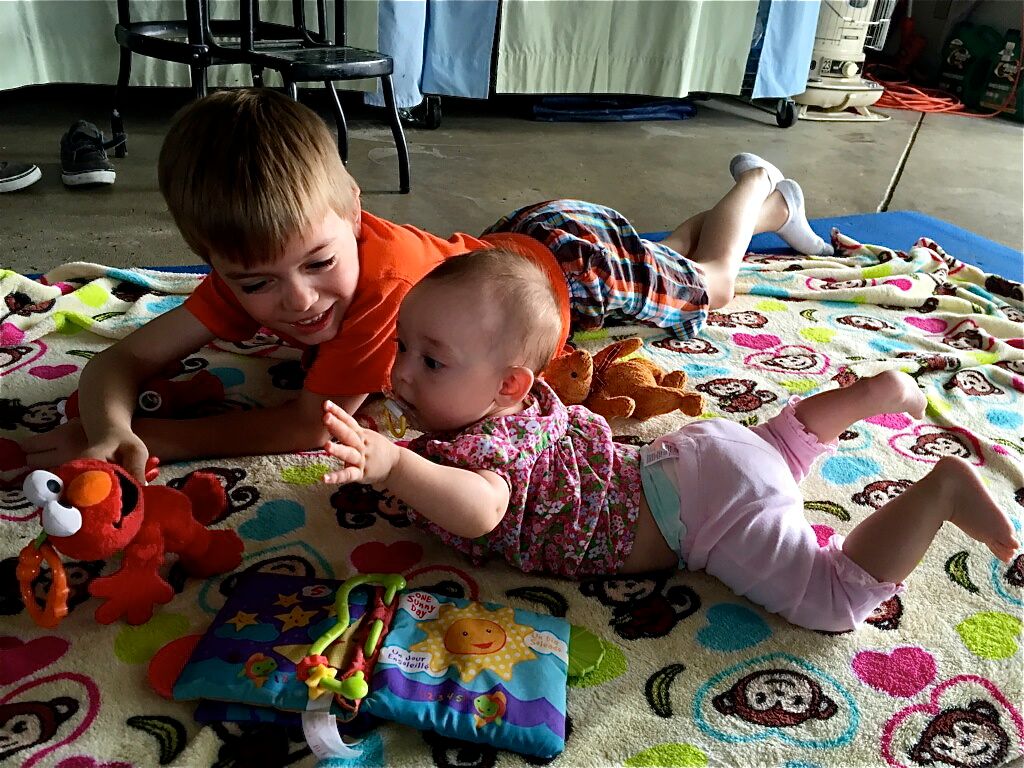 Your brother loved to watch Baby Einstein when he was your age. It was rhythmic, repetitive, slow and soothing. But Baby Einstein bores you – you like Power Puff Girls. Maybe you love that it's busy, bright, and colorful? Maybe you like the cute little high-pitched voices? I have no idea why, but putting Power Puff Girls on is the easiest, fastest way I can entertain you and get you to sleep.
(Your grandpa Sanders dubbed the next strip of Photos based on your expressions in each one, and it's perfect! I love it!– "Mo' style than Liberace. Mo' soul than Brother Ray. Mo' funk than P Funk. It would be hard to find better taste in music.")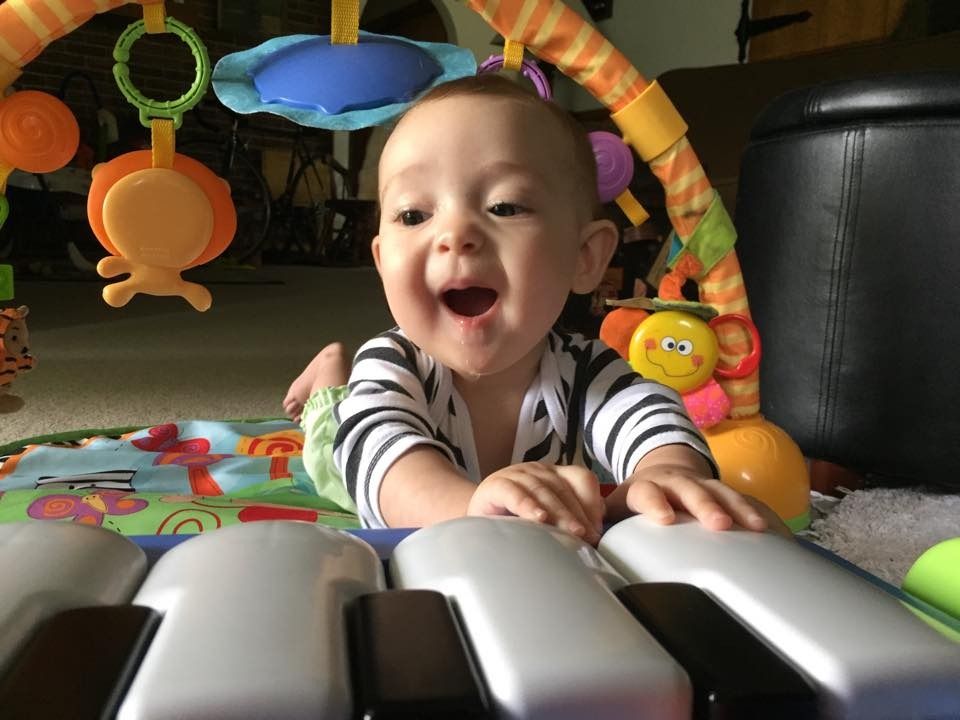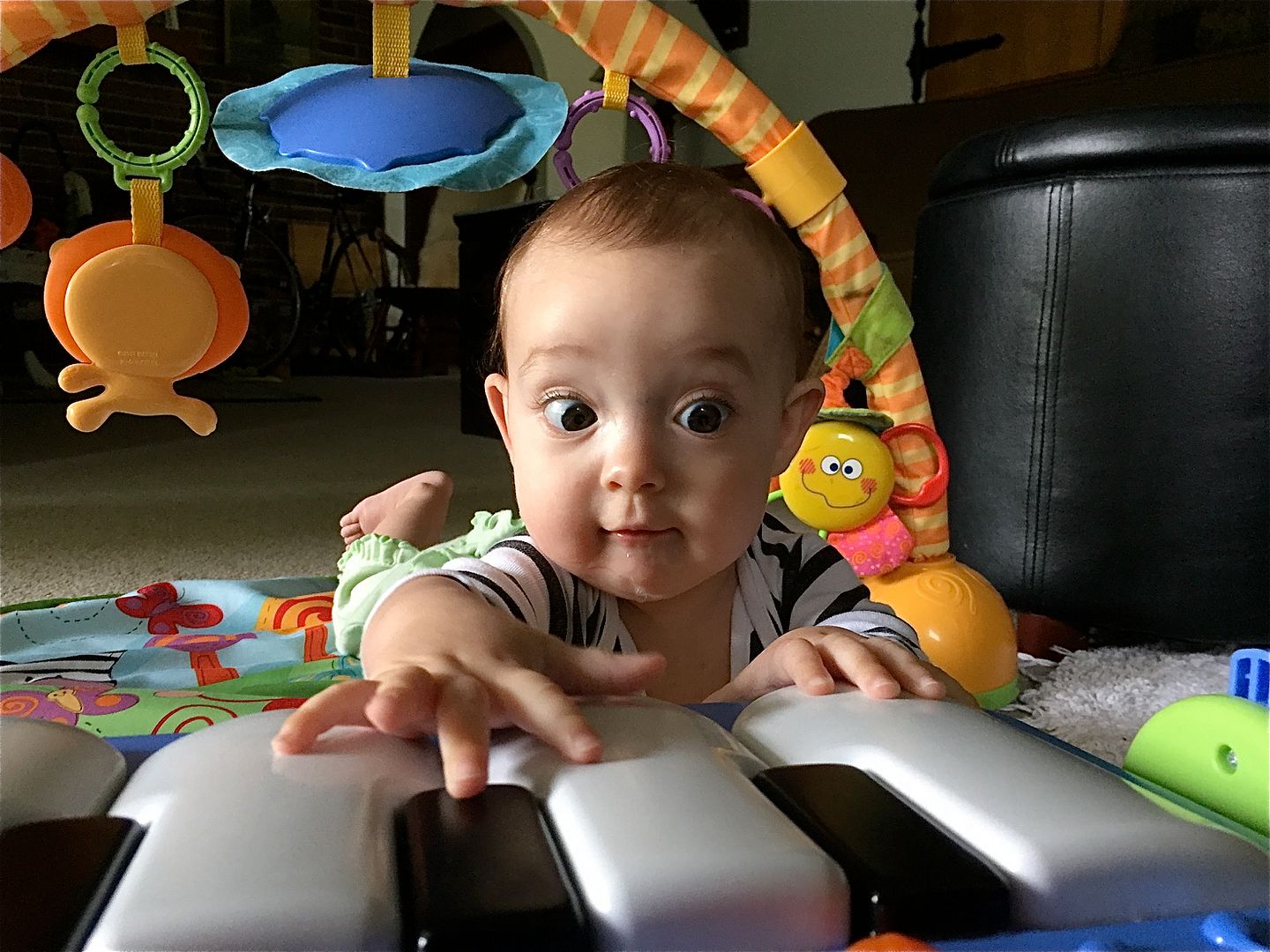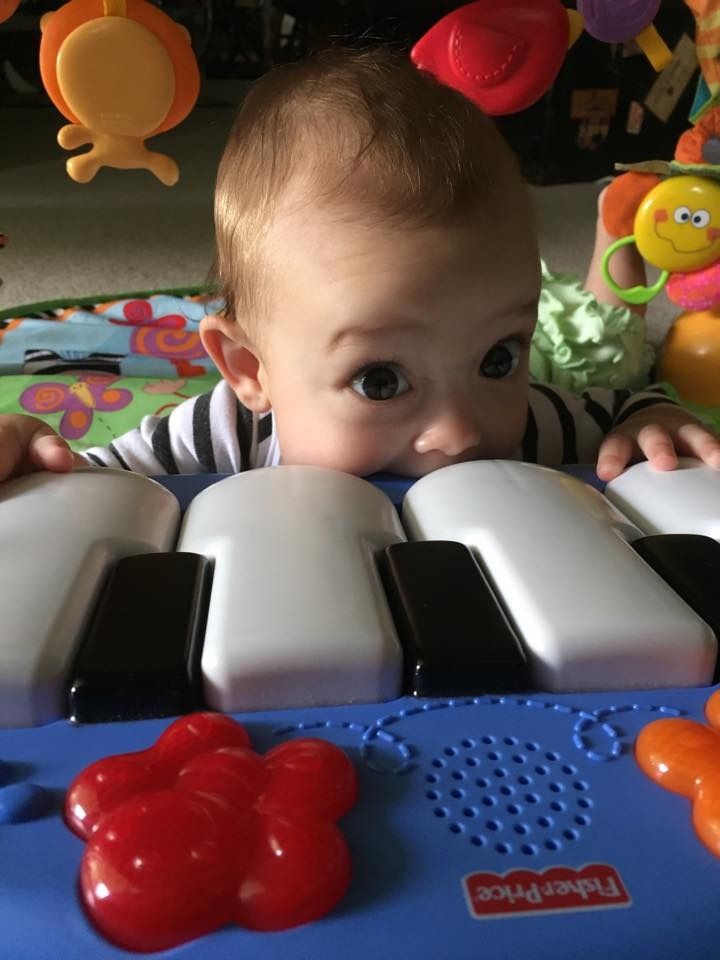 'They' say that life with kids is hard, and they're right! It's exhausting. It's stressful. Sometimes it's downright overwhelming. 'They' also say that nothing worthwhile is easy, and they're right! Oh, I can imagine my life without you. That life is calmer. Quieter. More peaceful even! There would also be significatly less giggling in this house! …Fewer times my heart would swell with love and adoration. There would be less joy in my life.
Speaking of which: Baby Girl, before you were born I wondered what it was like to have a mother's love for two children. I've enjoyed learning that I can love two different people equally but in completely different ways. Your brother is my passion-my heart aches with my love for him, and I feel a fierce momma-bear sense of nurture and protection for him. But YOU are my joy. You make my heart swell and I celebrate you.
Yeah, I can definitely imagine my life without you two, and I don't want it. I am so incredibly thankful for you.
Love always,
Mommy
Categories: Ciao Bella Vita : Daily Journal